Jack l'Éventreur
Jump to navigation
Jump to search
"
Tels des rats pris au piège et plongés dans l'eau... Je découperai votre peau pâle en tranches avant de goûter à la chaleur de votre sang !
"
Jack l'Éventreur (切り裂きジャック , Kirisaki Jakku) est un antagoniste mineur figurant dans la première partie de JoJo's Bizarre Adventure, Phantom Blood.
Jack est un tueur en série qui rencontre Dio Brando un soir et qui est transformé en serviteur Zombie. Il attaque le Groupe Joestar dans le tunnel qui mène à Windknight's Lot. Le personnage est directement inspiré de la figure historique du même nom.
Apparence
Jack l'éventreur était un homme adulte ordinaire avant sa rencontre avec Dio. Il a une taille moyenne mais est musclé. Il a des cheveux et une barbe courte.
Durant son introduction, il porte un costume standard de citoyen anglais ordinaire. Après que Dio le transforme en zombie, il abandonne sa tenue et préfère se battre torse nu. Il cache plusieurs scalpels/couteaux dans son corps.
Palettes
Les palettes changent souvent entre les médias. L'information ci-dessous ne devrait pas être considérée comme canonique.
Tenue
(Manteau vert, écharpe jaune, bretelles marron, pantalon bleu.)
Tenue
(Manteau violet, bracelets violet clair, pantalon gris bleuâtre, boucle de ceinture jaune et rouge.)
Personnalité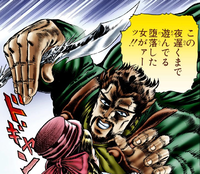 Jack l'Éventreur prétend être un gentleman et peut paraître assez respectable pour être capable de convaincre une femme de marcher avec lui par une nuit noire. Il révèle alors sa vraie nature de tueur en série dément et va poignarder à mort la femme qu'il a attiré dans les ruelles de Whitechapel. Ses tendances meurtrières devient encore pires lorsqu'il est transformé en zombie et il devient encore plus cruel et fou. On montre que Jack adore découper des choses et gens, et leur infliger le plus de douleur possible.

Pouvoirs et compétences
Après avoir été transformé en Zombie, Jack devient encore plus fou qu'il ne l'était en tant qu'humain. Incapable de ressentir de la douleur en tant que mort-vivant, Jack utilise cela à son avantage - insérant des scalpels sous-cutanés sur tout son corps. Jack a également une vitesse incroyable, qu'il exhibe indirectement en tuant homme puis en décapitant deux chevaux et en se cachant dans le corps d'un des chevaux en quelques instants. Cependant, il devient alors beaucoup plus vulnérable à l'Onde.
Scalpels: Avec les scalpels enfouis dans son corps, Jack est capable de les expulser simplement en contractant ses muscles. Il propulse ensuite ces couteaux avec une précision extrême sur de grandes distances.
Grand sécateur:Re-modélisé à partir d'un instrument de torture du Moyen Âge, Jack utilise un instrument effrayant fait d'une série de lames courbe qui se referment comme des ciseaux pour couper ses ennemis en lambeaux.
Histoire
Phantom Blood
Après avoir tué sa dernière victime en tant qu'humain, Jack rencontre soudainement Dio Brando (encore blessé et place sur un fauteuil roulant) qui a vu la perversité dans le cœur de Jack et a décidé de faire de lui son second serviteur zombie. Refusant au début, Jack échoue à tuer Dio et accepte ensuite. Dans l'anime, Dio hypnotise Jack à la place pour qu'il se plie à sa volonté toute de suite suce son sang pour le transformer en un fidèle serviteur zombie.
Plus tard, il tend une embuscade à Jonathan Joestar, Robert E. O. Speedwagon et Will Anthonio Zeppeli dans un tunnel en route vers Windknight's Lot. Il décapite leur cocher et les chevaux puis se cache dans l'un d'eux. Une fois qu'il se révélé, Jack lance le carrosse des héros dans l'embouchure du tunnel pour faire s'effondrer le tunnel et empêcher Jonathan et ses compagnons de s'échapper. Zeppeli combat Jack pour prouver sa thèse sur l'énergie de l'Onde et le courage; il parvient à blesser le zombie alors qu'il s'échappe dans un labyrinthe de tunnels, ayant l'intention d'attaquer depuis l'obscurité. Zeppeli donne à Jonathan la tâche d'achever Jack en tant que test, donnant au jeune un verre de vin pour localiser Jack de l'autre côté d'un mur. Dans les tunnels sombres, Jack acquiert une pince géante avec laquelle il a l'intention de découper Jonathan. Sa première attaque échoue et Jonathan est contraint d'abandonner sa torche. JoJo comprend enfin que le verre de vin agit comme un détecteur et élimine Jack avec une attaque Overdrive, l'Onde traversant le mur de briques et faisant fondre Jack sur place.
Chapitres / Episodes

Apparition dans le Manga
Chapitres (ordre chronologique)

Apparitions dans l'Anime
Episodes (ordre chronologique)
Citations

Citations
"

You've been playing too late, dirty harlet!

"

"

You are like pigs in a slaughterhouse! I will warm my pale flesh with your fresh blood!... Prepare to despair, insects!

"
Video Games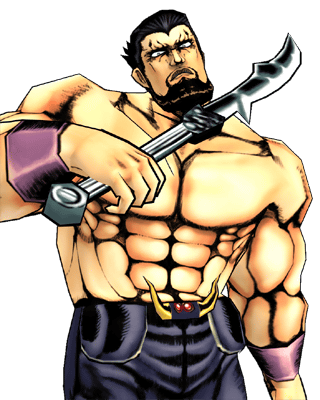 Jack appears as the enemy faced in Chapters 09 and 10. His special move allows him to launch all the scalpels in his body at the opponent. In Chapter 10, Jack acquires a medieval torture device, which he uses to perform surprise attacks on the player. Jack is playable during some battles in Extra Battle Mode, and can be selected in 77 Rings Knights Mode, albeit without his torture device in either instance.
Jack the Ripper




















Running

Running



during damage

(LV0-3)
Available Stages: Extra Battles 08, 11
77 Rings Knights Mode: Living Corpses
Jack appears as one of several Part 1 characters to have a Medal Striker. His FINISH Move sees him using the torture device on the defeated opponent. If defeated, Jack's Medal Striker will drop a knife; if any other Medal Striker gets near it, they'll lose some health points.
Galerie d'Images
Détails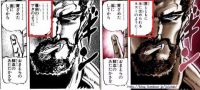 Dans le chapitre 22, une phrase de Jack est changée. Dans le Weekly Shonen Jump, Jack compare les héros à "des souris piégées dans l'eau" (

罠とともに水に沈められるネズミ

). Dans les tankobon japonais, la phrases est modifiée pour "des porcs dans un abattoir" (

屠所のブタ

) in the volume release.[2]
Le comédien de doublage de Jack, Naomi Kusumi, allait plus tard doubler également le père d'Okuyasu dans l'anime de Diamond is Unbreakable.
Références