Rikiel
Jump to navigation
Jump to search
This character may sometimes be referred to as "Rykiel".
"
Je suis
Apollo 11
! (
オレは「アポロ11号」 なんだアーーーツ!
Ore wa 'Aporo Ju Ichi-Gō' nanda!
)
"

Rikiel (リキエル, Rikieru) est un antagoniste secondaire de la sixième partie de JoJo's Bizarre Adventure, Stone Ocean, apparaissant spécifiquement dans l'arc narratif "Sky High".
Rikiel est l'un des enfants illégitimes de DIO. Quand il rencontre Enrico Pucci et ses demi-frères par un coup du destin à Orlando, il éveille son Stand Sky High. Il s'en va combattre Jolyne Cujoh, Ermes Costello et Emporio Alnino.
Apparence
Rikiel est un jeune plutôt svelte, avec un visage étiré.
Il a des cheveux sombres coiffés en dreadlocks éparpillés de façon symétrique de part et d'autre du visage. Il porte une combinaison sans manche, avec un large col qui lui couvre tout le coup et l'arrière de la tête avec un motif de tache de vache, et un décolleté en V. Il porte des manchettes assorties à sa combinaison.
Palettes
Les palettes changent souvent entre les médias. L'information ci-dessous ne devrait pas être considérée comme canonique.
Cheveux
(Cheveux noirs reflets magenta, barrettes dorées)
Tenue
(Combinaison blanche et noire, accessoires dorés)
Personnalité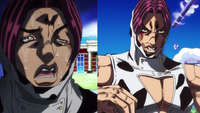 Initialement, Rikiel est un jeune homme avec beaucoup d'insécurités, désespérés par les afflictions dont ils souffre et n'ayant aucune confiance en lui. Cependant, Enrico Pucci lui permet d'éveiller totalement son pouvoir, Sky High. A partir de ce moment, Rikiel devient de plus en plus courageux et confiant. Il part alors défier Jolyne Cujoh et ses compagnons seuls, et au fil de son combat, il acquiert une grande détermination au point de vouloir se brûler pour trouver la faiblesse de Jolyne. Il aime l'analogie de la mission Apollo 11 pour parler de l'ingénuité et le potentiel du genre humain et se compare à Apollo 11 pour signaler sa victoire.
Rikiel est aussi un homme d'honneur. Il combat pour Pucci car il est reconnaissant envers le prêtre qui lui a permis d'éveiller son pouvoir. Il honore aussi la victoire de Jolyne contre lui et lui révèle des informations clé en récompense de sa victoire.
Pouvoirs
Main article: Sky High
Sky High permet à Rikiel de contrôler des créatures étranges nommée des fulgures, ou "rods". Les fulgures sucent la chaleur corporelle et créent des maladies localisées dans le corps.
Sky High
(
スカイ・ハイ
)


Pouvoir(s)
Manipulation de fulgures
Histoire
Passé
Avant de rencontrer Enrico Pucci et d'obtenir son Stand, Rikiel avait une vie dure car il était affligé par de nombreuses petites maladies. Par exemple, ses paupières se fermaient sans crier gare et ses genoux flanchaient tout le temps. Il tenta d'aller passer ses examens à l'école mais sa nervosité aggravait sa condition si bien qu'il arrêtait d'aller à l'école. Sa condition était assez sévère qu'il était incapable de conduire une voiture, ce qui contribua à ses problèmes de confiance en soi.
Stone Ocean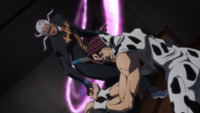 Poussé par le Destin, Rikiel est victime d'un accident et est emmené dans un hôpital où il rencontre alors Enrico Pucci. Pucci lui révèle qu'il est le fils de DIO. Rikiel supplie Enrico Pucci de l'aider avec ses paupières qui tombent sans raison apparente et s'effondre en larme, lamentant le fait qu'il a souffert de divers maux toute sa vie et qu'il a des problèmes de confiance en soi. Pucci l'écoute puis l'exhorte à penser à sa lignée, prétendant que Rikiel est là pour une certaine raison. En même temps, Pucci examine le Stand de Rikiel sous forme de DISQUE et lui demande ce qu'il sait des créatures étranges que sont les fulgures. Rikiel parvient à prendre alors contrôle de son pouvoir Stand, Sky High. Il reprend confiance et s'en va alors attaquer le Groupe Joestar.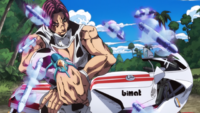 Rikiel parvient à retrouve Jolyne, Ermes et Emporio volant dans un hélicoptère au-dessus d'un marais. Il envoie ses fulgures attaquer les héros, les forçant à fermer les paupières et ils perdent le contrôle de l'hélicoptère. Ils sont alors obligés de sauter de l'hélicoptère, atterrissant dans l'eau, avec Rikiel près à les défier. Cependant, Jolyne et Ermes devinent que Rikiel ne s'est dévoilé que pour les attirer et commencent à jeter des cailloux sur lui. Perturbé, la chance de Rikiel commence à tourner au vinaigre. Sa moto s'enfonce dans la boue et il ne sait plus où sont ses clés. Ermes utilise alors Kiss pour le bombarder de cailloux des deux côtés, mais les fulgures dévient les cailloux. Cependant, les cailloux peuvent voler l'une vers l'autre et frappent Rikiel par l'avant et l'arrière. Submergé par les projectiles, Rikiel commence à perdre confiance et son contrôle sur les fulgure est détraqués. Les fulgures commencent à voler sur place, sans maître. Cependant, la chance de Rikiel tourne. Il retrouve ses clés et reprend le contrôle des fulgures. Il prend le contrôle de la main d'Ermes pour l'empêcher de jeter des pierres.
Regagnant confiance, Rikiel parle alors de la mission Apollo 11 et pourquoi elle représente le triomphe de l'esprit humain. Il inflige alors d'autres maux mystérieux aux héros. Par exemple, Emporio urine du sang, alors que les doigt d'Ermes se gangrènent. Jolyne court vers Rikiel, essayant de frapper les fulgures, mais ces derniers évitent facilement les coups de Stone Free. Rikiel fait en sorte de tordre la cheville de Jolyne vers l'arrière, l'immobilisant. Rikiel joue alors avec Ermes, la forçant à parler et dire merci aux rods. Cependant, Emporio parvient à déduire que les fulgures sont en train d'aspirer la chaleur corporelle dans des points précis du corps et provoquent les maladies et contrôlant les muscles. Rikiel neutralise Emporio et Ermes, faisant gonfler leurs yeux et leurs gorges alors qu'il recrachent du tissu endommagé. Rikiel prévoit alors d'attaquer le tronc cérébral de Jolyne et aspirer la chaleur de cet organe, ce qui serait une attaque fatale.
Une nuée de rods volent vers la nuque Jolyne, mais celle-ci dernière de se mettre le feu pour protéger son cerveau des rods. Stone Free parvient à cogner Rikiel et l'envoie valdinguer sur sa moto. Jolyne remarque alors la Tache de naissance Joestar à son épaule, ce qui étonne les héros. Jolyne décide d'interroger Rikiel plus tard et se rue sur lui pour en finir avec lui. Cependant, Rikiel est tout aussi déterminé à gagner. Il s'asperge d'essence aussi et se met le feu afin de se mettre dans la peau de Jolyne et savoir quelles sont les faiblesses de Jolyne. Il réalise alors qu'il existe une faiblesse : il envoie les fulgures voler dans la bouche de Jolyne, aspirant la chaleur de l'hypothalamus près de la paroi supérieure de la bouche. Cela perturbe la perception visuelle de Jolyne, et cause l'apparition d'images rémanantes qui empêche Jolyne de savoir précisément où est Rikiel. Jolyne décide de fermer sa bouche pour se protéger. Elle ne peut plus respirer, mais a confiance que le sens mystique de la Famille Joestar lui permettra de détecter Rikiel. Elle atteint Rikiel d'un coup de pied.
Toujours en feu, Jolyne a réussi à frapper Rikiel. Stone Free envoie une volée de coups de poings violents, mais soudainement, Rikiel l'attrape par le cou. Rikiel déclare qu'il est le plus déterminé des deux. Il a sacrifié ses nerfs pour couper sa perception de la douleur, et a éteint le feu sur la nuque de Jolyne avec ses mains. Ses fulgures sont donc prêt à attaquer le tronc cérébral de Jolyne et Rikiel s'est garanti qu'il ne va pas perdre conscience du à la douleur. Il espère ainsi tuer Jolyne en se sacrifiant. Rikiel envoie ses fulgures à l'attaque alors que Jolyne frappe encore et encore Rikiel. Tous deux s'effondrent. Les fulgures partent alors.
Rikiel se relève, mais sait qu'il a été vaincu. En effet, ses mains ont protégés Jolyne et elle est parvenue à briser son contrôle sur son Stand avant de mourir. Rikiel retombe au sol pour de bon. Jolyne se relève et dit qu'elle a été chanceuse et n'a absolument pas calculé son coup cette fois-ci. Rikiel doute que la survie de Jolyne soit simplement due à la chance, mais sent qu'il a accompli quelque chose en allant au-delà de ses limites. Rikiel déclare alors que Jolyne aura un rôle clé dans le plan d'Enrico Pucci car la destinée la favorise. Rikiel révèle aussi que Weather Report est le frère de Pucci, mais est interrompu quand Kiss le frappe violemment à la tête. Ermes refuse de croire Rikiel, et enfonce sa tête dans le sol d'un coup de poing. Les fulgures partent pour de bon.
Chapitres

Apparition dans le Manga
Chapitres (ordre chronologique)
Citations

Citations
"

Up 'till now, I couldn't even drive, you know ..? Couldn't even drive a car as I struggled to concentrate, my eyelieds would start fluttering... it became harder and harder to breathe... but... now I can concentrate without that happening... just enough for me to attack a helicopter.

"

"

July, 1969, Armstrong from Apollo 11 became the first man to stand on the surface of the moon... until now, I didn't know what was so special about that. Because in reality, the rockets are really flown by scientists and engineers, right? Any monkey could go to the moon. But when I first saw those rods, I finally understood why it was so important... what truly stood on the moon that day was the human spirit! That day, we humans conquered the moon, and our spirit evolved! The thing that's truly valuable is the evolution of our spirit!

"

"

If you're trying to hinder the priest from his spiritual evolution, I'll kill you all with the hatred of a thousand burning flames!

"

"

All three of you at once. Jolyne Cujoh, you're next, but I'll eventually kill all three of you at once. My rods can do it.

"

"

My heart is like Apollo 11... I'm going to overcome you...

"

"

I'm the victor!! Not you! I overcame my own heart! I'll never panic again... I'm going to reclaim my life, with my hands! I'm Apollo 11!!

"

"

The strongest power in the world... it definitely doesn't come from calculation. And that's how destiny is formed...

"

"

Everything is to guide the priest to his ultimate destiny, to attain... Heaven.

"
Jeux Vidéo
Rikiel apparait dans le jeu Eyes of Heaven en tant que personnage non-joueur. Il a une réplique et est doublé par Takashi Kondō.
Galerie d'Images
Références