Whitesnake
Jump to navigation
Jump to search
"
Un poil
trop tard
...Jotaro. (
「一手」遅カッタ…ナ…
`Itte' oso katta… na…
)
"
Whitesnake (ホワイトスネイク, Howaitosuneiku) est le Stand d'Enrico Pucci, figurant dans la sixième partie de JoJo's Bizarre Adventure, Stone Ocean.
Whitesnake possède la capacité de créer des illusion et d'extraire la psyché des gens sous la forme de disques contenant des parties de leurs esprits, comme le mémoire ou même leurs Stands.
Apparence

Whitesnake est un Stand humanoïde avec une taille et une carrure similaire à celle de Pucci, son manieur. Son corps de couleur claire est strié horizontalement avec des bandes larges de quelques centimètres et sur lesquelles sont inscrites les symboles "GΔCT" d'après les quatres nucléases de l'ADN. Whitesnake porte aussi quelques vêtements sombres. Une sorte de masque entourant sa tête et arborant des points entourant la tête comme une couronne, un col clouté couvrant aussi les épaules, entouré par des clous aux bords, et relié à une jupette par une bande sombre sur le devant, des manchettes, et des bottes assorties. Son apparence est basée sur celle d'un bourreau.[2] Whitesnake a des yeux uniques qui n'ont pas d'iris mais qui comportent une fente courbée.
Palettes
Les palettes changent souvent entre les médias. L'information ci-dessous ne devrait pas être considérée comme canonique.
Tenue
(Vêtements noirs et clous dorés)
Détails
(Lettres blanches)
Corps
(Bandes violettes/blanches)
Tenue
(Vêtements violet sombres et clous dorés)
Corps
(Bandes lavande/blanches)
Tenue
(Vêtements noir/violets et clous dorés)
Détails
(Lettres violettes)
Personnalité
Whitesnake est actuellement un Stand doué de sa propre conscience[1] et exhibe une personnalité froide, méprisante et haineuse. Il agit comme le porte-parole et l'avatar de Pucci tout au long de la Prison de Green Dolphin Street, servant à imposer sa domination sur les autres gardes et le personnel tandis que Pucci regarde ses opérations de loin et se cache.
Pouvoirs
Whitesnake est un Stand à longue portée qui possède une portée considérable, environs 20 mètres.[3] Ceci permet à Enrico Pucci d'agir et de parler à ses subordonnés à travers son Stand au sein de la Prison de Green Dolphin Street sans être démasqué. Cependant, Whitesnake exhibe tout de même des capacités physiques égalant ceux de Stands à courte portée. Il est capable de porter des coups rapides, précis et puissants, comme par exemple empaler Diver Down et Foo Fighters avec ses mains, et est doué de sa propre conscience.[1]
Whitesnake est assez fort pour combattre des Stands de la trempe de Stone Free au corps-à-corps même s'il n'est peut-être pas capable de les battre. Ainsi, Pucci s'appuie surtout sur les pouvoirs ésotériques de Whitesnake pour poser des embuscades à ses ennemis et les battre d'un coup décisif.
Création de disques
Main article: DISQUE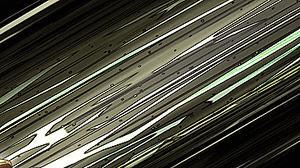 La capacité principale de Whitesnake est de pouvoir manipuler l'esprit des gens sous la forme de disques CD.[4]
Premièrement, Whitesnake peut extraire de force une portion ou l'entièreté de la psyché d'une victime hors de leur corps sous la forme de disques tangibles, et de les insérer dans d'autres personnes.[5] Pour cela, Whitesnake doit physiquement toucher sa victime et extraire entièrement le disque du corps de la personne; les extractions partielles ne font rien à partir matérialiser un disque sortant du corps de la personne.[6]
Il y a deux principaux types de disques : les disques mémoires et les disques Stands qui contiennent respectivement les souvenirs ou le Stand d'une personne. On peut insérer ce disques dans quelqu'un d'autre, ce qui permet à la personne concernée de soit consulter la mémoire contenue dans le disque[7] ou même de pouvoir utiliser le Stand comme si c'était le sien. Pucci peut d'ailleurs utiliser cette propriété pour donner des pouvoirs néfastes. Il a ainsi donné à Foo Fighters le pouvoir de bouillir l'eau, ce qui l'a presque tué.[8] Dans certains cas, on peut éjecter de force un disque inséré dans la tête d'une personne avec un coup assez fort.[9][10]
Ceux dont on a extrait les disques Stand et mémoire tomberont dans un coma profond[5] et peuvent mourir, leurs fonctions corporelles s'arrêtant et devant être maintenues par des machines.[11] Remettre un disque mémoire à l'intérieur de leur propriétaire légitime les restaurera en bonne santé,[7] mais ceci ne fonctionne pas avec un disque Stand seul.[3] Un manieur de stand avec seulement un disque de Stand peut reprendre conscience et être capable d'apprendre, mais la perte de sa volonté de vivre entraîne une atrophie musculaire et la mort éventuelle du corps.[12] Weather Report est, pour une raison inconnue, une exception à cette règle.
Whitesnake démontre également la capacité d'insérer et d'extraire des disques à usage divers. Les disques peuvent contenir des instructions auxquelles l'hôte obéira instinctivement sans poser de questions,[13] et ces disques leur permettent de faire des exploits apparemment impossibles comme exploser, mettant en valeur le pouvoir de la suggestion sur un corps physique.[14] Pucci a également inséré un CD de musique dans la tête de Guccio, le faisant chanter comme un lecteur de musique.[15] On montre que Whitesnake est capable d'extraire les sens. Par exemple, Pucci s'est volontairement privé de sa vue, les disques de "vue" étant éjectés près des yeux, afin de se protéger du pouvoir subliminal de Heavy Weather.
Whitesnake est né du désir de Pucci de préserver la mémoire de Perla Pucci, sa bien-aimée petite soeur, qui s'est suicidée par sa faute et dont la mémoire a été préservée sous forme de disque.
Illusions
Attaque acide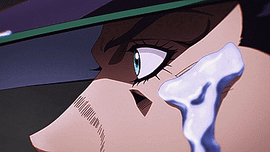 Whitesnake est capable d'utiliser une technique nommée Faire fondre ton coeur (心を溶かす, Kokoro wo tokasu),[1] qui consiste à créer une large quantité d'acide dans une pièce pour lentement digérer les victimes prises au piège dedans, comme avec un estomac géant.[16] Initialement, on montre que Whitesnake exsude constamment cet acide et prend même une forme partiellement fondue pour se cacher,[4] même si c'est utilisée une seule fois. Pendant qu'elles fondent, les victimes sont piégées dans un rêve réaliste qui leur fait prendre des faux semblants pour la réalité. Les victimes ne peuvent se réveiller que si elles prennent conscience des incohérences du rêve avec la réalité, par exemple si Jotaro dit le nom du Stand de Jolyne sans avoir jamais entendu son nom.[17] La digestion de la capacité nécessite beaucoup de temps pour donner des résultats probants, ce qui reflétée par le "D" dans son paramètre de vitesse.[1]
Plus tard, on peut voir Whitesnake en train de créer des illusions sophistiquées pour se déguiser en d'autres personnes, ayant à un moment pris l'apparence de Weather Report pour tendre une embuscade au groupe Joestar et s'approcher du Bébé Vert.[18]
Chapitres/Episodes

Apparition dans le Manga
Chapitres (ordre chronologique)

Apparitions dans l'Anime
Episodes (ordre chronologique)
Citations

Citations
"

You were one move... too late.. Jotaro Kujo.

"

"

Being able to pass something on to someone... is an amazing thing. You said it yourself. In the meeting room. And you're exactly right... this is what I've wanted to steal from the very start! This is what I wanted to receiver from the invincible one! It's mine now! It is my Whitesnake's ability!

"

"

The man who killed Kennedy ended his life this way too. I think his name was Lee Harvey Oswald? Dead men tell no tales. That's how history always works out.

"

"

McQueen, that's what I like about you... I like you, I really do. At first glance, you look petty... but you're actually evil. McQueen, you have an evil that drags people down with you.

"

"

McQueen... Truly... you are truly evil... You have no animosity. Animosity... Power moves towards animosity, and a stronger power will always come to crush animosity. Animosity will always be destroyed in the end. It's quite simple. But you're different. You neither possess animosity nor malice. You don't even want to cause anyone any problems. You think you're the victim, and even though you aren't interested in people, you're hoping that someone will come and save you someday. But that's what I mean by true evil. It's more evil than evil itself. It's true evil, which pulls people down into misfortune along with you. I really like you, McQueen. If you find one of my enemies in this prison, you'll be sure to clean them up and take them out for me...

"

"

Just as the Earth has a proven 7 to 3 ratio between land and see, it is said that there is a definite number of living organisms on Earth... It can be said that as the population of humans increase, proportionally, an equal number of other organisms die out... Therefore, retaining the set number life that is allowed to live on Earth. But... if there was a way.. for one human being to possess those lives, those millions of lives... What do you think that person would be able to see? What does the future hold for that person.

"

"

Your brain? Wherever your brain is... it's not for you to decide. I was the one who gave you your Stand ability... Smug plankton scum like don't have the right to lecture me!

"

"

The one who gave you your ability and your intellect was me! And now, I want it back, the Foo Fighters disc.

"

"

This bitch! She made Weather Report make it rain!

"
The information below derives from a source not written by Araki. As such, it may or may not be considered canon.
Une version alternative de Whitesnake apparaît dans le roman 'JORGE JOESTAR', et appartient au Pucci du 37ème univers. Cars développe sa propre copie améliorée de Whitesnake, connue sous le nom de Whitesnake Ultimate.
Galerie d'Images
Détails
Hirohiko Araki dit que Whitesnake extraits un grand nombre d'information sous la forme de disque car le média digital est devenu un standard. il apprécie aussi l'apparence du Stand.[2]
Le comédien de doublage japonais de Whitesnake et C-MOON dans All-Star Battle, Takuya Kirimoto, a été la voix de J. Geil/Hanged Man dans l'anime de la partie 3 et Eyes of Heaven.
Références
↑ 3.0 3.1 Stone Ocean Chapter 50: Torrential Downpour Warning, Part 3
↑ 4.0 4.1 Stone Ocean Chapter 18: The Visitor, Part 8
↑ 5.0 5.1 Stone Ocean Chapter 19: The Visitor, Part 9
↑ Stone Ocean Chapter 94: Time for Heaven
↑ 7.0 7.1 Stone Ocean Chapter 26: There's Six of Us!, Part 1
↑ Stone Ocean Chapter 91: Whitesnake - The Pursuer, Part 3
↑ Stone Ocean Chapter 22: Ermes's Sticker, Part 2
↑ Stone Ocean Chapter 25: Ermes's Sticker, Part 5
↑ Stone Ocean Chapter 20: Prisoner of Love
↑ Stone Ocean Chapter 75: Father: Jotaro Kujo, Daughter: Jolyne Cujoh
↑ Stone Ocean Chapter 48: Torrential Downpour Warning, Part 1
↑ Stone Ocean Chapter 49: Torrential Downpour Warning, Part 2
↑ Stone Ocean Chapter 84: F.F. - The Witness, Part 2
↑ Stone Ocean Chapter 17: The Visitor, Part 7
↑ Stone Ocean Chapter 16: The Visitor, Part 6
↑ Stone Ocean Chapter 92: Whitesnake - The Pursuer, Part 4