Le Bébé Vert
Jump to navigation
Jump to search
"
Escalier en spirale. Scarabée rhinocéros. Ville en ruines. Tarte aux figues. Scarabée rhinocéros, Via Dolorosa ! Scarabée rhinocéros ! Singularité... Giotto... Angels... Hortensia, scarabée rhinocéros, singularité ! Empereur secret !!
"
Le Bébé Vert (緑色の赤ちゃん, Midori-iro no Aka-chan) est un personnage clé de la sixième partie de JoJo's Bizarre Adventure, Stone Ocean. Il apparait spécifiquement dans l'arc narratif "AWAKEN - le réveil".
Le Bébé Vert est une créature unique créée à partir de l'Os de DIO et plusieurs dizaines d'âmes. Sa naissance représente une avancée majeure dans le plan convenu entre DIO et Enrico Pucci, comme indiqué dans le Journal de DIO. Le bébé est également un manieur de Stand et est automatiquement protégé par son Green, Green Grass of Home.
Apparence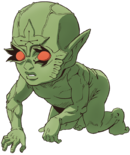 Le Bébé Vert ressemble vaguement à un bébé avec à peu près la même taille et une sihouette humaine. Cependant, il a la peau verte et son corps est parsemé de veines visibles juste sous la peau. Il a ainsi de larges oreilles pointues, une colonne vertébrale qui ressort du dos et des bosses en forme de feuille au visage. Il a des yeux globuleux avec la peau autour qui ressort, donnant l'impression de bourgeons. Il porte aussi une Tache de Naissance Joestar sur l'épaule gauche.
Palettes
Les palettes changent souvent entre les médias. L'information ci-dessous ne devrait pas être considérée comme canonique.
Peau
(Peau verte, tache de naissance maron)
Personnalité
Le Bébé Vert se comporte surtout en bébé innocent, un peu comme un bébé humain ordinaire. Il est plutôt curieux et montre de l'intérêt naturel pour Jolyne et sa tache de naissance. Lorsque Pucci lui dit le mot de passe secret, le Bébé Vert s'intéresse aussi à Pucci.
Le Bébé Vert mâchouille et mange n'importe quoi, comme des cheveux ou de la terre, la terre serait dûe à sa nature végétale.
Pouvoirs
Main article: Green, Green Grass of Home
Green, Green Grass of Home rétrécit automatiquement la taille de toute personne près du bébé qui pourrait potentiellement menacer le Bébé. Le rétrécissement est proportionnel à la distance à laquelle les victimes se rapproche, et le rétrécissement est potentiellement infini avec les cibles qui pourraient disparaître.
Le Stand lui-même peut attaquer les victimes qui sont réduites.
Green, Green Grass of Home
(
グリーン・グリーン・グラス・オブ・ホーム
)


Pouvoir(s)
Rétrécissement proportionnel
Histoire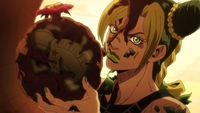 Le Bébé Vert est une créature unique née de l'Os de DIO et après avoir absorbé les âmes de trente-six pécheurs (ici des détenus de la Prison de Green Dolphin Street).
L'Os de DIO infecta on ne sait comment les détenus du quartier disciplinaire de Green Dolphin Street, les transformant tous en arbres avec l'aide du soleil. Trente-six détenus furent infectés au total.
Pendant ce temps, Jolyne, Anasui et Foo Fighters remontent dans le hall principal du quartier disciplinaire depuis la salle d'exécution et voient quelqu'un avec l'os. Jolyne essaie de le stopper mais découvre que cette personne se transforme en arbre. Jolyne est aussi infectée. Ils voient alors les arbres dans le hall et un cocon abritant un bébé avec la tache de naissance des Joestar.
Heureusement, Anasui intervient pour déraciner les parties de Jolyne se transformant en plante. Après examination, il semble que Jolyne n'est en danger de se transformer que sous les rayons du soleil. Sachant cela, Jolyne va tout de même aller prendre le cocon qui abrite le Bébé. Cependant, alors que les héros sortent du quartier, le Stand Yo-Yo Ma apparaît sans crier gare et avale l'oeuf. Les héros ne peuvent pas le récupérer et doivent supporter Yo-Yo Ma pour un moment, le temps que F.F. tue le manieur. Quand Yo-Yo Ma disparaît enfin, Jolyne et Anasui sont au beau milieu des marais.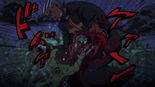 L'oeuf du Bébé Vert éclot alors, guérissant Jolyne de son infection en plante vu qu'il est pleinement développé. Anasui et Jolyne essaient de s'approcher du Bébé Vert alors que celui-ci rampe au sol, mais découvrent qu'il est protégé par le Stand Green, Green Grass of Home. Celui-ci rétrécit automatiquement Jolyne et Anasui qui se battent avec le Stand et essaient d'en réchapper malgré leur petite taille. Ils meurent presque mais c'est alors que le Bébé Vert remarque Jolyne et s'intéresse naturellement à sa Tache de Naissance Joestar.
Peu de temps après, ils sont rattrapés par Enrico Pucci, qui élimine les Foo Fighters et neutralise Anasui. Jolyne entreprend de combattre Pucci et de l'arrêter, mais Pucci jette le DISQUE mémoire de Jotaro dans un Anasui mourant, ce qui laisse Jolyne avec la menace de perdre le disque de Jotaro. Jolyne abandonne le combat pour essayer de récupérer le disque, à la joie de Pucci. Il peut alors prendre le bébé et prononcer les quatorze mots du mot de passe secret qui a été gravé dans l'âme de DIO et révélé à Pucci grâce à la mémoire de Jotaro. Le bébé réagit rapidement et déchire le bras de Pucci, le traînant violemment dans les buissons pour fusionner avec lui.

Chapitres/Episodes

Apparition dans le Manga
Chapitres (ordre chronologique)

Apparitions dans l'Anime
Episodes (ordre chronologique)
Galerie d'Images
Trivia
The Green Baby reflects the classic idea of a homunculus, including its small size, being born from its master's flesh (in this case DIO's bone), and the few remains it absorbed as a plant.
Références