Miuccia Miuller
Jump to navigation
Jump to search
Miuccia Miuller (ミュッチャー・ミューラー, Myutchā Myūrā), aussi connue par son surnom Miu Miu (ミューミュー, Myū Myū), est une antagoniste mineure de la sixième partie de JoJo's Bizarre Adventure, Stone Ocean spécifiquement de l'arc narratif "Jail House Lock!".
Miu Miu est en fait la gardienne en chef de la Prison de Green Dolphin Street. Elle piège alors Jolyne Cujoh et Emporio Alnino en détraquant leur mémoire et essaie de les empêcher de s'évader. Elle est une manieuse de Stand et utilise son Jail House Lock pour manipuler la mémoire de ses ennemis.
Apparence
Miu Miu est une jeune femme svelte. Elle a des long cheveux blonds en bataille stylisés en longues nattes pointues. Elle a des sourcils plutôt fin sauf vers l'intérieur où ils finissent en cercles. Miuccia porte beaucoup de maquillage, notamment du fard à paupière visible.
Miuccia Miuller porte un pull ample avec des pompons attachés en bas qui ressemblent à des yeux, des collants troués de toutes parts et une minijupe couverte de mots comme "Delicious". Cette tenue ce change lorsqu'elle décide d'agir en tant que gardienne chef et elle revêt alors son blouson de garde de prison.
Palettes
The series is known for alternating colors between media, the information presented below may or may not be canon.
Peau
(Peau pale, lèvres magenta.)
Yeux
(Yeux verts, fard à paupières rose.)
Tenue
(Manteau de fourrure orange, jupe magenta, collants bleus, chaussures vert citron et vert.)
Personality
Miu Miu est la gardienne en chef impitoyable de la Prison de Green Dolphin Street.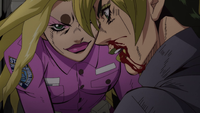 Miuccia Miuller semble prendre son rôle en tant que gardienne en chef très au sérieux. A l'instar de la plupart des gardes, Miu Miu ne tire pas sans réfléchir et n'use pas forcément de la force létale immédiatement. Elle confronte d'ailleurs Jolyne Cujoh ouvertement, l'avertissant d'abord de ne pas voulair s'évader de prison et montrant son Stand Jail House Lock. Son comportement sous-entend qu'elle aurait laissé Jolyne en paix si jamais cette dernière s'était résignée à ne pas s'échapper. Même après avoir trafiqué les capacités mémorielles de Jolyne, Miuccia garde un oeil sur elle, se faisant passer pour une prisonnière. En examinant les notes que Jolyne écrit sur elle-même, Miu Miu découvre l'existence d'Emporio Alnino et fait en sorte que Jolyne la mène à Emporio pour pouvoir aussi neutraliser les alliés cachés de Jolyne. Cependant, dès que Jolyne la vainc, Miu Miu est facilement intimidée et forcée de l'aider à s'évader.
Miu Miu est moins ouvertement violente que le commun des gardes mais elle est tout de même une gardienne impitoyable. Au moment où elle juge que quelqu'un essaie de s'évader où est complice, elle n'hésite pas à utiliser la force létale. Elle tire notamment sur Emporio, qui est un petit garçon, pour stopper Jolyne. Lorsque Jolyne se bat et montre qu'elle résiste beaucoup à Miuccia, cette dernière confesse qu'elle va apprécier le moment où les gardes abattront Jolyne.
Comme la plupart des manieurs de Stands, Miuccia est très confiante en son Jail House Lock et déclare que personne ne peut lui échapper. Miu Miu connait très bien son Stand et a créé divers stratagèmes pour exploiter au mieux le pouvoir de son Jail House Lock. Miu Miu va par exemple essayer de submerger la mémoire de ses victimes en agissant rapidement, et ainsi faire des attaques surprise. Miu Miu a un minimum de compétence tactique au combat, sachant qu'elle a la présence d'esprit d'essayer de connaitre les alliés de Jolyne et de les neutraliser, ou encore de paralyser les bras de Jolyne pour qu'elle ne puisse pas arrêter les balles des gardes.
Pouvoirs
Main article: Jail House Lock
Jail House Lock est un stand humanoïde capable de manipuler les capacités mémorielles d'une ou plusieurs personnes et les incapables de ne mémoriser que trois nouvelles informations à la fois, le plus ancien souvenir étant remplacé par le plus récent.
Jail House Lock
(
ジェイル・ハウス・ロック
)


Pouvoir(s)
Amnésie à court terme
Histoire
Passé
Miu Miu est la gardienne en chef de la Prison de Green Dolphin Street, en charge spécifiquement de la zone de la porte d'entrée et des salles de visites. Travaillant avec Whitesnake, Miu Miu a empêché pendant des années plusieurs manieurs de Stand de s'évader grâce à son pouvoir. Après qu'Enrico Pucci fusionne avec le Bébé Vert, Miuccia est envoyée s'assurer que Jolyne Cujoh n'interfère pas avec le plan de Pucci.
Stone Ocean
Miuccia Miuller apparait alors devant Jolyne Cujoh, qui est alors isolée dans une cellule et relaie le message de Whitesnake, qui l'avertit de ne pas essayer de s'échapper et d'obéir. Si elle obéit, dit Miuccia Miuller, alors Whitesnake s'assurera de renvoyer le DISQUE mémoire de Jotaro Kujo. Miu Miu montre alors son Jail House Lock en guise d'avertissement et explique qu'elle a l'ordre de tuer Jolyne, Weather Report ou Narciso Anasui si l'un d'eux essaie de s'évader. Jolyne déclare tout de même qu'elle va s'échapper et invoque Stone Free pour attaquer Miuccia. Cetter dernière active ainsi son pouvoir. Jolyne perd sa mémoire à court terme et devient incapable de compléter quoi que se soit. Pendant plusieurs jours, Jolyne essaie tant bien que mal de rejoindre Emporio.
Miu Miu se déguise en simple détenu et demeure dans le quartier des femme pour garder un oeil sur Jolyne. A un moment, elle s'asseoit à la table de Jolyne, interrompant son repas et jouant avec elle. Elle écrase un cafard, dégouté, mais met le cafard dans la nourriture de Jolyne alors qu'elle enlève sa chaussure. Elle couvre aussi le plateau de Jolyne avec trois sauces différentes, juste pour qu'elle oublie le cafard. Pour gêner Jolyne encore plus, Miu Miu renverse de la nourriture sur Jolyne. Elle fait mine de s'excuser et de nettoyer Jolyne mais va en fait effacer les notes que Jolyne a écrite sur elle-même. C'est alors que Miu Miu voit que Jolyne s'est écrite d'aller voir "Emporio". Ne sachant pas qui c'est, Miu Miu pense à un plan pour coincer le complice de Jolyne.
Suivant toujours Jolyne à la trace, Miuccia finit par attirer son attention et se fait attaquer mais s'enfuit, la leurrant alors dans un couloir interdit aux détenus. Des gardes aperçoivent Jolyne et menacent de lui tirer dessus. Jolyne échappe aux gardes et arrive dans la salle fantôme d'Emporio, comme Miu Miu l'avait prévu. En entrant dans la pièce, Miuccia déclare Emporio un criminel et tire plusieurs balles sur Jolyne et Emporio, le touchant lui ainsi que son écran d'ordinateur. Miuccia tire à nouveau mais Jolyne dévie les balles, utilisant leur reflet pour unir toutes les informations en une seule. A court de balles, Miuccia bat en retraite dans l'escalier. Miuccia appelle du renfort mais est capturée par Jolyne. Jolyne est submergée par l'arrivée des nouveaux gardes et oublie constamment Miu Miu, ce qui permet à cette d'attaquer. Cependant, Emporio donne à Jolyne une image en binaire à partir de laquelle Jolyne coud un portrait de Miu Miu. Jolyne demande alors si Miu Miu est un ennemi, auquel Miu Miu lui dit seulement de mourir, confirmant les soupçons de Jolyne. Miu Miu s'en rend compte trop tard et est vaincue par Stone Free.
Vaincue, l'emprise de Miu Miu sur Jolyne disparaît. Elle est ainsi forcée par Jolyne d'utiliser Jail House Lock sur les gardes qui oublient Jolyne. Cela permet à Jolyne, Emporio et Ermes de s'évader facilement de la Prison de Green Dolphin Street.
Chapitres

Apparitions Manga
Apparition dans les chapitres
Citations

Citations
"

Miu Miu. My Stand's name is Jail House Lock. I'm showing it to you in order to warn you.

"

"

I'll warn you one last time, Jolyne Cujoh. Don't touch these bars. The more you think about escaping, the closer you come to death.

"

"

Jail House Lock. Anyone who plans on escaping and touches it, can only remember three things. A life of three. It's worse than losing all of your memories. No matter what you do... It's useless. You experience this futility over and over again, and it becomes ingrained within you...

"

"

No matter who it is, no one would be foolish enough to come after me, Miu Miu. No one will ever be able to escape.

"

"

My job is to use Jail House Lock, to lock away other Stand Users... but if he's going to try to record my identity, that's another story! I hereby deem you a prison breaker!

"

"

There's no one who can escape from my Jail House Lock!!

"
Galerie d'Images
Références