Adams
Jump to navigation
Jump to search
"
Elle t'enfermera dans la grange, et te nourrir du médicament amer pour démarrer! (
帰ってきたらオメーのこと牛小屋にとじこめてにがい薬のませてやるとよォ!
Kaettekitara omē no koto ushigoya ni tojikomete nigai kusuri noma sete yaru to yo!
)
"
Adams (アダムス, Adamusu) est un antagoniste tertiaire dans la première partie de la série JoJo's Bizarre Adventure, Phantom Blood.
Adams est un passé humain et villagois de Windknight's Lot qui devient un zombie crée par Dio Brando. Pretendant de toujours être humain, il tente d'embusquer Poco de derrière avec sa longue langue extensible, mais est rapidement vaicu par Jonathan Joestar.
Apparence
Dans son déguisement humain, Adams est un homme ordinaire de taille moyenne de constitution musclée. Il a de cheveux bouclés courts et deux fines franges. Il a un particulièrement long et large nez. Adams porte une veste avec de poches sur les deux côtés au dessus d'une chemise à col à longues manches. Il porte un sac de messager autour de son épaule. En dessous, il porte une ceinture, d'épais pantalons, et de longues bottes.
Quand il révèle sa forme zombifiée, Adams fait pousser des crocs et sa langue devient anormallement longue. Il abandonne sa forme humaine en gonflant le haut de son torse, faisant pousser plus de muscles et perdant sa chemise. Ses cheveux tombent et il devient chauve, avec le haut de sa tête jusqu'à son nez recevant une protubérance étroite et segmentée avec plusieurs petites pointes attachées.
Palettes
The series is known for alternating colors between media, the information presented below may or may not be canon.
Tenue
(Chemise verte, boutons jaunes, pantalon jaune et bottes brunes)
Tenue
(Ceinture brune et pantalon gris)
Human
Tenue
(Veste rouge fonçé, chemise jaune-grise et pantalon violet fonçé)
Zombie
Yeux
(Sclérotique vert clair)
Personnalité
Adams apparaît initiellement en tant qu'adulte normal, faire la leçon à Poco qu'un enfant comme lui ne devrait pas sortir si tard pendant la nuit. Il peut être en quelque sorte immature puisqu'il imite des cornes de vache avec ses doigts en taquinant Poco que sa soeur va l'enfermer dans la grange.
Cependant, il révèle sa vraie nature en tant que zombie sans cœur et sans scrupule, qui veut particulièrement manger des enfants. Il essaie d'être surnois en piègeant Poco et le groupe Joestar que la ville est saufe, seulement pour qu'il essaie de les embusquer de derrière après qu'ils partent. Malgré son excès de confiance en ses capacités, sa langue est facilement attrapée par Jonathan.[2]
Pouvoirs
En tant que zombie, Adams multiplie sa forçe physique. Il peut grandir ses muscles et a confiance en sa vitesse, assumant que Jonathan serait incapable de le devancer.[2]
Techniques
Histoire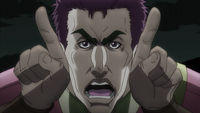 Au 1er Decembre, 1888, Dio Brando transforme Adams en un zombie dans Windknight's lot. Cette nuit, il rencontre Poco, Jonathan et Speedwagon en étant déguisé en tant qu'humain. Poco le salue mais Adams le gronde pour sortir si tard pendant la nuit. Après que Poco demande comment sa soeur et la ville sont, Adams imite les cornes d'une vache avec ses doights. Il explique que la soeur de Poco est furieuse que Poco soit dehors si tard et va l'enfermer dans une grange quand il rentrera chez lui. Poco remercie Adams et les trois partent envers Dio.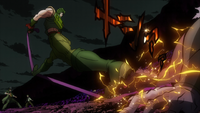 Quand ils partent, Adams etend sa langue et tourne sa tête à 180 degrés. Excité de boire le sang d'un enfant, il envoie sa langue sur Poco mais elle est facilement atrappée par Jonathan avant qu'elle aterisse sur Poco. Adams agrandit les muscles du haut de son torse, enlevant sa chemise et enlevant ses cheveux pour réveler qu'il est un zombie. Confiant en sa vitesse, il saute au-dessus de Jonathan, preparant de frapper avec ses mains et sa bouche. Jonathan facilement attrape la langue d'Adams et écrase sa tête, infusant son pied d'Onde. Alors que l'Onde fond le visage d'Adams, Jonathan arrache la langue d'Adams et il meurt.
Chapitres / Episodes

Apparition dans le Manga
Chapitres (ordre chronologique)

Apparitions dans l'Anime
Episodes (ordre chronologique)
Citations

Quotes
"

Hé, Poco! Qu'est-ce qu'un môme comme toi a à traîner ici à une heure pareille de la nuit?! (

おいポコォ!おめーのようなガキんちょが夜おそく どこほっつき歩いとるんだァー!?

Oi Poko! O-me no yōna gaki n cho ga yoru osoku doko hottsuki arui torunda!?

)

"

"

Elle t'enfermera dans la grange, et te nourrir du médicament amer pour démarrer! (

帰ってきたらオメーのこと牛小屋にとじこめてにがい薬のませてやるとよォ!

Kaettekitara omē no koto ushigoya ni tojikomete nigai kusuri noma sete yaru to yo!

)

"

"

Un enfant! Uheeheehee... Idiots! Je veux boir le sang frais et chaud d'un enfant! (

こ…子どもだァ!ウヒヒヒ、バカめェ!子どものあったけー血がすいてェーぜ!

Ko… kodomo da! Uhihihi, baka-me! Kodomo no atta ke chi ga suite ze!

)

"

"

Tu crois être de taille façe à ma vitesse?! (

ほれ様のスピードがかわへるかーっ!

Hore-sama no supīdo ga kawa heru ka!

)

"
Jeux vidéos
Adams apparaît en tant qu'énnemi dans le chapitre 18, il apparaît avant que Jonathan confronte Dire. Sa technique speciale est surtout d'attaquer avec sa langue. En mode Dio, il y a un évènement extra où il fait alliance avec Doobie pour vaincre Dio. Il n'est que jouable dans le mode 77 anneaux.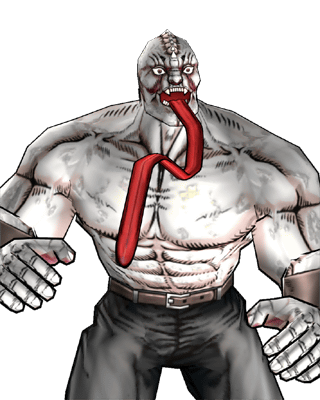 Mr. Adams









Running

Running



during damage

(LV0)

(LV1-3)
Available Stages: 77 Rings Knights Mode: Living Corpses
Gallerie
References