Le Scribe Ani
Jump to navigation
Jump to search
"
Mon nom est Ani. Le scribe qui a vécu durant... ce que vous appelez... le
Nouvel Empire
.
"
L'homme se faisant appeler le Scribe Ani (書記アニ, Shoki Ani) est l'antagoniste primaire de second chapitre du roman court The Genesis of Universe, nommé "La Pierre tombale de sable chaud".
Le Scribe Ani est une figure mystérieuse qui prétend être un scribe millénaire qui aurait vécu en Egypte Antique. C'est un manieur de Stand dont le pouvoir "The Genesis of Universe" serait un Stand antique lié à un histoire d'histoire, et qui peut matérialiser les histoires que le Scribe Ani lit.
Apparence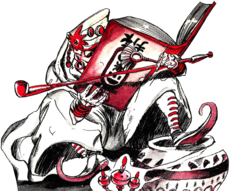 Le Scribe Ani est un homme à l'apparence de momie à cause de sa peau tannée et de ses rides couvrant son visage et son corps. Le Scribe Ani prétend qu'il aurait atteint l'immortalité grâce à son Stand. On ne sait pas vraiment s'il bluffe ou s'il proclame la vérité. Il porte un collier de perles, plusieurs bracelets, des boucles d'oreilles et une grosse bague à l'annulaire de sa main droite. Il porte un chapeau plat avec une voile sur le cou pour se protéger du soleil et des bijoux rattachés dessus à la manière de Sarpech, une large tunique, et des babouches.
Le Scribe Ani est accompagné d'un grand livre qui est son Stand Ptah.

Personnalité
Le Scribe Ani parle très lentement en raison de son âge avancé. Il est extrêmement respectueux de l'histoire et des traditions décrites dans son Livre "La Genèse de l'Univers", ou "The Genesis of Universe", qui est aussi son Stand. Lorsque Joseph et Polnareff endommagent son livre, Ani perd son calme habituel et se met en colère. Il a juré fidélité à DIO simplement parce que ce dernier possède aussi le pouvoir de l'immortalité.
Pouvoirs et Compétences
Le Stand du Scribe Ani est lié à un livre fameux titré "The Genesis of Universe". Ce livre compile des histoires et légendes de l'Egypte Ancienne. En lisant des extraits du livre, le Scribe Ani peut matérialiser les évènements du livre et les tourner contre ses ennemis. Il peut même matérialiser la terrifiante déesse-bête Ammout.
The Genesis of Universe
(
創世の書
)


Pouvoir(s)
Matérialisation d'histoires
Histoire
Passé
Le Scribe Ani est un mercenaire engagé par DIO pour tuer le Groupe Joestar au Caire. Il prétend avoir vécu durant la période du Nouvel Empire de l'Egypte Ancienne et qu'il a survécu jusqu'à maintenant grâce à son Stand qui contient le secret d'un ancienne méthode de réincarnation des âmes, basée sur l'ancienne méthode de momification datant du Nouvel Empire, justement. Pour cette raison, sa véritable identité reste inconnue.
Il a juré fidélité à DIO dès qu'il l'a pu, car DIO possède aussi la "vie éternelle" en tant que Vampire et qu'aux yeux du Scribe Ani, DIO est susceptible de conquérir le monde. 
Au Caire, Le Scribe Ani s'apprête à attaquer Jotaro et ses compagnons, qui sont à la recherche du Manoir de DIO. Il tend une embuscade à Jean Pierre Polnareff avec tout une armée de momies et de guerriers ancien. Polnareff se fait écraser par un ancien char de guerre romain. Le croyant mort, le Scribe Ani s'en va cibler les alliés du Français.
Le Scribe Ani s'approche de Joseph et Mohammed Abdul qui sentent la présence d'un manieur de Stand ennemi. Pour ne pas mettre des innocents en dangers, ils se dirigent vers une allée, mais se retrouvent devant une porte gigantesque qui représente la Porte des Enfers, gardée par 42 juges. Abdul veut attaquer les juges avec ses flammes, croyant que ce sont de simple illusions. Cependant, Joseph le décourage car il devinent que ces juges sont plus réels qu'il ne croit. Le Scribe Ani fait sont apparition et introduit son Stand The Genesis of Universe, un livre qui est capable d'invoquer les évènements mythiques et historiques compilés dedans. Joseph en a d'ailleurs entendu parler. Les deux tentent de fuir, mais sont submergés par les attaques de soldats antiques, du Sphinx et d'autres navires remplis de guerrier.
Joseph et Abdul sont attaqués par une statue de Pinedjem de Luxor. Polnareff survient pour les aider et attaque la statue, mais Genesis of Universe cause l'effondrement de la statue et Polnareff est couvert par les débris. Abdul essaie d'aider son ami mais un soldat Romain l'attaque dans le dos. Après avoir vaincu ce soldat, Joseph et Polnareff communiquent avec leurs Stands, pensant alors à un plan pour vaincre l'ennemi. Ils essaient d'encercler le Scribe Ani et attaquent le livre, mais une autre armée de soldats le protège. Le Scribe Ani se prépare à envoyer les héros vers la Porte des Enfers, les rappelant qu'Abdul s'est attaqué aux juges. Jotaro apparait soudainement derrière le scribe et attaque malgré les avertissement de Joseph. Le Scribe Ani a cependant déjà invoqué la plus puissante des créatures contenues dans le livre : la déesse bestiale Ammout. Jotaro essaie de cogner Ammout avec Star Platinum, mais même lui ne peut vaincre un dieu. La créature essaie d'attaquer Jotaro mais elle disparait. En effet, Joseph a utilisé Hermit Purple pour trouver la page où Ammit est mentionnée, et Polnareff parvient à détruire ladit page avec Silver Chariot. Ani essaie d'invoquer une autre créature, mais Jotaro lui lance la bouteille de parfum au visage, aveuglant le vieil homme. Jotaro peut s'approcher et attaquer le Scribe Anu, détruisant son corps momifié et son Genesis of Universe avec. Les héros se demandent qui il était vraiment, mais ils identité est désormais un sujet insignifiant.[1]
Citations

Citations
"

By becoming a scribe I would have hoped my name would be remembered for a long time. Not graved on a tombstone, but engraved in a book. The human being rots and returns to the ground as ashes. A book like this, instead, can reside in human memory for eternity.

"

"

God Ptah... the one... who protected... Memphis... capital of Egypt during the first dynasty. This Stand... holds the divine revelations... of that god.

"

"

I don't expect... at all... that you manage to understand... the history I'm reading. It's the grand history... of Egypt. You... are proudly... satisfied... to shine... for a few decades of life... a vermin's existence... Defeating this... "The Genesis of Universe" where... the history of Egypt... spanning from... the ancient time to the future... is kept ... is... impossible !

"

"

Are you ready... to be judged... Jotaro?! I'll let your heart... be devoured.... and I'll make you... disappear... once and for all.

"
Galerie d'Images
Références