Sports Maxx
Jump to navigation
Jump to search
This character may sometimes be referred to as "Sports Max".
"
Je vais te sucer le cerveau... T'as compris ?... Et même si ça doit faire du même coup remonter dans ton foutu crâne toute la merde que t'as dans les intestins, ça ne me suffirait pas !
"
Sports Maxx (スポーツ・マックス, Supōtsu Makkusu) est un antagoniste secondaire de la sixième partie de JoJo's Bizarre Adventure, Stone Ocean, apparaissant spécifiquement dans l'arc narratif "Baiser d'amour et de revanche".
Sports Maxx est un détenu de la Prison de Green Dolphin Street, un gangster, et un manieur de Stand qui possède Limp Bizkit. En prison, il coopère avec Whitesnake pour l'aider à compléter son plan. Ermes Costello a jurée de le tuer pour venger la mort de sa soeur Gloria.
Apparence
Sports Maxx est un homme de taille supérieure à la moyenne et de carrure moyenne.
Il a des cheveux ras avec de nombreuses petites piques rases, et de larges sourcils en forme de cercles à pointes, et des yeux au regard perçant. En devenant un Zombie, il devient alors naturellement invisible mais semble avoir une apparence plus cadavérique.
Maxx porte un costume deux pièces de couleur claire décoré avec un motif paisley sombre.
Palettes
Les palettes changent souvent entre les médias. L'information ci-dessous ne devrait pas être considérée comme canonique.
Peau
(Peau claire, lèvres violettes)
Outfit
(Veste et pantalon violet, chemise bleu, motif paisley noir. Texte "Gd. St. Jail" orange sur le dos de la veste)
Personnalité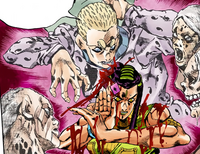 Sports Maxx est membre d'un gang et montrait déjà qu'il était extrêmement violent et impitoyable avant d'être incarcéré dans la Prison de Green Dolphin Street. Quand Foo Fighters raconte l'histoire d'Ermes, elle révèle que Sports Maxx avait tué quelqu'un en enfonçant un morceau de bois dans leur bouche avant de violemment écraser la tête de sa victime avec son pied.[3] De plus, il aurait fait assassiné Gloria Costello car elle l'avait dénoncé à la police.[4] De fait, Maxx n'a ressenti aucune culpabilité quant à la mort de Gloria, rejetant la faute sur Gloria et disant qu'elle a fourré son nez là où il ne fallait pas au lieu de reconnaître son tort.[5]
When he's turned into a revenant, Sports Maxx's violence only worsen as he begins to crave brains to eat,[6] feeling it as an unknown thirst at first.[7] During his fight against Ermes, he's abnormally violent and does things typical of a zombie like trying to bite into Ermes's skull. Due to a mix of anger and his inherent brutality, Maxx also threatens to suck Ermes's brains out and fill her head with feces just to spite her.[8]
En général, Sports Maxx maintient une façade d'homme respectable. Il consomme ouvertement de la drogue[9] et est un client des prostituées de la prison[10] mais exerce d'autres activités plus respectables, bien qu'elles semblent être tout le temps reliées à la mort. Son hobby est la taxidermie et une partie de sa routine consiste à empailler divers animaux comme des oiseaux ou des alligators,[10] mais il lui arrive de balayer le cimetière de la prison ainsi que de mettre des fleurs sur certaines tombes.[11] Il visite aussi régulièrement la chapelle de la prison, mais seulement pour coopérer avec le Stand Whitesnake. Il agit alors de façon plus raisonnable et servile avec le Stand.[12]
Au combat, Sports Maxx a un semblant de compétence tactique. Durant son combat ocntre Ermes, il a réussi à prédire qu'elle allait essayer de le leurrer à attaquer une partie factice avec ses vignettes. Il a donc exploité sa nature en tant que mort-vivant pour contrer cette tactique et s'est décapiter pour attaquer de façon inattendu et protéger son corps d'une contre-attaque.[5]

Pouvoirs et compétences
Main article: Limp Bizkit
Maxx originally could only control the reanimated corpses of people and animals around him. However, after dying himself, his Stand preserved his body and spirit by allowing himself to exist as an undead zombie. This allowed Maxx to dismember his body without pain or injury while also giving him superhuman strength.
Limp Bizkit
(
リンプ・ビズキット
)


Pouvoir(s)
Réincarnation, invisibilité
Histoire
Passé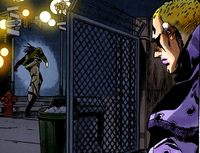 Sports Maxx est un vendeur de voiture de profession, mais est en vérité un membre vicieux de la mafia de Floride. Il aurait commis plus quarante crimes variés, dont un meurtre. Un soir, Sports Maxx a tué un homme en lui enfonçant un morceau de bois dans la bouche près d'un certain restaurant qui appartenait à Gloria Costello. Après son meurtre, Maxx aperçut Ermes Costello courant au loin, mais ne vit pas Gloria. Comme il était sûr que Maxx avait pris Ermes pour un témoin potentiel de son crime et l'aurait assassiné, Gloria a signalé elle même la police pour protéger sa soeur. Il fit assassiner Gloria et jeta son corps dans les égouts. Ceci le débarrassa du témoin de son crime et il put échapper à son jugement pour meurtre.
Ermes Costello découvra le rôle de Maxx dans la mort de sa soeur et jura de prendre sa revanche. Peu après, Maxx fut arrêté et condamné seulement pour évasion fiscale et extorsion, lui valant cinq ans de prison ferme dans la Prison de Green Dolphin Street.
Maxx s'habitue à la vie en prison et dévéloppe une sorte de routine. Il entre en contact indirect avec Enrico Pucci et devient en quelque sorte un partenaire de Whitesnake pour l'aider à compléter son plan. A un moment donné, Sports Maxx acquiert son Stand Limp Bizkit car Enrico Pucci a remarqué son côté maléfique et lui a donné le Stand. Un jour, Whitesnake lui donne un os humain et Maxx va nerveusement utiliser son pouvoir sur l'os. L'os surgit et perce la main de Whitesnake avant de disparaître. Maxx sent instinctivement que l'os est dans le quartier disciplinaire de la prison.
Stone Ocean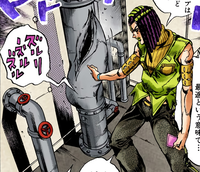 Ermes commet un cambriolage exprès pour se retrouver dans la Prison de Green Dolphin Street et le suit pour connaitre sa routine et déterminer le temps et l'endroit où elle pourra l'assassiner. Un jour dans l'atelier, Maxx voit une photo de Gloria. Intrigué, il prend la photo et active le piège d'Ermes. En effet, en prenant la photo, Maxx retire une vignette de Kiss du tuyau. Le tuyau et son duplicata fusionne, piégeant Maxx à l'intérieur. Pour en finir avec Maxx, elle remet une vignette pour sceller le trou du tuyau et pour le laisser mourir dedans. Maxx meurt mais active aussi son Limp Bizkit. Un alligator zombie s'attaque à Ermes et brise le tuyau par la même occasion. Maxx s'échappe et part de l'atelier, confus et ne souvenant pas encore de ce qui s'est passé.
Confus, Maxx se souvient à peine de ce qu'il a trafiqué avec Whitesnake. Souffrant d'une envie inconnue, il décide de d'abord s'amuser avec une des prostituées de la prison. Maxx est confus quand les autres autour de lui se comportent de façon bizarre et l'ignorent. Allant dans le cimetière, Maxx assomme et fouille un autre détenu pour s'injecter de la drogue dans les veines mais son corps laisse fuir de l'eau d'égout. Maxx réalise alors qu'il est mort et réalise aussi qu'il veut manger de la chair. Tuant la prostituée pour manger son cerveau, Maxx jure de prendre sa revanche sur Ermes.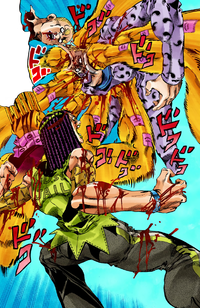 Quand Jolyne et Ermes arrivent au cimetière, Sports Maxx invoque une foule de zombies invisibles depuis leurs tombes. Le zombie de la prostituée que Maxx a tué parvient à mettre Jolyne hors-combat et Maxx concentre alors son attention sur Ermes. Il lâche les zombies aux trousses d'Ermes pour qu'ils la dévore ; Maxx lui prévoit de lui asséner un coup de grâce en lui mordant la tête par derrière. Prévoyant celà, Ermes essaie de leurrer Maxx en se collant une vignette pour dupliquer sa tête et protéger l'original. Maxx attaque et Ermes envoie des coups dans la direction de l'attaque. Cependant, Maxx a aussi bien prévu son coup et s'est détaché la tête pour éloigner son corps et le préserver d'une contre-attaque. Ermes s'effondre et Maxx vient pour asséner le coup de grâce. Cependant, Ermes retire alors la vignette de Kiss de sa tête. Le bout de chair que Maxx a mangé sort de Maxx, ce qui lui permet de voir sa position. Ermes peut alors vaincre Maxx, lui assénant une volée de coups violents pour venger Gloria. Le corps de Maxx est tellement endommagé que ses DISQUES Stand et mémoire sont éjectés de lui. Limp Bizkit ne peut plus préserver Maxx dans son état de zombie, et Maxx est réduit en bouillie avant de disparaît pour de bon.
Plus tard, le Stand Under World recrée un souvenir de Sports Maxx. Ce souvenir provoque Ermes à entrer dans une caverne, la faisant tomber dans le piège de Donatello Versus. Maxx explique aussi la nature du pouvoir d'Under World à Ermes.
Chapitres

Apparitions Manga
Apparition dans les chapitres
Citations

Citations
"

Limp Bizkit, the one who emerges from the dark... return with me... the one who indulges in the dark... Limp Bizkit....

"

"

I...! I wasn't thirsty...! I want to eat!! I wanted to eat! To satisfy this appetite..! Brains...!

"

"

Listen... I'm gonna go ahead and sucks your brains out right now... and even if I rip out all the shit you've got in your stomach and fill your empty skill with it, I won't be satisfied!!

"
Jeux Vidéo
Sports Maxx apparaît comme un personnage non-joueur dans l'arène de la Prison de Green Dolphin Street. Son pouvoir Limp Bizkit génère un alligator translucide qui rôde dans l'arène et s'attaque à quiconque croise son chemin. L'alligator a sa propre barre et vie et peut être vaincu.
Galerie d'Images
Références
↑ [citation needed]
↑ 2.0 2.1 2.2 2.3 SO Chapter 53: Kiss of Love and Revenge, Part 3
↑ SO Chapter 51: Kiss of Love and Revenge, Part 1, p.11
↑ SO Chapter 51: Kiss of Love and Revenge, Part 1, p.13
↑ 5.0 5.1 SO Chapter 57: Kiss of Love and Revenge, Part 7, p.6-7
↑ SO Chapter 55: Kiss of Love and Revenge, Part 5, p.15-16
↑ SO Chapter 55: Kiss of Love and Revenge, Part 5, p.2
↑ SO Chapter 57: Kiss of Love and Revenge, Part 7, p.8
↑ SO Chapter 55: Kiss of Love and Revenge, Part 5, p.11
↑ 10.0 10.1 SO Chapter 52: Kiss of Love and Revenge, Part 2, p.4
↑ SO Chapter 52: Kiss of Love and Revenge, Part 2, p.3
↑ SO Chapter 58: Ultra Security House Unit, p.12