Lang Rangler
Jump to navigation
Jump to search
"
J'ai été mis en taule pour avoir poignardé une salope, j'en sortirai de la même manière... avec en prime un pouvoir qui me rend invincible !
"
Lang Rangler (ラング·ラングラー, Rangu Rangurā) est un antagoniste secondaire figurant dans la sixième partie de JoJo's Bizarre Adventure, Stone Ocean. Il apparaît dans l'arc narratif specifically the "Le Plan Savage Garden".
Lang Rangler est un détenu dans la Prison de Green Dolphin Street, envoyé par Enrico Pucci pour assassiner Jolyne Cujoh et Weather Report alors qu'ils se dirigent vers la cour intérieure et donner le DISQUE Stand de Jotaro Kujo à la Fondation Speedwagon. Lang est un manieur de Stand et manie Jumpin' Jack Flash.
Apparence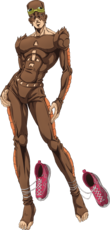 Lang Rangler est un homme de taille et de carrure moyenne, sinon supérieure à la moyenne.
Son visage est presque entièrement masqué par un masque au haut plat qui lui couvre toute la tête sauf le bas du visage, avec une bordure en dents de scie, avec des ouvertures avec les yeux qui sont partiellement couvertes. Il porte aussi des lunettes sur le front. Le reste de son corps est couvert par une combinaison moulante avec quelques trous formant une sorte de fusée et au niveau des hanches. Il porte aussi des gantelets spéciaux fait pour tirer de petits projectiles.
Palettes
Les palettes changent souvent entre les médias. L'information ci-dessous ne devrait pas être considérée comme canonique.
Tenue
(Combinaison brune, stries oranges, chaussures rouges et blanches.)
Lunettes
(Lunette à cadres jaunes et verres bleus.)
Personnalité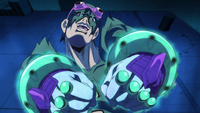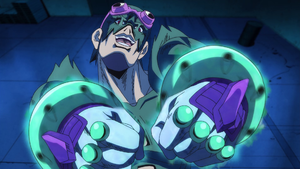 Lang Rangler est un manieur de Stand calme et méthodique qui est néanmoins sujet à l'excès de confiance et à des pulsions meurtrières.
La biographie de Lang Rangler le décrit comme quelqu'un qui pensent les choses logiquement.[3] De fait, il a créé une stratégie presque parfaite pour gagner ses combats. Premièrement, il est habitué à l'apesanteur comment se déplacer dans de telles conditions, et il semble qu'il a modifié ses doigts en y ajoutant des ventouses.[3] Quand il parvient à affecter une cible avec son pouvoir d'apesanteur, il peut alors patiemment attendre que l'apesanteur de la victime créé un vide autour d'elle et l'asphyxie. Si besoin, il possède des centrifugeuses aux poignets pour tirer des objets sur la victime, lui permettant de la blesser et d'accélérer sa mort car le vide aspire le sang hors des blessures qu'il inflige, causant des hémorragies mortelles.[4][5] Pendant son combat, on le voit régulièrement parler à haute voix pour analyser la sitation et les actions de Jolyne et Weather Report pour mieux les vaincre.[6]
Lang Rangler est habituellement calme, mais il est sujet à de rares accès de colère et des pulsions meurtrières. Il a été condamné pour vol de voiture et meurtre, et aurait poignardé soixante-neuf fois un professeur.[7] De même lorsque Jolyne montre qu'elle est très coriace et forte au combat, Lang perd son calme, l'insultant et la menaçant.[8]
Lang montre une certaine confiance, ou même une certaine arrogance quant au pouvoir de son Stand. Il pense notamment qu'il peut battre Whitesnake[9] et aime déclarer à l'avance qu'il a déjà battu ses cibles.[10]

Pouvoirs
Main article: Jumpin' Jack Flash
Le Stand de Lang Rangler est Jumpin' Jack Flash. Tous ceux sur qui Lang crache dessus se retrouvent en position d'apesanteur. Avec les centrifugeurs spéciaux à ses poignets, Lang peut aussi tirer sur ses cibles avec des boulons et des vis.
Lang possèdent des sortent de ventouse au bout des doigts, ce qui semble être une caractéristique naturelle. Cela lui permet de s'accrocher à des surfaces et l'avantage dans la zone d'apesanteur.
Jumpin' Jack Flash
(
ジャンピン・ジャック・フラッシュ
)


Pouvoir(s)
Apesanteur forcé
Histoire
Passé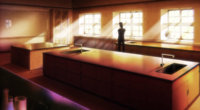 Lang Rangler a été condamnée à 5 ans de prison dans la Prison de Green Dolphin Street pour vol de voiture, mais il révèle aussi qu'il a tué un professeur en la poignardant soixante-neuf fois.
Peu avant son apparition, Whitesnake l'instruit d'aller tuer Jolyne et de reprendre le DISQUE Stand de Star Platinum.
Le Plan Savage Garden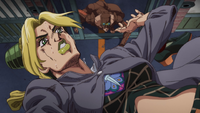 Langa Rangler apparaît pour la première fois alors qu'il épie Jolyne Cujoh, Emporio Alnino et Weather Report qui planifient d'aller dans la cour intérieur. Weather le voit dans la réflexion d'une flaque d'eau au sol et ils s'enfuient. En poursuite, Lang parvient à cracher sur Jolyne pour activer son Stand Jumpin' Jack Flash. Les héros échappent à Lang en se cachant sous un gilet grâce au pouvoir de Burning Down the House. Jolyne se rend alors à la laverie et l'usine de la prison en prétextant qu'elle doit faire réparer ses chaussures. Cependant dans un couloir, elle se rend compte qu'elle est affectée par une soudaine apesanteur et est piégée flottant dans l'air. Lang vient et prend le DISQUE grâce à son avantage en apesanteur. Jolyne l'attaque mais il parvient à la bloquer. Il commence à partir mais Jolyne parvient à appeler Weather Report à la rescousse. Lang tire des boulons et des vis sur Weather avec ses centrifugeuses mais Weather dévie les projectiles.
Lang Rangler tente alors un coup de poing avec son Stand mais Weather augmente la résistance de l'air et y met le feu. Pour s'échapper, il désactive soudainement l'apesanteur, et certains objets tombent sur Weather. Des alarmes de sécurité sont activées et sonnent, causant la fermeture automatique de la porte vers la laverie. Lang Rangler se propulse et flotte pour passer la porte, mais Jolyne et Weather parviennent aussi à le poursuivre dans la laverie.
Le pouvoir de son Stand fait que Jolyne commence à affecter tout ce qu'elle touche et même la pesanteur ne fait plus effet sur l'air. Il se créé alors une dépression autour de Jolyne et Weather car l'air s'éloigne d'eux. Tout en restant en dehors du vide, Lang en profite pour tirer sur les héros, et le sang commence à fuir de leur blessures. Alors que Lang recharge ses centrifugeuses, il voit que Weather doit créer des combinaisons de nuages pour préserver un peu d'air avec son Stand. En se déplaçant, il continue à leur tirer dessus avec des projectiles. Jolyne essaie de répliquer mais Lang peut aussi se débarrasser des projectiles ennemis. Les projectiles ricochent jusqu'à ce qu'elles percent un baril qui se propulse à cause de l'air fuyant et s'écrase sur Weather Report. Lang lance ensuite des rats dans la zone de vide pour qu'ils éclatent et asperge la visière de Jolyne, qui est aveuglé. Il tire sur Jolyne et brise sa visière.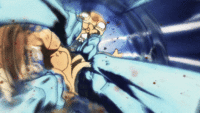 Lang se prépare à partir et se dit même qu'il pourrait battre Whitesnake avec son pouvoir. Cependant, il remarque alors des fils de Stone Free qui enserrent ses poignets. Jolyne le tire alors dans la zone de vide, ce qui menace de le tuer plus rapidement que Jolyne. Se remémorant la fois où il a poignardé une professeure, Lang s'énerve et joue son va-tout. En mettant du magnésium dans une bouteille d'eau oxygénée, il fait une réaction qui produit de l'oxygène dans la bouteille, ce qui avec la dépression environnante, en fait une grenade improvisée. Il brise la combinaison de Jolyne mais Weather se sacrifie pour lui donner sa combinaison. A l'agonie, Lang est obligé d'annuler l'apesanteur de Jolyne. Cependant, le courant d'air qui revient vers Jolyne le propulse vers elle, et Jolyne le vainc donc avec une volée de coups de poings de Stone Free. Jolyne prend alors sa carte d'entrée pour aller dans la cour intérieure.
Chapitres/Episodes

Apparition dans le Manga
Chapitres (ordre chronologique)

Apparitions dans l'Anime
Episodes (ordre chronologique)
Citations

Citations
"

Tch, what unwanted company... Jolyne Cujoh is already set to be finished off by me. I thought that the only one I was going to have to kill today was her...

"

"

Zero-gravity... you're probably a Stand user yourself, so let's see if you can figure out what that feels like.

"

"

Jumpin' Jack Flash. It's awesome, I don't think I can lose to anybody with this. I'm glad I came to this prison... the ability that I picked up here... maybe there's nothing in the world that I can't do now!

"

"

That feeling I get, of wanting to kill, is finally filling inside me too!!! Eat this! I'm gonna carve your fucking epitaph on your pretty white skin!!!

"
Galerie d'Images
Références
↑ 2.0 2.1 Stone Ocean Chapter 42: Operation Savage Garden, Part 3 p.22
↑ 3.0 3.1 Stone Ocean Chapter 42: Operation Savage Garden, Part 3, tailpiece
↑ Stone Ocean Chapter 43: Operation Savage Garden, Part 4, p.17
↑ Stone Ocean Chapter 44: Operation Savage Garden, Part 5, p.7
↑ Stone Ocean Chapter 45: Operation Savage Garden, Part 6, p.14
↑ Stone Ocean Chapter 46: Operation Savage Garden, Part 7, p.11
↑ Stone Ocean Chapter 46: Operation Savage Garden, Part 7, p.12
↑ Stone Ocean Chapter 46: Operation Savage Garden, Part 7, p.4
↑ Stone Ocean Chapter 45: Operation Savage Garden, Part 6, p.7
Détails
Durant la publication originale dans le Weekly Shonen Jump, Lang Rangler avait été condamné pour meurtre mais celà a été changé en condamnation pour vol de voiture dans la publication dans les tankobon.