D an G
Jump to navigation
Jump to search
"
Mon travail était simple... Tuer
Jolyne Cujoh
. C'est tout ce qu'on m'a ordonné de faire et c'est ce que je vais faire.
"
D an G (DアンG, Dī An Jī) est un antagoniste secondaire de la sixième partie de JoJo's Bizarre Adventure, Stone Ocean, apparaissant dans l'arc narratif "Yo-Yo Ma Arrive !".
D an G est l'un des quatre manieur de Stand envoyés dans le quartier disciplinaire par Enrico Pucci pour assassiner Jolyne Cujoh. Il utilise son Stand automatique Yo-Yo Ma pour essayer de lentement tuer Jolyne et Narciso Anasui dans les marais près de la Prison de Green Dolphin Street.
Apparence

D an G est un homme plutôt grand et à la silhouette élancée. Il porte une tunique faite de deux parties différentes, une moitié en fourrure et l'autre moitié en tissu normal, des bracelets fins et des sandales.
Comme son Stand, D an G porte un casque à pointe qui lui donne l'air d'un soldat, et aussi un cache-oeil. Sachant que son oeil gauche est normal sous le cache-oeil, on ne sait pas pourquoi il le porte.
Palettes
Les palettes changent souvent entre les médias. L'information ci-dessous ne devrait pas être considérée comme canonique.
Yeux
(Yeyx gris, cache-oeil noir)
Tenue
(Casque bleu acier, tunique jaune avec une fourrure verte, ceinture gris métallique, bracelets et chaussures couleur acajou.)
Personnalité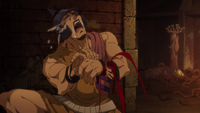 La plupart du temps, D an G a une personnalité complètement stoïque, mais on suppose qu'il est haineux et meurtrier à en juger par les crimes qu'il a commis. En 1999, D an G croyait aux prédictions de Nostradamus sur la fin du monde et a décidé de commettre plusieurs meurtres, utilisant son statut de policier pour cacher ses crimes jusqu'à ce qu'il soit découvert.[1]
Cependant, après qu'un piège impliquant Guccio déchiquète son bras, il commence à sangloter comme un enfant (quelque chose que même son propre Stand a remarqué), puis est complètement sans défense ni ressource jusqu'à sa mort.[3]
Il est expliqué que D an G est détenu dans le quartier disciplinaire pour sa protection ; en effet, son status d'ancien policier en ferait une cible s'il était admis en prison avec les autres détenus.[1]
Pouvoirs
Main article: Yo-Yo Ma
Yo-Yo Ma est un Stand automatique à longue portée plutôt humanoïde. Il est indépendant et capable de réaliser des taches complexes comme piloter un bateau ou construire une chaise, ainsi que de porter la conversation avec des gens. Il est faible physiquement mais complètement invulnérable et sa salive est corrosive.
Yo-Yo Ma
(
ヨーヨーマッ
)


Pouvoir(s)
Salive corrosive
Histoire
Passé
En 1999, D an G était un policier. Il croyait alors en aux prophécies de Nostradamus concernant la fin du monde imminente de l'an 2000. Pour cette raison, il a abattu sur plusieurs personnes qu'il n'aimait pas vers le début du nouveau millénaire, utilisant son statut de policier pour effacer ses traces. Une fois la panique apaisée, il a été rapidement arrêté et condamné pour 20 ans à la Prison de Green Dolphin Street. Comme les anciens policiers sont souvent ciblé et assassinés en prison, il a été placé dans le quartier disciplinaire, isolé de tous pour sa propre sécurité. On ne sait pas s'il a reçu son Stand par le biais du Whitesnake de Pucci ou s'il l'a développé par lui-même.[1]
Stone Ocean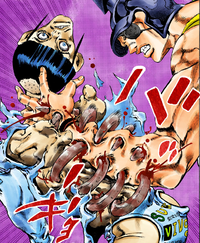 D an G est l'un des quatre manieur de Stand envoyés dans le quartier disciplinaire par Enrico Pucci pour assassiner Jolyne Cujoh. Après que Viviano Westwood ait provoqué un combat à mort général en ouvrant toute les cellules, seuls Kenzou et D an G demeurent. D an G se cache ensuite alors que Kenzou affronte les héros. Après le chaos causé par Survivor mais aussi le macabre métamorphose en plante causé par l'Os de DIO, D and G sort de sa cachette, et voit alors Guccio errer dans la salle d'un air hagard. Il prend Guccio par l'épaule mais déclenche un piège, son avant-bras percé de toute part par les cotes de Guccio car Anasui a modifié son corps. D an G s'effondre en larmes, mais envoie tout de même Yo-Yo Ma aux trousses de Jolyne.
Les gardes de la prison surviennent et trouvent D and G blessé. Ils le transportent alors dans une ambulance pour qu'on le traite. Cependant, Foo Fighters est resté derrière pour trouver et tuer le manieur de Yo-Yo Ma. Malgré ses efforts de Pucci et Whitesnake pour protéger D an G, F.F. se tire dessus pour disperser du plancton sur D an G et infiltrer son corps. F.F. décapite alors D an G de l'intérieur.
Chapitres

Apparitions Manga
Apparition dans les chapitres

Apparitions Animé
Apparitions dans les épisodes
Galerie d'Images
Références