Viviano Westwood
Jump to navigation
Jump to search
"
Je vois vos points de force, à tous !! Je perçois vos puissantes musculatures d'ici ! Venez vous battre... à la "Fight Club" !
"
Viviano Westwood (ヴィヴァーノ・ウエストウッド, Vivāno Uesutouddo) est un antagoniste secondaire de la sixième partie de JoJo's Bizarre Adventure, Stone Ocean. Il apparait dan l'arc narratif "Le secret du garde Westwood".
Westwood travaille en tant que garde dans la Prison de Green Dolphin Street et est l'un des quatres manieurs de Stand qu'Enrico Pucci envoie pour assassiner Jolyne Cujoh dans le quartier disciplinaire. Influencé par Survivor et utilisant son Planet Waves pour faire tomber des météorités, il défie Jolyne dans un combat au corps-à-corps intense.
Apparence

Viviano Westwood est un homme musclé avec un visage carré aux traits saillants. Après que son compagnon l'ait frappé violemment, une partie importante de sa peau a été arrachée au niveau de la bouche, révélant alors la gencive et ses dents. Il a les cheveux foncés et une coiffure undercut. Westwood porte un uniforme typique de garde de la Prison de Green Dolphin Street.
Palettes
Les palettes changent souvent entre les médias. L'information ci-dessous ne devrait pas être considérée comme canonique.
Tenue
(Chemise bleue bébé, brassard et pantalon bleu, badge doré, ceinture blanche à boucle dorée, bottes brunes.)
Personnalité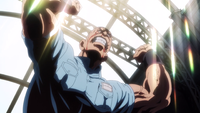 D'ordinaire, Viviano Westwood est un garde ordinaire travaillant dans la Prison de Green Dolphin Street. Il s'amuse à victimiser les détenus, est ami avec son collègue Sonny Likir et fait des paris avec lui.[4] Il dit notamment que les détenus de la prison sont des ordures et la lie de la société[5] et les hait, confessant qu'il est toujours irrité par leur présence et est furieux que les détenus le traitent "comme de la merde".[5]
Lorsqu'il tombe sous l'influence de Survivor, la personnalité de Westwood est submergée par une agressivité surnaturelle. Il devient un homme extrêmement belliqueux qui veut et adore se battre. Il devient tellement agressif qu'il ouvre toutes les cellules du quartier disciplinaire pour défier tous les prisonniers[6] décidant après de combattre Jolyne dans un combat au corps-à-corps très violent et intense. Westwood acquiert une sorte d'esprit guerrier et il lui arrive alors de complimenter ses opposants s'il sont coriaces. Il complimente la force de Likir[7] et décrit les fils de Jolyne comme étant beaux quand il les perçoit car ils représentent la meilleure arme de Jolyne.[8] Avec l'influence de Survivor, Westwood a tendance à déclarer à haute voix qu'il est le plus fort.[9]
En tant que garde de prison, il a étudié et maitrisé des techniques de lutte et des prises pour maîtriser les gens et les empêcher de s'échapper, notamment des prises de tête.
Westwood dit que ça ne le gênerait pas d'avoir Jolyne saisir son entrejambe dans d'autres circonstances que leur combat.[10]

Pouvoirs
Main article: Planet Waves
Westwood utilise son Stand Planet Waves pour attirer des météores vers la Terre et frapper quelque chose ou quelqu'un près de lui. Les météores sont attirées directement vers Westwood mais ils se désintègrent toujours près de lui pour garantir sa sécurité.
Planet Waves
(
プラネット・ウェイブス
)


Pouvoir(s)
Attraction de météorites
Lutte
Westwood est un garde de prison entraîné à maitriser des prisonniers. Pour cela, il connait des prises et autres technique de lutte pour immobiliser quelqu'un.
Viviano resserre l'articulation de l'épaule gauche de son adversaire en même temps que le cou, l'empêchant de lever le bras droit. La seule faiblesse de cette technique est que la personne qu'il détient peut toujours utiliser sa main droite pour saisir son entrejambe, mais ce n'est pas un problème tant que Viviano est prudent.
[11]
Viviano utilise cette technique pour retenir ses ennemis assez longtemps pour que les météores de
son stand
les atteignent. Viviano est également capable d'utiliser cette technique avec seulement ses jambes.
[11]
Histoire
Passé
Westwood est un garde de la Prison de Green Dolphin Street depuis trois ans. Auparavant, il travaillait dans les services de douanes de Miami. A un moment donné qu'on ne connait pas, Enrico Pucci lui a inséré un DISQUE Stand, peut-être une heure ou le jour avant qu'il ne s'attaque à Jolyne Cujoh
Stone Ocean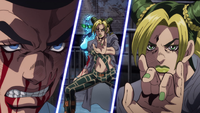 Viviano Westwood est assigné au quartier disciplinaire quand il doit aller tuer Jolyne Cujoh. Après que celle-ci soit envoyée dans le quartier disciplinaire, Westwood et son partenaire Sonny Likir patrouille les cellules pour arroser au karcher les prisonniers, ce qui correspond à leur "douche" quotidienne. Westwood parie 15$ que Jolyne ne se cachera pas quand elle verra la lumière de leur lampe. Quand il entrent dans la cellule, elle se cache et Westwood doit donc payer son compagnon. Sans qu'ils le sachent, l'eau qui est répandue dans le quartier disciplinaire permet à Survivor de se propager et d'augmenter l'agressivité de tous. Lorsque le karcher a un dysfonctionnement et que Westwood est aspergé, ce dernier frappe Likir à l'épaule sans y penser. La dispute dégènere en combat violent et sans merci, duquel Westwood ressort victorieux quand il bloque Likir avec ses jambes et l'étouffe. Sa soif de sang n'est pas encore satisfaite et Westwood ouvre alors toutes les cellules du quartier disciplinaire pour défier les prisonniers. Un combat général commence et Westwood se bat alors contre Jolyne.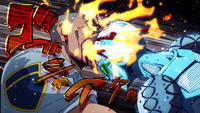 Bien que Jolyne ait son Stand Stone Free, Survivor augmente les capacités physiques de Westwood qui peut alors égaler Jolyne au corps-à-corps. Jolyne utilise ses fils pour ligoter Westwood mais son aggressivité lui procure en fait une force et agilité surhumaines. Jolyne parvient à attacher les poings de Westwood à son coup et lui envoie une volée de coup. Cependant, Westwood utilise inconsciemment Planet Waves pour arracher un bout du bras de Stone Free et s'échappe des fils. Jolyne accule Westwood une fois de plus en couvrant sa tête avec sa veste, mais un bout de la jambe de Stone Free est déchiqueté. Westwood fait une prise à Jolyne, l'immobilisant. Elle voit alors que Westwood fait en fait tomber des petites météorites vers lui, touchant Jolyne au passage. Avant qu'une météorite le frappe, Jolyne introduit des fils dans l'oreille et la cavité oculaire de Westwood avant de tirer violemment. A l'agonie, Westwood laisse s'échapper Jolyne avant qu'un météore ne la frappe, mais le météore se désintègre dès qu'il s'approche de Westwood.
Jolyne est toujours gravement blessée et Westwood sait qu'il a l'avantage. Jolyne est distraite quand elle voit un des prisonniers jouer avec l'Os de DIO. Westwood utilise l'ocassion pour l'attaquer et l'accule contre un mur, depuis lequel ressort un météore qui s'était écrasé de l'autre côté. Jolyne évite un premier météores mais Westwood lui donne un coup de pied la propulsant sur le chemin d'un second météore. Cependant, Jolyne vole la botte de Westwood et se protège de l'impact avec. De plus, la botte a absorbée l'énergie cinétique du météore et vole droit dans le visage de Westwood. Sonné, Westwood essaie de contre-attaquer mais Stone Free lui assène un coup de boule qui le met à terre définitivement. Jolyne gagne ainsi contre Westwood.
Chapitres / Episodes

Apparitions Manga
Apparition dans les chapitres
Citations

Citations
"

You pack a good punch, bastard!!

"

"

I'm gonna go crazy, and make you pay! It's gonna feel so good when I make you pay! Make you pay, make you pay, I'm gonna relieve all my stress and make you pay! I'm the strongest, and I'm gonna make you pay!

"

"

How many have hit you already? Hmm? Weird... there are burning rocks flying from the sky towards me... are they meteors? Is this my strength..?

"

"

One more hit! The finishing blow is coming!

"
Galerie d'Images
Détails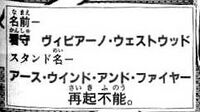 Le nom de Westwood était écrit Vibiano Westwood (

ヴィビアーノ・ウエストウッド

Vibiāno Uesutouddo) dans la publication originale dans le Weekly Shonen Jump de Stone Ocean. Le nom a été changé dans la publication en tomes.
Références