Donatello Versus
Jump to navigation
Jump to search
"
Je ne veux pas mourir ici ! J'ai le droit de vivre heureux ! (
オレはこんなところで終わらない!オレだって幸せになる権利はあるんだッ!
Ore wa kon'na tokoro de owaranai! Ore datte shiawase ni naru kenri wa arun da!
)
"
Donatello Versus (ドナテロ・ヴェルサス, Donatero Verusasu) est un antagoniste secondaire de la sixième partie de JoJo's Bizarre Adventure, Stone Ocean. Il apparait spécifiquement dans l'arc narratif "Under World".
Donatello est l'un des enfants illégitimes de DIO. Par un coup du Destin, il rencontre Enrico Pucci et ses demi-frères. Il éveille son propre Stand Under World et combat alors Jolyne Cujoh et Ermes Costello à Orlando. Bien qu'il coopère avec Pucci, il possède sa propre ambition.
Apparence
Donatello Versus est un homme de taille et de carrure moyenne. Il a une coiffure standard avec des cheveux plutôt courts de couleur claire, mais une rayure noire au milieu en forme de "Y". Il a des favoris épais, une épaisse mèche qui lui couvre le front et deux petites queues de cheval.
Versus porte un collier de type choker avec une boucle en forme de spirale carrée. Il porte une chemise simple avec pantalon assorti, la chemise incorporant un décolleté en V. La chemise de Donatello incorpore deux sangles retenues avec trois paires de boucles en tissus et deux autres sangles au niveau de la ceinture qui partent en bas pour se rejoindre dans la boucle à l'avant de son pantalon.
Enrico Pucci note que la taille, la taille de pied, et la pression sanguine de Donatello sont similaires aux siens.
Palettes
Les palettes changent souvent entre les médias. L'information ci-dessous ne devrait pas être considérée comme canonique.
Cheveux
(Blonds, rayure noire)
Tenue
(Tenue blanche et noire, sangles cyan)
Personnalité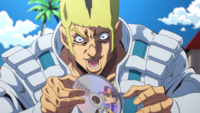 Martyrisé toute sa vie, Donatello a déveloopé une rancune amère contre la société et le désir de devenir heureux quelqu'en soit le prix. Il semble avoir hérité de l'égocentrisme de DIO, sans être manipulateur ou vraiment psychopathe comme son père. Cela fait qu'il est plus stable que son père, mais est impulsif et impétueux.
Lorsqu'il rencontre Enrico Pucci pour la première fois, Donatella est prêt à coopérer avec lui et même suivre ses instruction. Il a aussi un certain calme et respecte à peu près Pucci. Cependant, Donatello devient de plus en plus frustré quand Pucci le conseille contre Jolyne Cujoh, lui disant de ne pas sous-estimer les héros. Blessé et ayant mauvais caractère, Donatella s'énerve de plus en plus et s'emporte contre Pucci quand ce dernier doute de ses capacités. Donatello va éventuellement décider de trahir Pucci et essaie de dérailler le plan de Pucci pour en profiter.
Donatella est aussi désespéré qu'il est sans merci. Il est prêt à menacer des enfants et risquer sa propre vie pour gagner au combat. Donatella devient facilement enthousiaste et déclare facilement sa victoire, mais cela le distrait souvent durant des combat. S'il est pris au dépourvu, Donatello peut craquer sous la pression. Par exemple quand Jolyne et Ermes le battent et que Pucci les complimente, il se sent acculé et décide imprudemment de rendre ses souvenirs à Weather Report. Donatello est impétueux et s'emporte contre les gens et est aisément frustré.
Pouvoirs
Main article: Under World
Under World permet à Donatello d'invoquer des évènements passés de la terre de Floride, et d'emprisonner des gens dans ces souvenirs, les forçant à revivre tout ce qui se passe.
Under World
(
アンダー・ワールド
)


Pouvoir(s)
Déterrement des souvenirs
Histoire
Passé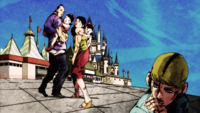 Donatello Versus a été élevé par sa mère et son beau-père, un homme qui "n'a fait que raconter de longues histoires sur comment il séduisait les femmes". On ne sait pas quand sa mère a épousé son beau-père. Il semble que Donatella était défavorisé par rapport aux autres enfants de la famille, et il commença à les détester.
Donatello fuyais son foyer à l'âge de 13 ans. Soudainement, une paire de chaussures de baseball tomba mystérieusement du ciel et atterri sur sa tête. Se demandant d'où ils venaient, il les a essayés. Ils étaient bien trop gros, mais il décida de les garder quand même car ils sentaient très bon et il aimait le bruit de claquement que faisaient les pointes chaque fois qu'il marchait. Il ne fallut pas longtemps avant qu'il ne soit arrêté et traduit en justice, où il apprit que les chaussures appartenaient au joueur de champ extérieur des Mariners de Seattle Ichiro Suzuki. Ces chaussures devaient à l'origine être offertes aux enfants handicapés par charité. En entendant le garçon dire que les chaussures sont tombées du ciel, la juge s'est mis en colère et pensa que Donatello avait menti pour voler à des enfants moins chanceux que lui. Versus a été rapidement jugé coupable de vol des chaussures sur ces preuves circonstancielles et a été envoyé dans un centre de détention pour mineurs pendant six mois, la mère et le beau-père de Versus ne s'opposant pas à son incarcération.
Cependant, quatre mois après l'arrestation de Versus, le vrai criminel a avoué son crime. Le criminel était un cambrioleur professionnel qui, après avoir volé les chaussures, avait pris peur d'être attrapé parce que les chaussures étaient si célèbres, et a jeté les chaussures dans un conduit de ventilation au-dessus d'un bâtiment pour s'en débarrasser.
Quand le mot parvint à l'établissement dans lequel Donatella était détenu en ce qu'il avait été condamné à tort, Versus était déjà très éprouvé physiquement et émotionnellement, et il était presque trop faible pour bouger à cause d'une série d'événements étranges qui s'étaient produits au cours de son incarcération. Par exemple, Versus a trébuché en marchant dans la cour de l'établissement et sa main a été empalée sur un couteau qui y avait été enterré quelque temps auparavant. Versus découvrit le lendemain que le couteau appartenait à un garde corrompu qui l'avait caché, probablement pour menacer d'autres détenus. En conséquence, le garde a régulièrement harcelé et battu Versus pour se venger. Sa blessure à la main a finalement été traitée deux semaines après les faits, mais les vers et le pus infestaient toujours la plaie. Peut-être à cause de cela, Versus a eu une forte fièvre et a failli mourir. A un autre moment, Versus a uriné sur un mur décrépit qui s'est effondré et a révélé le squelette d'une femme morte depuis longtemps.
Stone Ocean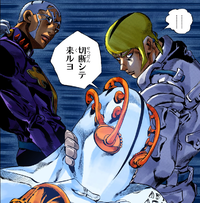 En 2011, poussé par le Destin, Donatello rencontre le prêtre Enrico Pucci dans un hôpital d'Orlando après qu'on lui ait tiré dans la jambe et qu'il soit tombé du sixième étage d'un immeuble après un cambriolage qui tourne mal. Donatello rencontre Pucci et aussi ses demi-frères Ungalo et Rikiel. Pucci leur révèle leur passé, leur lignée et son plan. Alors qu'Ungalo et Rikiel partent pour confronter les héros, Donatello reste alité à l'hôpital pour récupérer de sa blessure. Donatello se rétablit et éveille son Stand Under World juste à temps pour s'attaquer à Jolyne et Ermes alors qu'elle retrouvent la trace de Pucci dans l'hôpital.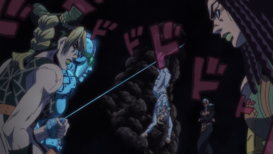 Donatello invoque instinctivement la mémoire d'un garçon qui se fera tirer dessus et la balle perdue attire l'attention des héros alors qu'elle blesse un autre patient dans le couloir. Donatello et Pucci prennent refuge dans une large caverne sous la salle. Quand Jolyne entre dans la caverne, Under World la piège dans le souvenir d'un avion qui va bientôt s'écraser. Jolyne essaie de s'extirper de l'avion et appelle à l'aide avec un fil relié à Ermes. Under World essaie de couper le fil mais Jolyne lance un stylo qui empale la main du Stand, ce qui le force à battre en retraite. Under World invoque ensuite un souvenir de Sports Maxx qui provoque Ermes à venir dans la caverne, ce qui la piège aussi dans l'avion. Pucci commente la situation depuis un certain temps, ce qui agace Donatello qui pense que Pucci le prend de haut. Quand Jolyne ouvre la porte de l'avion pour se jeter sur Donatello, celui-ci la piège encore dans le souvenir d'un avion de chasse qui va s'écraser. Jolyne survit en pilotant l'avion de chasse dans l'avion, ce qui lui permet de revenir saine et sauve dans le véhicule.
Pris par son ambition et sa colère contre Pucci, Donatello invoque discrètement un souvenir de Pucci et lui vole le DISQUE mémoire de Weather Report. Jolyne contacte un certain Emporio, qui lui révèle que deux passagers ont réussi à survivre au crash. Pour empêcher Jolyne et Ermes d'utiliser les sièges des survivants, Under World laisse tomber des enfants malades sur les sièges, sachant que les héroïnes n'auraient pas le coeur à sacrifier des enfants. L'avion explose enfin. Cependant, Ermes a survécu en couvrant les enfants et elle-même avec des duplicata des survivants, tandis que Jolyne s'est cachée dans Ermes en se déliant en fil. Stone Free ligote Donatello et le pend par les pieds pour l'empêcher de toucher le sol. Désespéré, Donatello envoie alors Under World rendre son disque mémoire à Weather. La capacité cachée de Weather est débloquée et des arc-en-ciels envahissent la ville.
Alors que Donatello s'échappe du trou et rejoint l'hôpital, la ville fait face à une invasion d'escargots, qui transforment les gens en escargots si on les touche. Donatello se met à rechercher Emporio, espérant retrouver le DISQUE mémoire de Jotaro et découvrir quel est le plan de Pucci. Il déterre un souvenir de Jolyne appelant Emporio au téléphone et parvient à acculer et attaquer Emporio. Il assomme facilement le garçon mais soudainement Jolyne et Ermes écrasent leur voiture près de Versus et Emporio.
Versus invoque les Dolphins de Miami pour repousser Jolyne mais elle s'est déjà partiellement transformée en escargot et est beaucoup plus flexible. Jolyne se cache dans un tuyau, roule vers Versus et l'attaque. Lorsque Versus invoque un souvenir de sel pour déshydrater le corps de Jolyne, son bras est desséché et Versus obtient le DISQUE mémoire de Jotaro. Néanmoins, Jolyne a touché Emporio qui a touché Versus et donc Versus se transforme aussi en escargot. Les héros capturent ensuite Versus et le forcent à conduire leur voiture. Incapable de contrôler correctement la voiture, Donatello s'écrase au milieu du combat entre Pucci et Weather Report. Cela permet à Pucci de s'échapper et le prêtre utilise une illusion pour que Donatello prenne l'apparence de Pucci. Prenant Donatello pour le prêtre, Jolyne tue Donatello d'un violent coup de poing au visage.
Chapitres

Apparition dans le Manga
Chapitres (ordre chronologique)
Citations

Citations
"

And now, I finally know why my life's been messed up all this time! My ability,

Under World

! But... even though I'm able to control this power now... am I supposed to thank Father Pucci for helping me?

"

"

The blood that runs through my veins is DIO's. Pucci, so do you really think you're that important?

"

"

I am the one who's invincible in here! Anything is possible if I use Under World!

"

"

On the new moon, maybe I can acquire

DIO

's ability instead, and not the priest... I have the right to do it, too... I'm his son...

"

"

You'd feel intense guilt for what you've done... Killing innocent children just so you can live! You'd have to fight me, Versus, with that heavy weight on your shoulder... Would anyone like that have the strength left to fight?

"

"

Sorry, but I'm going to live, Pucci. I finally have control over my powers... Me, someone who's never been able to stand up straight, I finally know what I was born to do...

"

"

You won't be able to kill me!

He

's going to get his memory back, I know it! And when he does get his memory back, he won't be your ally! I know because I read his

DISC

!

"

"

...

Weather Report

wasn't put in prison just because he lost his memory... He doesn't remember how to use his

Stand

to its

fullest potential

! The forbidden power, that his brother, Pucci, thought he sealed forever!

"

"

Shit... I won't lose...! I'm gonna be happy!

"

"

Jolyne Cujoh

, enjoy being dragged over to the touchdown line.

"

"

You got me with that little stunt. But you're no match for

Under World

, not in that state.

"

"

I win! Now I'm one step closer to getting whatever the priest is after!!

"
Jeux Vidéo
Versus apparait dans le jeu vidéo All-Star Battle en tant que personnage non-joueur. Il apparait dans le menu pour acheter des objets de soutien pour le mode histoire, utilisant son Stand pour "déterrer" des objets du choix du joueur en échange d'argent.
Galerie d'Images
Détails
Le passé de Versus copie l'histoire du personnage de Stanley Yelnats dans le roman (aussi adapté en film) Holes, de Louis Sachar.
Références