Masque de Pierre
Jump to navigation
Jump to search
"
Ce masque démoniaque m'a donné ses pouvoirs inimaginables
"
Les Masques de Pierre (石仮面, Ishi Kamen) sont des anciens mais puissants artefacts qui apparaissent dans les deux premières parties de JoJo's Bizarre Adventure, Phantom Blood et Battle Tendency. Ils étaient introduits parmi un culte Vampirique caché dans la civilisation Aztèque.
Servant de décoration dans le manoir de la Famille Joestar pour George Joestar I, un des ses masques est utilisé par Dio Brando pour se transformer en Vampire acquérant une force surhumaine et l'immortalité.
Dans la partie 2, on révèle que c'était Cars qui a créé les masques de pierre pour donner à sa race la possibilité de dompter le soleil.
Apparence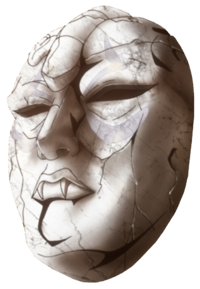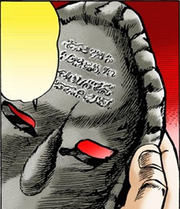 Un masque de pierre conventionnel à une apparence vaguement humanoïde avec des trous pour les yeux aux angles aigus. Il est décoré avec un nez et des lèvres de pierre sur lesquelles on peut distinguer une paire de crocs. Le nez se développe en crête qui s'enroule en spirale au niveau de la droite du front.
Le masque de pierre de George Joestar I avait quelque lignes dans une langue inconnue écrite à l'arrière de masque.[1] La plupart des masques montrés dans l'histoire sont aussi usés et craquelés, probablement dû à leur âge.
Le masque modifié de Cars possédait un interstice spécifique sur le front pour y placer le Super Aja.
Histoire
Passé
Les Masques de Pierres furent créés par Cars, qui voulait "dompter le soleil". Ils lui ont permis de devenir plus puissant, mais Cars ne pouvait toujours pas résister au soleil. Découvrant l'existence de Pierre rouge d'Aja, Cars a créé une variante du masque dans l'attente d'une Super Aja. Après avoir tué toute son espèce sauf AC/DC, Wham et Santana, Cars est parti du continent américain pour chercher une Super Aja, laissant Santana derrière avec plusieurs masques.[2]
Entre les 12e et 16e siècles, une tribu d'Aztèques conduisait des sacrifices humains avec le Masque de Pierre, tuant des femmes pour devenir des Vampires. La tribu a été exterminée et les Masques de Pierres ont disparu.
Durant le 19e siècle, un Masque de Pierre a été excavé d'une ruine aztèque par une équipe archéologique menée par le père de Will Anthonio Zeppeli. Durant le retour sur leur bateau, le père a utilisé le masque et massacré l'équipage. Son fils Will a presque été tué mais le soleil a désintégré le père au dernier moment. Le Masque a disparu dans l'océan.
Ce même Masque a fini en possession d'un membre de l'aristocratie Britannique, Mary Joestar, qui l'avait acheté à un marchand d'art de Londres durant ses voyages.[3][4] Après sa mort durant un accident, Dario a trouvé le masque avant de l'abandonner car il semblait sans valeur. George Joestar I l'a emporté chez lui et fait monter sur un mur du hall principal.
Durant un combat entre Jonathan Joestar et Dio Brando alors qu'ils étaient enfant, un peu de sang a été aspergé sur le masque, activant les aiguilles cachées dedans et le faisant tomber au sol. Jonathan et Dio l'ont tous les deux remarqués.
Durant plusieurs années, Jonathan a étudié le masque dans le cadre de ses études d'archéologie, bien qu'il n'ait jamais percé ses secret ni son utilité.
Eventuellement, Dio Brando vole le masque avoir l'intention de créer un accident mortel pour tuer Jonathan. Il teste le masque dans la ville d'à côté sur une racaille. A sa surprise, cette racaille se transforme en Vampire, détruit un mur avec son poing, et parvient à rajeunir en suçant son sang. Dio est sauvé au dernier moment par le soleil, qui désintègre le Vampire.
Quand Dio retourne au manoir et est entouré par la police, il poignarde George et active le Masque de Pierre sur lui. Dio devient un Vampire et garde le masque malgré sa première défaite. Après les évènements de Windknight's Lot, Robert E. O. Speedwagon détruit ce masque en particulier.
Dans la partie 2, des chercheurs de la Fondation Speedwagon découvre au Mexique un temple dans lequel Santana repose avec plusieurs masques. De plus, Wham, AC/DC et Cars sont découvert par les Nazis à Rome avec leur propre masque.
Eventuellement, le masque spécial de Cars est détruit alors qu'il l'utilise pour devenir l'Etre Ultime.
The information below derives from a source not written by Araki. As such, it may or may not be considered canon.
La Sezione Droghe entend parler d'un Masque de Pierre dans un bunker Nazi à Syracuse et veulent que Massimo Volpe l'utilise. Giorno ordonne Cannolo Murolo de détruire le masque dans le cadre d'un accord entre Passione et la Fondation Speedwagon. Murolo parvient à détruire le masque.
Mécanismes
Création de Vampires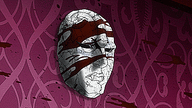 Le Masque de Pierre s'active au contact du sang. Des vrilles cachées dans la tranche du masque surgissent pour percer le crâne et atteindre des points spécifiques du cerveau comme une forme d'acupuncture. Ceci active la transformation du porteur du Masque en Vampire, débloquant le potentiel caché de son corps. Ceci fonctionne pour plusieurs espèces, dont les Hommes du Pilier et les chevaux.
Le porteur du Masque est libéré des contraintes naturelle du corps, gagnant une force immense ainsi que d'autres pouvoirs, mais perdant son humanité en devenant un Vampire assoiffé de sang. Le procédé semble créer un bref flash de lumière.[5]
Selon Robert E. O. Speedwagon, les Vampires peuvent sauter de 5 à 8 mètres de haut, donner un coup de poing avec une force de 2000 à 4000  kg/cm2 et la force de leurs jambes triple.[6] Cependant, le processus transforme l'utilisateur en mort-vivant et incapable de contenir la vie donc il développe une faiblesse mortelle à l'Onde.
Pour les Hommes du Pilier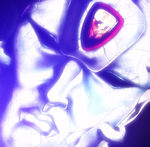 Les Hommes du Piliers qui ont utilisé un masque normal peuvent modifier leur corps de façon importante et sont presque invincibles, mais requièrent beaucoup d'énergie pour se nourrir. En utilisant leurs nouveaux pouvoirs, Cars a pu décimer tout son clan.[7]
Pour débloquer plus de pouvoir, Cars a créé un Masque de Pierre modifié qui peut être combiné avec une Pierre Rouge d'Aja. Avec ceci un masque pourrait complètement percer le crâne d'un homme du pilier. Ce masque a enfin été utilisé à la fin de la partie 2, et les rayons UV des Nazis ont permis à Cars de devenir l'Etre Suprême.
Dans ce cas, le Masque donne tellement de puissance que l'Homme du Pilier qui l'utilise devient immunisé au soleil et à un contrôle tellement parfait sur son corps qu'il peut le manipuler au niveau cellulaire et transformer son corps en n'importe quelle créature sur Terre.
Les effets d'un masque de pierre serti avec la Super Aja sur un humain ou un Vampire sont inconnus.
Galerie d'Images
Détail
Un chapitre supplémentaire de Steel Ball Run suggère que les masques sont une méthode pour acquérir un Stand.[8]
En tant que l'un des artefacts les plus célèbres de la série, le masque de pierre apparaît dans plusieurs jeux
Le masque apparaît dans la série Castlevania (quelque fois sous le nom de masque de jade), lequel est utilisé dans des rituels anciens selon les descriptions d'objets.
Références