Stardust Crusaders - Episode 4
Jump to navigation
Jump to search
Tower of Gray
(灰の塔 Tawā obu Gurē)
[1]
is the fourth episode of
Stardust Crusaders
and the thirtieth episode of the
JoJo's Bizarre Adventure
anime
. It covers the second half of
Chapter 122
through
Chapter 124
of the
manga
.
The Joestar Group have taken a plane for Cairo but the beetle Stand Tower of Gray is attacking them and the passengers. Kakyoin steps in to fight this new enemy.
Summary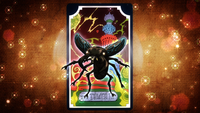 As DIO drains the life essence of a young woman, he is informed by one of his subordinates, an old hag by the name of Enya, that the Joestar group was on their way, but reassures him that one of their assassins was already in position. Back on the plane, the group discovers a large stag beetle flying about, which Avdol recognizes as the Tower of Gray, a Stand known for causing numerous mass murders and disasters in the past. Jotaro engages the Stand first, but is overwhelmed by its incredible speed. The user of the Stand taunts the group by ripping out the tongues of several passengers in a row and uses it to write "massacre" on the plane wall.
Kakyoin decides to take on the Stand himself, claiming that it was the most logical choice given the destructive power of both Avdol and Jotaro's Stands. The battle begins with Kakyoin releasing a healthy barrage of Emerald Splash, though these too were easily dodged by the Tower of Gray. The enemy Stand manages to strike Hierophant Green just before Kakyoin reveals the previous attacks were a diversion as several of Hierophant's tentacles sprout forth from the plane seats and impale Tower of Gray from all sides. With the Stand mutilated, the user of the Stand, Gray Fly, is revealed to be an old man Kakyoin had knocked out earlier. Upon further inspection, the group discovers the old man was not under DIO's control and was inherently evil. Joseph then realizes that the plane appeared to be tilting and so the group heads towards the cockpit.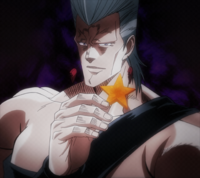 At the cockpit, they find all of the pilots murdered and the plane was descending at an alarming rate. Gray Fly briefly appears again to warn the group that even if they survive the crash, they would not make it in time. At this point, Gray Fly falls backward and dies, while Joseph tries to land the plane. (Despite having crashed at least two planes previously.)
The plane lands off the coast of Hong Kong, where the group decides on an alternative route to reach Egypt. At a nearby restaurant, Joseph and Avdol decide that the safest route to Egypt would be by boat. They are then interrupted by a French tourist who asks them for help reading the menu. Joseph decides to let the man join them as he orders the wrong food. The French man reveals himself to be another assassin sent by DIO and is immediately attacked by Avdol's Magician's Red. The French swordsman summons a Stand of his own, by the name of Silver Chariot, and deflects the attack at a turned over table. The flames hit the table and turn into a clock, at which point the Silver Chariot's user claims he would defeat Avdol before the clock strikes twelve.
Appearances
Credits
Staff
Assistant Chief Animation Director
(総作画監督補)
Minoru Morita
Sin Gil Cheol
Kim In Bin
Yuichi Nakazawa
Takeshi Moriyama
Haru Watanabe
Shota Yoshida
Choi Hee Eun
Toru Yoshida
Megumi Tomita
Hironobu Dannoura
Ryo Kamei
Hiroki Abe
Yukitoshi Houtani
Han Seung Jin
Koki Sugawara
Hebaraki
森田 実
Sin Gil Cheol
Kim In Bin
中澤 勇一
森山 剛史
渡邊 葉瑠
吉田 翔太
Choi Hee Eun
吉田 徹
富田 恵美
檀浦 影伸
亀井 嶺
阿部 弘樹
宝谷 幸稔
Han Seung Jin
菅原 浩喜
へばらぎ
Kimitaka Ito
Aya Nishimura
Shuhei Fukuda
Sae Akama
Takahiro Okawa
Makoto Yaguchi
Hiroyuki Moriguchi
Shota Sugimoto
Hiroto Kinoshita
Sho Hamada
Miyuki Sano
Daisuke Yamauchi
Takayuki Nakao
Akira Shinoda
Emiko Kataoka
Mihiro Iida
Atsushi Usui
Kazuya Sakamoto
Makoto Aida
Ryoichi Nakano
Megumi Itoi
Kohei Ashiya
Fumiaki Kouta
Triple A
Albion
Snowdrop
Ace Company
Jumondo
Studio GAO
SinaionStudio Toy Box
office DCI
CLC
伊藤 公崇
西村 彩
福田 周平
赤間 紗枝
大川 貴大
矢口 真琴
森口 弘之
杉本 将太
木下 宏登
濱田 翔
佐野 みゆき
山内 大輔
中尾 高之
篠田 章
片岡 恵美子
飯田 光尋
臼井 篤史
坂本 一也
相田 誠
中野 良一
糸井 恵
芦谷 耕平
光田 史亮
Triple A
アルビオン
(株式会社スノードロップ)
エースカンパニー
寿門堂
スタジオGAO
SINAION
スタジオToy Box
office DCI
CLC
In-between Animation Inspection
(動画チェック)
Odaiba Studio
Akiko Ikemure
お台場st.
池牟禮 明子
In-between Animation
(動画)
David Production
Sae Akama
Takahiro Okawa
Makoto Yaguchi
Hiroyuki Moriguchi
Shota Sugimoto
Yusaku Nagahama
Aki Takeishi
Yurie Hama
Rie Takahashi
赤間 紗枝
大川 貴大
矢口 真琴
森口 弘之
杉本 将太
長濱 佑作
竹石 亜希
浜 友里恵
高橋 梨恵
---
White Line
Triple A
Jiwoo Animation
FAI
Eslite Animation
RIC
Ace Company
Jumondo
Odaiba Studio
Trigger
Rising Force
WHITE LINE
Triple A
JIWOO ANIMATION
FAI
誠品動画
RIC
エースカンパニー
寿門堂
お台場st.
トリガー
ライジングフォース
Design Cooperation
(デザイン協力)
David Production
Kenichi Higaki
Aiki Watanabe
檜垣 賢一
渡辺 藍希
David Production
Kenichi Higaki
Aiki Watanabe
檜垣 賢一
渡辺 藍希
---
Ryo Morinaka
Momomo Works
森中 亮
もももワークス
David Production
工藤 かよ
Puavaranukroh Taweeporn
Eyecatch Illustration
(アイキャッチ原画)
Music
Manga/Anime Differences
In the anime, there is an extra scene where Enya explains the emotion of fear and how people normally respond to it. She adds that DIO's presence instills a mixture of sheer terror and absolute joy in his victims.
In the anime, there is an extra scene of Jotaro Kujo, Noriaki Kakyoin, and Muhammad Avdol in front of a Chinese food vendor.
In other languages
Language
Title
Translation
Japanese
灰の塔
Tower of Gray
English
Tower of Gray
Spanish
Tower of Gray
Portuguese
Tower of Gray
French
Tower of Gray
German
Der graue Turm
The Gray Tower
Hebrew
המגדל האפור
The Gray Tower
Arabic
البرج الرصاصي
The Gray Tower
Italian
Tower of Gray
Danish
Tower of Gray
Polish
Szara Wieża
Gray Tower
Commentary
Gallery
Trivia
In JOESTAR RADIO episode 12, Daisuke Ono says that the audio director and voice actor briefly discussed how the characters would talk during the Tower of Gray flight as the characters were in a plane full of sleeping passengers, yet it seemed the passengers weren't woken up by the battle. They considered making the characters whisper but quickly decided against it as it wouldn't fit the atmosphere of the series.
References