Stardust Crusaders - Episode 26
Jump to navigation
Jump to search
"
"
—
N'Doul
,
Battle in Egypt
BD/DVD Volume 1
"The Fool" Iggy and "Geb" N'Doul, Part 2 (「愚者」のイギーと「ゲブ神」のンドゥール その2, 'Za Fūru' no Igī to 'Gebu-shin' no Ndūru Sono 2)[1] is the fifty-second episode of JoJo's Bizarre Adventure: The Animation, the twenty-sixth episode of Stardust Crusaders, and the Second episode of Egypt Arc. It covers Chapter 186 through the most of Chapter 189 of the manga.
The battle against N'Doul continues. The heroes are stuck in the open while N'Doul is sitting kilometers away from them. Jotaro Kujo and Iggy begin an uneasy cooperation in order to reach the enemy without being detected.
Summary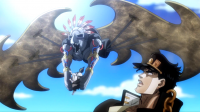 Upon realizing that N'Doul is using his sense of hearing to track the group with his Stand, Geb (named after the Egyptian god) Avdol attempts to set up a trap. He throws his bracelets on the sand, faking that he's slowly walking but N'Doul figures out the trick at the last second, avoiding an attack from Magician's Red and injuring Avdol.
Realizing Iggy can detect N'Doul's attack, Jotaro coerces him into becoming his personal alarm, but Iggy summons the The Fool and turns it into a glider. Jotaro hitches a ride against Iggy's wishes so they can head towards N'Doul to stop him from attacking. As they get closer but lose altitude, Jotaro must jump from the ground with Star Platinum. This tips N'Doul who frantically searches Jotaro's exact position and has the advantage of speed. Iggy eventually tries to put Jotaro on the ground to save himself but Jotaro manages to overcome this by using Star Platinum to grab Iggy and throw him in N'Doul's direction. This forces Iggy to protect himself with his Stand while it also manages to distract N'Doul long enough for Jotaro to get behind him and knock him out.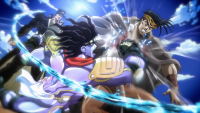 Although Jotaro's attack is not fatal, N'Doul commits suicide by driving Geb through his skull so he cannot be interrogated over DIO's plans. Before his death, N'Doul reveals that his Stand represents the Egyptian god Geb, and is only one of nine such Stands, a fact that shocks Jotaro. After burying N'Doul and paying his respect to a worthy opponent, Jotaro confronts Iggy and is the victim of a prank when he realizes Iggy has soiled his hat.
Elsewhere, a traveling manga artist asks to see a local boy's comic book titled Oingo Boingo Brothers Adventure and discovers its odd contents, but is scared off by the boy's older brother. The brothers prepare to head off to Aswan to confront Jotaro and the others, but the younger brother reveals what the man had read and they decide to wait for the next bus, as it is soon revealed that the boy's comic book had predicted the artist's death.

Appearances
Credits
Staff
Assistant Animation Director
(作画監督補)
Kouki Shikiji
Daisuke Saito
Koji Kataoka
Reiko Nozaki
Ryoko Kawamura
Takenori Tsukuma
Nagisa Takahashi
Miho Tanaka
Tsukasa Sorimachi
Sato Tominaga
Yukie Sasaki
Kanako Maru
Shigemi Aoyagi
Ayu Tanaka
Sayaka Maruyama
Kenta Mimuro
Yuki Ieda
Yui Kinoshita
Koji Nobuhara
Masashi Nomura
Eri Kojima
Teruyo Kato
Akihiro Otake
Sei Komatsubara
Aya Nishimura
Haru Watanabe
式地 幸喜
(Key)
斉藤 大輔
片岡 康治
野崎 麗子
河村 涼子
津熊 健徳
高橋 渚
たなかみほ
反町 司
富永 里都
佐々木 幸恵
丸 加奈子
青柳 重美
田中 亜優
丸山 沙也香
三室 健太
家田 佑樹
木下 由衣
延原 弘治
野村 まさし
小島 えり
加藤 照代
大竹 晃裕
小松原 聖
西村 彩
渡邊 葉瑠
Rie Omori
Kumiko Kawahara
Yuji Kaneko
Mari Futamatsu
Yuri Yamamura
White Line
大森 理恵
河原 久美子
金子 優司
二松 真理
山村 有理
WHITE LINE
In-between Animation Inspection
(動画チェック)
In-between Animation
(動画)
Digital In-Between AnimationDavid Production
Masato Ujibe
Makoto Yaguchi
Mai Oshima
宇治部 正人
矢口 真琴
大島 舞
---
White Line
Triple A
Asahi Production
WHITE LINE
Triple A
旭プロダクション
Design Cooperation
(デザイン協力)
Production AIEgyptian Arabic Dialect
David Production
Kenichi Higaki
Aiki Watanabe
檜垣 賢一
渡辺 藍希
Graphic Model Cooperation
:
株式会社バンダイナムコゲームス
株式会社サイバーコネクトツー
Eyecatch Illustration
(アイキャッチ原画)
Music
Manga/Anime Differences
A flashback where N'Doul meets DIO is added.
The introduction to Egypt was removed.
The numbers 911 in the background of Tohth were removed.
In other languages
Language
Title
Translation
Japanese
「愚者」のイギーと「ゲブ神」のンドゥール その2
"The Fool" Iggy and "Geb" N'Doul, Part 2
English
Iggy the Fool and Geb's N'doul, Part 2
Spanish
Iggy de El Loco y N'doul de Geb - Segunda parte
Iggy the Fool and Geb's N'doul - Part 2
Portuguese
Iggy, O Louco e N'Dour, o Deus Geb - Parte 2
Iggy, the Fool and N'dour, the God Geb - Part 2
French
Iggy (The Fool) et N'Doul (Geb), Partie 2
Iggy (The Fool) and N'Doul (Geb), Part 2
German
Iggys "The Fool" und N'douls "Geb", Teil 2
Iggy's "The Fool" and N'doul's "Geb", Part 2
Arabic
إيغي الأحمق وجب إندول، الجزء 2
Iggy the Fool and Geb N'Doul, Part 2
Italian
"The Fool", Iggy e "N'doul", Geb, Parte 2
"The Fool", Iggy and Geb, "N'doul", Part 2
Hebrew
איגי הטפשון והנ'דול של גב, חלק 2
Iggy the Fool and Geb's N'doul, Part 2
Polish
Głupiec Iggy i N'doul Geba: część 2
Iggy the Fool and Geb's N'doul: part 2
Commentary
"
The direct sequel to Episode 25. The Egypt part possesses many episodes split into several parts, which had allowed us to adapt the plot up to the smallest details. It was a great opportunity.
The episode is impeccably articulated around Jotaro and N'Doul's duel. There's a great tension developing until the final clash, where the first one to shoot is the winner, like a good western movie. The suspense is at its peak!
As for the animation, we have added a fast photography effect on Jotaro's punches, which are too fast for the eye. It makes the action scene particularly classy, until the final act.
We can also talk about Iggy's faces, they are rather comical. He's attacked, is thrown around, and we even see him fart midair. I really liked the post-battle scene where we can feel the start of a friendship (?) between Iggy and Jotaro. Misato Fukuen marvelously dubs Iggy, to the point I really thought that the dog was talking (laughs).
If we look at it, N'Doul is maybe the only honorable enemy, having a noble character. We have lost a valorous antagonist and that is a shame.
"
Gallery
References