Bandai Namco
Jump to navigation
Jump to search
Bandai Namco Entertainment, Inc., often shortened to Bandai Namco, is a Japanese video game developer and publisher, based in Minato-ku, Tokyo. It was formed by the merger of toy manufacturer, Bandai, and video game developer, Namco on March 31, 2006. As a result, the company is a wholly owned subsidiary of Bandai Namco Holdings.
Bandai Namco Pictures Inc. or BN Pictures, is a Japanese animation studio and production enterprise. It is a spinoff of Sunrise Inc., another subsidiary of Bandai Namco Holdings.
History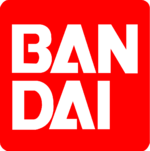 In February 2005, in the wake of their 50th anniversary, Namco announced their intent to merge with Bandai to form Bandai Namco Holdings. The merge was finalized on September 25, creating the third-largest video game publisher in Japan by revenue.[1] Bandai purchased Namco for US$1.7 billion, with Namco receiving 43% of shares and Bandai receiving the other 57%. Both companies in a joint statement cited Japan's decreasing birth rates and advancements in technology as the reason for the merge, and to increase their relevance to newer audiences. Both companies worked independently under the newly formed Bandai Namco Holdings until March 31, 2006, when their video game operations were merged to form Namco Bandai Games.[2][3][4]
Earlier on January 26, Namco Hometek and Bandai Games merged to form Namco Bandai Games America, the North American division.[5][6]
On 1 April 2008, Banpresto 's video game operations were absorbed by Namco Bandai Games.[7] On 1 April 2009, Bandai Networks, Namco Bandai's mobile phone business, was dissolved and absorbed into Namco Bandai Games.[8]
Just prior to the release of Afro Samurai at the end of 2008, the company announced the Surge publishing label.[9] The new label was an attempt at creating a separate identity for the company, aimed at a Western audience desiring more mature themes in game content.[10] Following Afro, early press materials indicated that Dead to Rights: Retribution and Splatterhouse would also be released under the Surge label, but neither game ultimately did; both were released with a retro Namco label instead to reflect the series' legacy.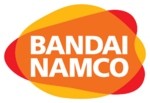 In 2010, Namco Bandai Games entered the Guinness World Records as the company that released the most TV commercials for the same product within eight hours, broadcasting 100 different commercials for the Nintendo DS game Solatorobo: Red the Hunter on Tokyo MX.[11]
In early 2011, Namco Networks was absorbed into Namco Bandai Games America, effectively consolidating Namco Bandai's American console, handheld, and mobile video game development operations.[12]
On 2 April 2012, Namco Bandai Games spun off its development operations into a new company called Namco Bandai Studios. The new company was spurred by Namco Bandai's interest in faster development times and tighter cohesion between disparate development teams. It comprises approximately 1,000 employees, who were already part of Namco Bandai.[13]
In March 2013, Namco Bandai Games established two new game studios. The first, Namco Bandai Studios Singapore, is Namco Bandai's "leading development center" in Asia and develops game content for the Asia Pacific market. The second studio, Namco Bandai Studios Vancouver, works on online social games and game content development for North America and Europe, and is part of the Center for Digital Media (CDM).[14] In July 2013, Namco Bandai Partners (NBP), which used to oversee the PAL distribution network since September 2012, merged with Namco Bandai Games Europe (NBGE) in order to push distribution and publishing into one entity, Namco Bandai Games Europe (NBGE).[15]
In 2014, Namco Bandai Games and Namco Bandai Studios became Bandai Namco Games and Bandai Namco Studios, respectively. The change unified the brand internationally in order to increase the "value" and "appeal" of the name.[16] The full company name was changed to Bandai Namco Entertainment on 1 April 2015.[17]
On 1 April 2018, the amusement machine business division of Bandai Namco Entertainment was transferred over to sister company Bandai Namco Amusement.[18][19]
Credits
Games
Other
References