Stardust Crusaders - Episode 22
Jump to navigation
Jump to search
Judgement, Part 2 (審判 その2, Jajjimento Sono 2)[1] is the twenty-second episode of Stardust Crusaders and the forty-eighth episode of JoJo's Bizarre Adventure: The Animation. It covers the last three pages of Chapter 176 through most of Chapter 179 of the manga.
Judgement the genie has shown his true colors and summoned man-eating copies of Polnareff's sister and Avdol. Unable to attack the images of his loved ones, Polnareff is cornered and in dire need of help.
Summary
As Polnareff's foolish wish of returning his sister Sherry is turning against him, Judgement gloats and calls out Polnareff for having been so naive and exposing the weakness of his heart with his wishes. Just as promised, Jugement then makes a clay doll of Avdol who attacks Polnareff.
The fake Avdol then reminds Polnareff of his responsibility in his death and demands vengeance, then joined by the fake Sherry who wants to eat him to "get better". Although Polnareff summons Silver Chariot, Judgement comes forth to bind Chariot and let the zombies eat at Polnareff, who finally accepts his fate. However, he then sees a second Avdol which he mistakes for an hallucination, but then this Avdol breaks the doll and summons Magician's Red.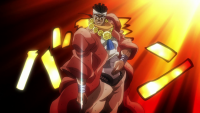 It's revealed that Avdol had actually survived as Hol Horse's bullet only grazed his skull. Thanks to the assistance, Polnareff can muster the resolve to destroy the fake doll and the two confront Judgement, who seems to be a match for the both of them. Judgement snidely asks Avdol for his wishes, but Avdol plays with Judgement and proves that Magician's Red is in reality more powerful. Avdol ultimately destroys Judgement with ease. The two then find the user, Cameo, and retire him in a particularly humiliating manner.
After reuniting with the group, Polnareff is shocked to find that the others knew Avdol was alive the entire time, keeping it a secret from him to prevent the enemy from finding out. Avdol further reveals he had disguised himself as his father in order to purchase a submarine for the group.
Appearances
Credits
Staff
Assistant Action Animation Director
(アクション作画監督補)
Yuji Tsuchiya
Yuichi Nakazawa
Takenori Tsukuma
Koichi Takai
Masafumi Tayori
Daisuke Agata
Yu Min Zi
Rie Aoki
Yuka Koichi
Nanako Ninomaya
Reina Kawasaki
Yukie Yoshioka
Miho Kaneshiro
Shuuichiro Manabe
Masato Ikeda
Mariko Fukita
Yuuichi Namiki
Akira Koremoto
Hirokatsu Maruyama
土屋 友次
(Key)
中澤 勇一
津熊 健徳
高井 浩一
田寄 雅郁
阿形 大輔
Yu Min Zi
青木 里枝
小市 由佳
二宮 奈那子
川崎 玲奈
吉岡 幸恵
金城 美保
眞部 周一郎
池田 雅人
吹田 真理
並木 祐一
是本 晶
丸山 大勝
黒川 あゆみ
張 紹偉
赤間 紗枝
大川 貴大
福田 周平
白木 仁美
川端 新
林 隆祥
濱田 翔
西村 彩
伊藤 公崇
三室 健太
宝谷 幸稔
糸井 恵
芦谷 耕平
小美野 雅彦
エースカンパニー
サンライト
仁組
コア
In-between Animation Inspection
(動画チェック)
In-between Animation
(動画)
Digital In-Between AnimationDavid Production
Masato Ujibe
Makoto Yaguchi
Mai Oshima
宇治部 正人
矢口 真琴
大島 舞
---
Ace Company
Triple A
Sunlight
Jingumi
Mico Animation
Core
Big Owl
Asahi Production
Caramel Art
Teddy
エースカンパニー
Triple A
サンライト
仁組
MICO ANIMATION
コア
Big Owl
旭プロダクション
キャラメルアート
テディー
Design Cooperation
(デザイン協力)
David Production
工藤 かよ
Puavaranukroh Taweeporn
Eyecatch Illustration
(アイキャッチ原画)
Music
Manga/Anime Differences
A dialogue of the fake Avdol blaming Polnareff for what happened and showing the hole in his forehead made by Emperor's bullet is added.
A scene between the fake Sherry & Polnareff is added; originally Judgement throws her and Avdol incinerates the body with Magician's Red.
In other languages
Language
Title
Translation
Japanese
審判 その2
Judgement, Part 2
English
Judgment, Part 2
Spanish
El Juicio - Segunda Parte
Judgment - Part 2
Portuguese
Julgamento - Parte 2
Judgment - Part 2
French
Judgement, Partie 2
Judgement, Part 2
German
Das Gericht, Teil 2
Judgment, Part 2
Arabic
الحكم ، الجزء 2
The Judgment, Part 2
Italian
Judgment, Parte 2
Judgement, Part 2
Danish
Dommedag, Del et
Judgement, Part two
Hebrew
גזר דין, חלק 2
Judgement, Part 2
Polish
Sąd: część 2
Judgment: part 2
Commentary
"
In this episode, Avdol officially comes back, and he's in tip-top shape. His famous "Hell 2 you!" remains an iconic line.
This second part gives prominence to the action, we can even say that there's only that. The tongue-shaped plants, about which I've already talked about, are neatly shaken by the wind.
Sherry has stayed a while on Polnareff to gnaw on him. He was already half-eaten when he got back on his feet to finally throw her away, as if he was thinking "okay, you've already eaten enough, here!" (laughs)
Since the fight is happening at the same place, we changed the scene's color scheme to give even more rhythm to these speeches, and it seems to me that it worked well.
Polnareff is really cool when he skewers Sherry. He hasn't always been this imposing during these two episodes, but he's reached an impotant step and manages to say goodbye. It's as if he's suddenly grown. However, some things never change and we see him flabbergasted to learn that everyone already knew of Avdol. Kakyoin sympathizes a little with him, but it's already time to leave...
The submarine appears in the very last scene. A normal submersible must surely cost several hundreds of millions of yen; this is really a luxurious journey. Seeing the size of this machine, it must cost into the tens of billions.
"
Gallery
Trivia
The stats for Magician's Red in the eyecatch are written incorrectly despite the chart displaying the correct stats. Its range and precision are written as D instead of C, and its developmental potential is written as E instead of D.
References