Карс
Jump to navigation
Jump to search
Карс - лидер людей из колонн и создатель Каменной Маски. Его цель - развиться настолько, чтобы стать невосприимчивым к солнечным лучам, для этого он ищет Красный Камень Эйша, чтобы усилить его Маску, и сражается за него с пользователями хамона.
Как создатель Каменной Маски и Вампиров, Карс - один из самых влиятельных персонажей в серии. Его изобретение оказало большое влияние на многих ключевых персонажей, таких как Дио Брандо, семья Джостар и семья Цеппели.
Внешность
Карс выглядит как высокий и очень атлетичный мужчина. У него элегантные, относительно женские черты лица, которое имеет более светлую окраску, чем у других людей из Колонн. У него длинные, тёмные, кудрявые волосы, которые он держит под тёмной, плотной повязкой (снимая её в знак проявления чести или агрессии). Из его головы прорастают три маленьких заострённых рога, на которых он носит маленькую диадему с драгоценным камнем посередине.
Он носит немного одежды: высокие ботинки, наплечники, стринги и мягкую набедренную повязку. В атаке, он создаёт длинные, блестящие лезвия из предплечий и ног.
Во время путешествия в Италию, Карс надевает мягкую фетровую шляпу и длинное пальто, чтобы казаться менее заметным.
Цветовые схемы
The series is known for alternating colors between media, the information presented below may or may not be canon.
First Outfit
(Purple wraps, light purple arm and leg warmers, and boots, golden accessories with cyan and magenta jewels)
Second Outfit
(Deep blue fedora and long coat, purple shirt and scarf, dark purple pants, magenta coat pins and kneepads, golden belts)
First Outfit
(Purple wraps, grey gauntlets, knee pads, and boots, blue loincloth, golden accessories)
Second Outfit
(Black fedora, long coat with light gray trim, and pants, dark grey headwrap)
Outfit
(Deep blue and purple wraps, arm and leg warmers, and boots, golden accessories with red and green jewels)
Outfit
(Dark purple-gray wraps, gray gauntlets, black kneepads, purple boots and golden accessories)
Личность
"
У меня нет ни романтического духа, и я не жажду воинской доблести Вамма... потому что средства не важны. Всё, что имеет значение... это окончательная победа!
"
Карс обладает отличным умом, беспощаден и целеустремлён. Он был признан гением среди Людей из Колонн, будучи создателем Каменной Маски.
Поначалу, он самый неразговорчивый из Людей из Колонн, и только изредка улыбается и напоминает Вамму и Эйсидиси об их цели.[3] Одержимый целью получения Красного Камня, он готов растоптать кого угодно на своём пути, пренебрегая честью. Он нарушает своё слово о том, что битва за Камень будет честной и равной, обманом побеждает Лизу Лизу, и выпускает своих миньонов-вампиров, чтобы добить ослабшего Джозефа. Он даже убивал невинных детей в предвкушении грядущей мести.[4]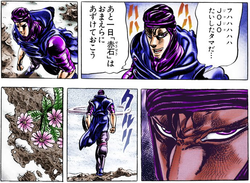 С преимуществом своей устойчивости и бессмертия, Карс - методичный и терпеливый человек, способный проникать в человеческое общество (надевая их одежду) или осматривать комнату, чтобы атаковать всех, кто в ней находится, одним движением.[5] В первой битве против Джозефа, Карс демонстрирует большую неустанность в попытках заполучить Красный Камень, и спокойно парирует каждую уловку Джозефа своими атаками.[6] Нетронутый неудачами, например, когда он мирно признал, что Джозеф украл Камень прямо у него из-под носа,[7] он готов упорно бороться за победу в тяжёлой ситуации. Только когда он оказывается в космосе, медленно становится обездвиженным и удаляется от Земли, он теряет своё самообладание и надежду.[8] Тем не менее, его одержимость Супер Эйшей - главная слабость, так как Карс не может рисковать его потерей. Поэтому его враги с легкостью использовали этот камень как защиту или преимущество.[7][9]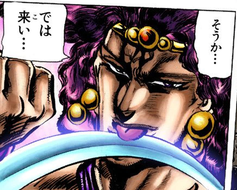 Несмотря на свою твёрдую и серьёзную манеру, Карс обладает убийственной и садистской натурой. Он заявляет, что жизнь без врагов скучна[3] и неоднократно демонстрирует наслаждение битвами. Тем не менее, ему нравится видеть врагов в слабой позиции и панике: он радуется отчаянию Джозефа, когда он стал Совершенной Формой Жизни,[10] и часто облизывает губы в ожидании их смерти. Поведение Карса притворно-вежливое: он предлагает Лизе Лизе выпить яд, чтобы погибнуть, не сражаясь с ним.[11] Эти наклонности особенно проявляются, когда он достигает финальной формы, когда он наслаждается своим статусом сильнейшего существа на Земле.[12]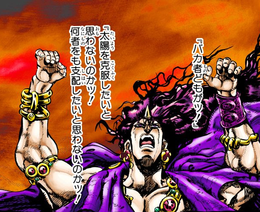 Карс, по видимому, очень властолюбивый Человек из Колонны, желающий раскрыть весь потенциал своего тела и расслабиться "на вершине".[4] Узнав, что мозги представителей его расы содержат неиспользованный потенциал, Карс захотел контролировать его. Будучи одержимым этой идеей, он создал каменные маски, чтобы раскрыть свои скрытые способности, но они не соответствовали его ожиданиям. Тогда он решил заполучить Красный Камень Эйша, чтобы завершить своё превращение в идеальное существо. Он был в ярости от того, что остальная часть его племени отказалась "покорить солнце", как он хотел, полагая, что они должны полноценно использовать свои врожденные силы и править всей жизнью (тем не менее, он не учёл тот факт, что обострённый голод, вызванный силой масок, приведёт к тому, что его раса уничтожит всю жизнь на Земле).[13]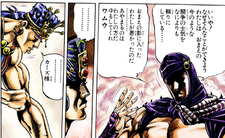 Карс поддерживает амбивалентные отношения с близкими. С одной стороны, он считает Сантану всего лишь сторожевой собакой,[5] и убивает всю свою расу (включая своих родителей) без колебаний и раскаяния.[13] С другой стороны, он очень заботится об Эйсидиси и Вамму,[14] неоднократно обещая им достичь своих целей, доблестно убить Джозефа Джостара и отомстить за их жертвы в отношении его успеха.[5][12] Также, Карс демонстрирует долю уважения к природе и животным; он заставляет пьяного водителя, который чуть не задавил щенка, погибнуть в аварии,[15] и усложняет простую посадку, чтобы не упасть на цветок.[7] Тем не менее, проверяя способности своей Совершенной Формы Жизни, он атакует белку,[12] а своими Каменными Масками он создал угрозу экосистеме. В целом, Карс способен к тёплым отношениям с другими, но они ему не дороже амбиций.
Карс свысока смотрит на технику, считая кибер-технологии Рудольфа фон Штрохайма слабыми по сравнению с ним.[5] Кроме этого, он считает своих вампиров бесполезными пешками, не переживая за их жизни, и сам часто убивает их из раздражения.[4]
Способности
См. также: Люди из колонн
Kars' power is that of light; he is able to produce bladed appendages from his arms and legs and use these to reflect blinding light toward his enemies. The light comes from the tiny, shark teeth-like claws running along the edge of the blade much like a chainsaw. It is from the reflections of these claws that gives Kars'
Light Blades
(

輝彩滑刀

Kisai Kattō, lit. "Gleam Coloring Slide Blades")
their shining intensity. In this mode, Kars' blades are sharp enough to cut through most objects, including an automobile and several bullets at blinding speeds.
As with the other
Pillar Men
, Kars has the same body manipulation capabilities shared by his companions.
As the Ultimate Life Form
As the Ultimate Life Form, Kars acquires multiple abilities and skills:
Superhuman Intelligence: Kars is an extremely intelligent and cunning individual, even by the high standards of his species. He was the one who created the Stone Mask, studying the Pillar Men's brains to unlock untapped power. In battle, Kars is methodical and observant, able to analyze the enemy's plan and plan accordingly with cunning and ruthlessness. Kars has also mastered his godly powers quickly, using the power of Earth's fauna and even its most obscure properties to his advantage. In every setback, Kars manages to quickly find a counter or a way to exploit it and reverse the situation.
Superhuman Senses: Kars can sense the heat and air pressure around him by forming antennae. His vision is akin to an astronomical telescope, and he is able to hear anything from whale calls to bat screams.
Superhuman Strength: Kars' strength is 900 kg/cm2.
Regeneration: Kars can heal any wound in a short period of time.
Immortality: Kars is invincible, immortal, and nigh indestructible. He does not age, is self-sustaining, and is described as more beautiful than a Greek sculpture.
Body Manipulation: As the Ultimate Life Form, Kars' body contains the DNA of every organism to ever live on the Earth. He can manipulate his entire body on a cellular level to gain the traits of any life-form, such as bird-like wings that enable him to fly. He can even detach parts of himself and transform them into separate organisms that act independently of himself, such as turning his hand into a flesh-eating squirrel or turning his feathers into armadillo-scale projectiles that morph into piranhas and octopus tentacles to bring down Joseph's plane.

Reactive Evolution: Kars can also alter his body to withstand extreme conditions, as seen when he evolved a continuous layer of inorganic porous material to survive being submerged in magma.
In his Ultimate Form, Kars is able to use the Ripple, but at a level that is hundreds of times stronger than Joseph's. According to Stroheim, Kars' Ripple is comparable to the intensity of the Sun itself,
[16]
and it can literally melt and vaporize human flesh on contact.
Отношения
Союзники
Эйсидиси: Карс, по-видимому, заботился о своем товарище, который, в свою очередь, был единственным человеком его поколения, который разделял его идеалы. Карс доверил ему лично расследовать дело о Красном Камне Эйша, и лично отправился в Швецию, узнав, что с Эйсидиси что-то случилось. Выяснив, что Джозеф убил Эйсидиси, чтобы не дать ему добраться до камня, Карс поклялся убить его после выполнения своей основной задачи - и сразу после того, как он продемонстрировал свои способности Совершенной Формы Жизни, Карс атаковал Джозефа.
Вамм: Карс воспитывал Вамма и Сантану вместе с Эйсидиси. Несмотря на то, что Карс уважал Вамма как гениального бойца, он совершенно не ценил его честь и считал его слишком непорочным для воина. Тем не менее, он в какой-то степени заботился о Вамму, что показано, когда он убил группу своих вампиров за насмешки над Ваммом после кончины последнего и поклялся отомстить за него Джозефу.
Сантана: В сравнении с Ваммом, Карс считал Сантану сторожевой собакой и оставил его снаружи, когда он не мог идти вместе с ними.
Враги
Джозеф Джостар: Как создатель каменных масок, Карс несёт ответственность за превращение Дио Брандо в вампира и смерть Джонатана Джостара. Изначально, Джозеф считал Карса всего лишь одним из Людей из Колонн, которых нужно было победить. Но после того, как Джозеф убил Эйсидиси, Карс выразил глубокую ненависть к людям, особенно к пользователям хамона. После того, как Джозеф понял, насколько Карс бесчестен по сравнению со своими собратьями, он пришёл в ярость. Только став Высшей Формой Жизни, Карс позволил себе атаковать Джозефа, которому пришлось приложить немалые усилия, чтобы победить. Среди битвы, Карс отрезает руку Джозефа, и последний в конце концов отправляет Карса в космос, напоследок поиздевавшись над "богом".
Цезарь Антонио Цеппели: Как создатель каменных масок, Карс также ответственен за смерть отца, деда и прадеда Цезаря.
Главы / Эпизоды

Манга
Главы в порядке появления

Аниме
Эпизоды в порядке появления
Цитаты

Quotes
"

Geez... have humans devolved since the past?

"

"

Foolish... we are immortal, it's lonely without an enemy. Life is only worthwhile with an opponent. I understand your feelings, but our first objective is to gain the power of the Red Stone of Aja. Don't forget that you two!

"

"

The Red Stone of Aja! I have waited four, no, five millenia for this, and now it is before me!

"

"

It seems I, Kars, am the only one left... but only one can stand at the top!

"

"

Heh! A one-on-one fight... ludicrous! My only goal is the Red Stone! To become the ultimate lifeform! I don't have any romantic spirit, nor do I want to become a warrior like Wamuu, because the method isn't important, all that counts is to get the final victory!

"

"

All that matters is that I get a hold of the Red Stone. Move your pieces one at a time on the board, making them effortlessly reduce the risks to a minimum! Chance has nothing to do with it! That's a "true fight"!!

"

"

Hehehehe HAHAHAHAHA! The ultimate lifeform! It is the one gathering all the power... from the living world, all the lives... And this beauty! How gorgeous! I've never seen anything as wonderful as this! Finally!! The sun... Finally, I have tamed the sun!!

"

"

You fools! Don't you wish to tame the sun?! Don't you wish to dominate creation!? Don't you wish to not fear anything!?

"
Мелочи
Kars' blades are based on an ability seen in Baoh the Visitor, another manga by Hirohiko Araki.
The explanation for Kars' Ultimate Life Form ability to transform into animals is a reference to recapitulation theory.
In an interview with Araki, he dispelled theories of Kars returning in a future part, stating that unless Kars developed a compass ability or crash-landed on another civilization, he'll remain in space forever.[17]
There is concept art of Kars in JoJo's Bizarre Adventure: Heritage for the Future, indicating that he was originally set to appear in the game during development.
Примечания
↑ Глава 101: The Wind, the Tank, and Wamuu (7)
↑ 3.0 3.1 Chapter 70: An Engagement with Death: The Wedding Ring
↑ 4.0 4.1 4.2 Chapter 104: The Warrior Returns to the Wind
↑ 5.0 5.1 5.2 5.3 Chapter 84: Stroheim's Unit Strikes Back, Part 2
↑ Chapter 86: Light Mode Kars, Part 1
↑ 7.0 7.1 7.2 Chapter 87: Light Mode Kars, Part 2
↑ Chapter 113: The Man Who Crossed the Atlantic
↑ Chapter 95: The Wind, the Chariot, and Wamuu, Part 1
↑ Chapter 111: Joseph's Final Gamble
↑ Chapter 100: The Wind, the Chariot, and Wamuu, Part 6
↑ 12.0 12.1 12.2 Chapter 109: Kars the Ultimate Being Is Born, Part 1
↑ 13.0 13.1 Chapter 112: The Man Who Became a God
↑ Chapter 66: Ultimate Warriors from Ancient Times, Part 2
↑ Chapter 83: Stroheim's Unit Strikes Back, Part 1
↑ Chapter 112: The Man Who Became a God
Навигация