JoJo's Bizarre Adventure - Episode 13
Jump to navigation
Jump to search
"
You are destined to fight them by the fifty-year-old legacy you carry!
(

貴様は五十年前からの因縁で、奴らと戦わねばならない運命にある!

)
"
JoJo vs. The Ultimate Being (JOJO vs. 究極生物, JoJo tai Kyūkyoku Seibutsu)[1] is the thirteenth episode of season one of JoJo's Bizarre Adventure: The Animation. It is also the fourth episode of Battle Tendency. It covers Chapter 58 through Chapter 61 of the manga.
Joseph Joestar must fight Santana, planning on using the Ripple. However, the Pillar Man's superhuman constitution is such that the Ripple and simple wit is not enough to prevail.
Summary
Santana has escaped from his cell and is now confronting Joseph, Stroheim, and Speedwagon. Despite the danger, Joseph prefers to playfully make peace with the Pillar Man. For his part, Santana ignores Joseph, preferring to study his environment; he effortlessly dismantles a machine gun and begins to study the lights. When Joseph annoys him too much, Santana tries to kill Joseph by growing sharp ribs out of his body, which Joseph blocks with the Ripple. This power then interests Santana but when the Pillar Man tries to harm Speedwagon, Joseph becomes serious. However, Santana's skin is too resistant to the Ripple. Contorting his body to evade an attack, Santana seemingly kicks Joseph into unconsciousness and begins to absorb him. Thankfully, Joseph has only faked it and is now in direct contact with Santana's inside. He sends a devastating Ripple attack which cuts Santana in half.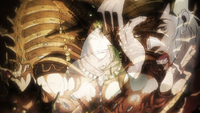 With the Pillar Man cut in half, Joseph chains Santana's chest and tries to drag him up to the entrance of the base to expose the body using the sunlight. Unfortunately, Santana grabs hold of Joseph's leg and immobilizes him just before reaching the door. When Stroheim comes to help and is ensnared, the German shows a remarkable spirit by telling Joseph to cut his bound leg. Joseph reluctantly obliges and Stroheim then opens to the door to the exit, exposing Santana to the sun. However, Santana avoids the sunlight by crawling into the stub where Stroheim's leg was cut off. Stroheim walks on one leg into the sunlight and pulls out a grenade. From there, he tells Joseph that the Germans had uncovered other Pillar Men in Europe and that he must go to Rome to learn how to defeat them. He says in Rome there is a man Joseph must meet, and it is somebody Speedwagon knows well. With that said, Stroheim ignites the grenade and destroys his body.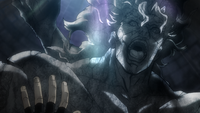 As a last-ditch effort, Santana attacks Joseph, and the two go flying into a well. But then Joseph reveals that he exactly timed the jump so that the sunlight would reach the water of the well and get reflected. Being hit by sunlight from two directions, Santana turns into stone and is defeated.

Appearances
Credits
Staff
Animation Director Cooperation
(作画監督協力)
Assistant Animation Director
(作画監督補)
伊藤 康裕
小美野 雅彦
森山 剛史
安藤 義信
石本 峻一
菅原 浩喜
東出 太
松本 文男
red doar
吉田 徹
いいの やすぞう
青井 清年
松岡 秀明
中西 かなよ
水野 佳樹
反町 司
村司 晃英
米田 光宏
山田 雄一郎
かど ともあき
重原 克也
西村 彩
横山 謙次
White Line
Saeko Ozawa
Fumio Matsumoto
Natsumi Ishizaki

小澤 早依子
松本 文男
石崎 夏海
White Line
Kang Sul A
Kwan Hyun Ae
Sim Myung Ju
Kang Sul A
Kwan Hyun Ae
Sim Myung Ju
---
AI
MSJ Musashino Production
Eslite Animation
Ace Company
TAP
CL Corporation
BEEP
Jinbun
Hayashi KK
Big Owl
AI
MSJ武蔵野制作所
誠品動画
エースカンパニー
TAP
CLコーポレーション
BEEP
じんぶん
ハヤシ株式会社
ビッグオウル
In-between Animation
(動画)
In-Between Animation Inspection
Masato Ujibe
Sae Akama
宇治部 まさと
赤間 紗枝
White Line
Kim Jong Kyu
Ku Ja Chun
Kim Yun Hui
Park Jin Hee
Park Hee Joung
Byun Jin Sun
Sin Jin Eun
Yang Hyo Jung
Lee Hye Kyoung
Jung A Yung
Cha Hyun Ju
Chae Youn Kyung
Kim Jong Kyu
Ku Ja Chun
Kim Yun Hui
Park Jin Hee
Park Hee Joung
Byun Jin Sun
Sin Jin Eun
Yang Hyo Jung
Lee Hye Kyoung
Jung A Young
Cha Hyun Ju
Chae Youn Kyung
david production
---
Triple A
MSJ Musashino Production
AI
Eslite Animation
TAP
Ace Company
BEEP
CL Corporation
Jinbun
Hayashi
AAA
MSJ武蔵野制作所
AI
誠品動画
TAP
エースカンパニー
BEEP
CLコーポレーション
じんぶん
ハヤシ株式会社
Design Cooperation
(デザイン協力)
Tomoaki Kado
Gorou Murata
Futoshi Higashide
かど ともあき
村田 護郎
東出 太
David Production
亀井 隆広
工藤 かよ
Puavaranukroh Taweeporn
Music
Manga/Anime Differences
Joseph wondering if there are any female Pillar Men, how they have kids, and what happened thousands of years before Santana went to sleep is cut.
In other languages
Language
Title
Translation
Japanese
JOJO vs. 究極生物
JoJo vs. The Ultimate Being
Chinese
JOJO vs 終極生物
JoJo vs the Ultimate Being
Chinese (Hong Kong)
JOJO vs 究極生物
JoJo vs the Ultimate Being
English
JoJo vs. The Ultimate Lifeform
Spanish
JoJo vs el ser supremo
JoJo vs the Supreme Being
Portuguese
JoJo contra a Forma de Vida Suprema
JoJo against the Ultimate Life Form
French
JoJo contre la créature ultime
JoJo against the ultimate creature
German
JoJo vs. das Ultimative Geschöpf
JoJo vs. the Ultimate Creature
Hebrew
ג'וג'ו נגד היצור האולטימטיבי
JoJo Against the Ultimate creature
Arabic
جوجو ضد الكائن الأعلى
JoJo versus The Supreme Being
Italian
JoJo contro l'Essere Supremo
JoJo against the Supreme Being
Czech
JoJo versus dokonalá forma života
JoJo versus the perfect lifeform
Danish
JoJo vs. den ultimative livsform
JoJo vs. the ultimate lifeform
Polish
JoJo kontra absolutna forma życia
JoJo versus Absolute Life Form
Commentary
Gallery
References