Stardust Crusaders - Episode 5
Jump to navigation
Jump to search
Silver Chariot
(銀の戦車 Shirubā Chariottsu)
[1]
is the fifth episode of
Stardust Crusaders
and the thirty-first episode of the
JoJo's Bizarre Adventure
anime
. It covers
Chapter 125
through half of
Chapter 127
of the
manga
.
The Joestar Group are challenged by Jean Pierre Polnareff, a French Stand user sent to kill them. Avdol steps in to fight Polnareff and his knight Stand Silver Chariot.
Summary
The Stand-wielding Frenchman introduces himself as Jean Pierre Polnareff, another assassin sent by DIO with the ability of swordsmanship great enough to cut through fire itself. After a brief demonstration of his Stand, he leads the group to the nearby Tiger Balm Garden to courteously allow Avdol to use his flame abilities without restraint. The fight begins almost immediately, though not before Polnareff makes a prediction of Avdol's defeat at the hands of his own Stand.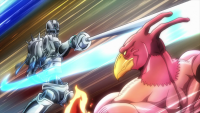 Silver Chariot starts the fight off with a flurry of sword strikes, most of which Magician's Red quickly dodges and counters with several fire blasts. Polnareff further demonstrates Chariot's power by deflecting the shots towards a nearby statue and carving it to resemble Magician's Red. Avdol retaliates with his special technique, Crossfire Hurricane, and launches an Ankh-shaped flame at Polnareff, who is able to once again deflect the blast at Avdol himself. Seemingly burnt by his own Stand, as predicted by Polnareff, Avdol launches Magician's Red at Chariot. Polnareff strikes back, but upon contact realizes the figure he had lit on fire earlier was not Magician's Red, but the statue he had carved himself. Avdol follows through with yet another Crossfire Hurricane with Polnareff taking the full force of the attack and is severely burnt.
Before the group is able to leave, Polnareff introduces his Stand's special ability, which is achieved by shedding its armor. In this form, Chariot's speed greatly increases up to a point where it is able to produce several afterimages. Though overwhelmed at first by the Stand's onslaught of attacks, Avdol reveals a variation to his previous technique, Crossfire Hurricane Special, which is able to strike Polnareff by shooting several ankhs, one of which comes straight out of the ground. Defeated, Polnareff accepts his fate to die but is spared when Avdol recognizes his act of chivalry. The group discovers another flesh bud on Polnareff's forehead, which Jotaro is easily able to remove.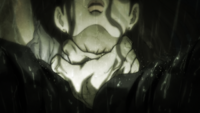 At the docks, Polnareff introduces himself once more and shares a story of how his sister Sherry was murdered years ago by a man with two right hands. He reveals that he had met DIO in Cairo a year ago and had been promised help finding the man who killed his sister only to end up being brainwashed. Polnareff realizes that the culprit is likely working for DIO and decides to join the group on their journey to Egypt.
Appearances
Credits
Staff
Assistant Action Animation Director
(アクション作画監督補)
Yuji Tsuchiya
Satoru Nakaya
Kouki Shikiji
Akihiro Yamamoto
Yuzuru Jogashima
Koji Maruoka
Shuuji Takahara
Mitsuteru Kubo
Toshihiro Irie
Goro Taki
Mariko Aoki
Keiji Shigesawa
Daisuke Saito
Takenori Tsukuma
Tsukasa Sorimachi
Hideyuki Kanesaka
Miyuki Nakayama
Sato Tominaga
Hideyasu Okamoto
Kiyotoshi Aoi
Yoshiya Yamamoto
Yoshiki Mizuno
Shuhei Fukuda
土屋 友次
(Key)
中屋 了
(Key)
式地 幸喜
(Key)
山本 晃宏
城ヶ島 譲
丸岡 功治
高原 修司
久保 充照
入江 俊博
滝 吾郎
青木 真理子
繁澤 敬二
斎藤 大輔
津熊 健徳
反町 司
金阪 秀行
中山 みゆき
富永 里都
岡本 秀康
青井 清年
山本 善哉
水野 佳樹
福田 周平
Kimitaka Ito
Sae Akama
Takahiro Okawa
Tamaki Ishii
Rie Omori
Kyohei Oyabu
Eri Kojima
Akira Shinoda
Sinaion
White Line
Asahi Production
Asread
Anitus Kobe
Ace Company
AI
MSJ Musashino
CLC
Jumondo
TAP
Triple A
drop
伊藤 公崇
赤間 紗枝
大川 貴大
石井 珠樹
大森 理恵
大藪 恭平
小島 えり
篠田 章
SINAION
WHITE LINE
旭プロダクション
アスリード
アニタス神戸
エースカンパニー
AI
MSJ武蔵野制作所
CLC
寿門堂
TAP
Triple A
drop
In-between Animation Inspection
(動画チェック)
David ProductionIn-Between Animation Check AssistanceDavid Production
In-between Animation
(動画)
David Production
Takahiro Okawa
Hiroyuki Moriguchi
Shota Sugimoto
Yusaku Nagahama
Aki Takeishi
Rie Takahashi
大川 貴大
森口 弘之
杉本 将太
長濱 佑作
竹石 亜希
高橋 梨恵
---
White Line
Anitus Kobe
RIC
Trigger
Rising Force
Dangun Pictures
Studio Mark
Ashi Productions
FAI
Ace Company
AI
MSJ Musashino Production
CLC
Jumondo
TAP
Triple A
Drop
Asahi Production
WHITE LINE
アニタス神戸
RIC
トリガー
ライジングフォース
ダンガン・ピクチャーズ
スタジオ・マーク
プロダクションリード
FAI
エースカンパニー
AI
MSJ
CLC
寿門堂
TAP
Triple A
drop
旭プロダクション
Design Cooperation
(デザイン協力)
David Production
Kenichi Higaki
Aiki Watanabe
檜垣 賢一
渡辺 藍希
David Production
工藤 かよ
Puavaranukroh Taweeporn
Background Line Art
(美術設定)
Background Scenary Corrections
Eyecatch Illustration
(アイキャッチ原画)
Music
Manga/Anime Differences
In other languages
Language
Title
Translation
Japanese
銀の戦車
Silver Chariot
English
Silver Chariot
Spanish
Silver Chariot
Portuguese
Silver Chariot
French
Silver Chariot
German
Silberner Wagen
Silver Chariot
Hebrew
מרכבת כסף
Silver Chariot
Arabic
العربة الفضية
The Silver Chariot
Italian
Silver Chariot
Danish
Silver Chariot
Polish
Srebrny Rydwan
Silver Chariot
Commentary
Gallery
Trivia
The scene where Avdol throws a knife down to a defeated Polnareff to kill himself with is near identical to one in Fist of the North Star where Kaioh throws a knife down to weakened Kenshiro because he refuses to kill him as a martial artist.
In the Latin Spanish dub, Avdol says "So the weight of your weapon was the reason I was able to hit you with my Stand, Crossfire Hurricane." instead of saying "So the weight of your armor was the reason I was able to hit you with my Stand, Magician's Red."
References