Ikuro Hashizawa
Jump to navigation
Jump to search
"
Dress ! C'est une déclaration de guerre ! Je viens pour vous ! Et vous verrez à quel point je peux être terrifiant !
"
Ikuro Hashizawa (橋沢 育朗, Hashizawa Ikurō), aussi surnommé Baoh (バオー, Baō), est le protagoniste de Baoh le Visiteur.
Ikuro est un jeune garçon qui a été kidnappé par l'Organisation Dress pour servir de cobaye. Injecté avec un parasite spécial, il devient l'arme biologique "Baoh", doué d'une force prodigieuse, de sens surhumains et autres superpouvoirs. Il va alors combattre les assassins que Dress envoie à ses trousse.
Apparence
Ikuro est un jeune homme japonais de 17 ans, de taille moyenne et de carrure plutôt athlétique. Il a des traits délicats, malgré ses sourcils épais, et a des cheveux en bataille de longueur moyenne qui pointent vers l'arrière en une touffe pointue.
Ikuro pour une chemise et un pantalon assortis, qui semblent être rembourrés et sont de couleur claire. Sa chemise a un col épais. Au dessus de sa chemise il porte un gilet sans manches et de couleur sombre avec des ourlets aux épaules. Il porte aussi une ceinture.
Ikuro peut se transformer en Baoh, l'arme biologique. Sa peau et ses cheveux prennent une teinte bleue. Il devient plus musclée jusqu'à déchirer ses vêtements par endroits. La peau sur son visage se craquelle, révélant une couche sous-cutanée noir alors que ses yeux brillent, et qu'un lambeau de peau se maintient devant son oeil gauche. Ses cheveux poussent jusqu'à devenir une large crinière soyeuse mais en fait faite de chair. Ikuro gagne aussi une sorte de gemme ovale sur son front entourée de peau noire.
Palettes
Les palettes changent souvent entre les médias. L'information ci-dessous ne devrait pas être considérée comme canonique.
(Ikuro Hashizawa)
Tenue (haut)
(Veste verte, ourlets rouges, manches jaune, chemise blanche.)
Tenue (bas)
(Pantalon gris, ceinture noire à boucle dorée, chaussures noires.)
(Baoh)
Peau
(Peau bleue, gemme orange)
Tenue (haut)
(Veste verte, ourlets rouges, manches jaune, chemise blanche. Gants rouges)
Tenue (bas)
(Pantalon gris, ceinture noire à boucle dorée, chaussures noires.)
(Ikuro Hashizawa)
Tenue (haut)
(Vest bleue claire, ourlets et col jaune, chemise blanche à motif brun, gants rouges.)
Tenue (bas)
(Pantalon kaki. Ceinture rose à boucle argentée, chaussures brunes.)
(Baoh)
Peau
(Peau bleue, gemme orange)
Tenue (haut)
(Vest bleue claire, ourlets et col jaune, chemise blanche à motif brun, gants rouges.)
Tenue (bas)
(Pantalon kaki. Ceinture rose à boucle argentée, chaussures brunes.)
Personnalité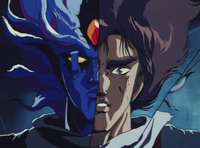 Ikuro est un jeune homme amnésiaque qui ne souvient initialement pas de son passé. Cependant, il commence à se remémorer sa vie avec le temps.
Ikuro est d'ordinaire un individu plutôt placide et amical. Poussé par la nécessité, il est cependant prêt à faire des actions plutôt drastiques comme voler la moto d'un passant afin de fuir un assassin. Il se lie d'amitié avec Sumire, à tel point qu'il va risquer sa vie pour la sauver et parvient à garder ses esprit sous forme de Baoh pour la protéger.
En tant que Baoh, il devient extrêmement violent et fondamentalement amoral, tuant tous ceux qui s'interposent en travers de son chemin. Cependant, l'esprit d'Ikuro en lui tempère sa sauvegarie et il est capable de ressentir les émotions de Sumire, lui donnant de l'empathie.

Pouvoir
Baoh Armed Phenomenon
Lorsque Ikuro est menacé (comme quand l'assassin no.22 de Dress le poignarde), Ikuro prend sa forme Baoh Armed Phenomenon (バオー武装現象, Baō Āmudo Fenomenon) ou "Baoh Phénomène Armé". Il change drastiquement d'apparence et gagne des pouvoir surhumains. De manière basique, sa peau se couvre d'une armure bleue, il acquiert une force et une résilience surhumaine, il gagne un pouvoir de régénération, qu'il peut utiliser pour soigner autrui. Cependant, il devient plus sauvage et violent et risque de perdre son esprit.
Avec le temps, Ikuro apprend à mieux maîtriser ses capacités et peut canaliser certains de ses pouvoirs de Baoh sans complètement se transformer.
Sa forme Baoh possèdes plusieurs pouvoirs techniques spéciales.
Techniques
Traduction : Baoh, Phénomène de la Paume Corrosive. Ikuro secrète un fluide corrosive (synthétisé à partir des fluides corporels de Baoh
[3]
) depuis la peau de sa main. Il peut alors dissoudre un bon nombre de matériaux comme la chair humain, le verre et même le métal en un court laps de temps. En faisant fondre des objets, il peut aussi les fusionner en quelque sorte, par exemple fusionner une main avec l'arme qu'elle tient.
Traduction : Baoh, Phénomène des Sabres en Peau Solidifiée. En manipulant le tissu cutané durci de ses deux poignets, Ikuro est capable de produire deux lames qui peuvent trancher proprement presque n'importe quel matériau. Ikuro est également capable d'utiliser une variante à distance, connue sous le nom de
Saber Off
(

セイバーオフ

Seibā Ofu)
. Il se détache les sabres pour les envoyer sur l'ennemi.
Baoh Shooting-Bees Stinger Phenomenon
(バオー・シューティングビースス・スティンガー・フェノメノン Baō Shūtingu Bīsusu Sutingā Fenomenon)

Traduction : Baoh, Phénomène du Tonnerre Sombre. En reliant ses nerfs et ses cellules musculaires d'une manière similaire à celle d'une anguille électrique, Ikuro est capable de produire et d'émettre un courant électrique à haute tension de 60 000 volts à partir de son corps - assez pour alimenter un canon laser qui aurait été coupé de son alimentation.
Histoire
Passé
Ikuro Hashizawa a vécu une vie ordinaire durant son enfance, avant qu'il ne soit mêlé à Dress. Quand il avait sept ans, Ikuro s'est presque noyé dans un étang gelé. Six mois avant les évènements de "Baoh", Ikuro et ses parent furent victimes d'un grave accident de voiture. Malheureusement, le docteur qui a pris en charge la famille d'Ikuro était lié à Dress, une organisation développant des armes qui recherchait des cobayes. le Dr. Kasuminome a sélectionné Ikuro et a tué ses parents sous ses yeux car il ne voulait pas de témoin. Il emporta Ikuro et injecta un parasite Baoh dans son corps.
Baoh le Visiteur
Après avoir été injecté avec le parasite Baoh, Ikuro est enfermé dans un réservoir plein d'eau, ce qui neutralise le parasite, et transporté dans un train. Cependant, une jeune médium nommée Sumire s'échappe de sa chambre et en essayant de évader, ouvre le réservoir d'Ikuro. Un garde tente de le capturer mais Ikuro lui écrase le bras et saute hors du train. Il s'accroche aux lignes électriques mais survit également au choc. Plus tard, Ikuro et Sumire essaient de faire connaissance mais un assassin armé d'un couteau nommé "no.22" poignarde Ikuro, ce qui oblige le duo à voler une moto et à s'enfuir. Ils tentent de faire le plein dans une station-service mais no.22 réapparaît et tranche la gorge d'Ikuro. Cependant, cela ne fait que réveiller Baoh, qui dissout no.22 en l'empoignant avant de se retransformer en humain.
Plus tard, un escadron de la mort est déjà à la recherche d'Ikuro et Sumire, qui sont occupés à parier sur des courses de chevaux pour gagner de l'argent. Les deux s'installent dans un bâtiment abandonné, mais Ikuro sent que quelque chose en lui est en train de changer. L'escadron de la mort attaque le duo, mais Ikuro se transforme à nouveau en Baoh, décimant les soldats. A son insu, il est observé par un autre assassin. Baoh sent l'assassin, qui se révèle être un dresseur commandant un mandrill géant lourdement modifié nommé "Martin". Grâce à sa force et aux nombreuses armes cachées dans son corps, Martin rivalise aisément avec Baoh. Sumire, ayant senti que l'humanité d'Ikuro est toujours intacte à l'intérieur de Baoh, tente d'empêcher l'assassin de contrôler Martin, mais elle est blessée en voulant stopper le combat. Enragé, Baoh finit par vaincre Martin et tue à la fois la bête et son maître, puis guérit et se retransforme en Ikuro.
En marchant dans les montagnes, Ikuro et Sumire rencontrent un vieux couple vivant dans la région. Le couple leur offre généreusement le couvert et le logis. Mais alors que le vieil homme est isolé, un autre assassin cyborg surgit. Le cyborg hypnotise le vieil homme pour qu'il attende minuit et tire sur Ikuro dans la tête avec son fusil de chasse. A minuit, le vieil homme se réveille et tente de tirer sur Ikuro, qui se transforme en Baoh pour se défendre mais sent que le vieil homme n'est pas son véritable ennemi. En sautant sur le toit, Baoh affronte le cyborg nommé Dordo qui désactive tous ses organes sensoriels grâce à des produits chimiques libérés par un essaim de chauves-souris. Heureusement, le vieil homme, qui a retrouvé ses esprits abat les chauves-souris avec l'aide de Sumire, mais se prend un balle dans l'estomac. Baoh affronte Dordo, qui est lourdement blessé, mais révèle son corps fortement modifié. Dordo kidnappe Sumire pour l'utiliser comme appât et s'échappe en deltaplane vers l'un des quartiers généraux de la Dress, situé près de Sanriku. Ikuro est déterminé à libérer Sumire, mais risque de déchainer définitivement la bête qui sommeille en lui.
Partant en ville sur une moto offerte par le couple de vieux, Ikuro juge qu'il doit apprendre d'abord à contrôler son pouvoir pour avoir une chance de sauver Sumire. Ikuro est obligé de sauver une jeune fille piégée sur un rail. Ikuro réussit à activer son toucher acide sans se transformer complètement et sauve la fille. Humilié par sa hiérarchie, Dordo repart pour sniper Ikuro, mais ce dernier active ses super sens et sa force pour éviter les balles, déjouant la tentative d'assassinat. Pour attirer Baoh, Kasuminome torture volontairement Sumire pour que Baoh détecte sa détresse. Ikuro est déjà en train d'escalader la falaise du bord de mer menant à un côté vulnérable de l'installation et, se transformant en Baoh, décime personnel de sécurité et survit aux nombreux pièges mortels avant d'atteindre la chambre de Sumire. Il est arrêté par Walken, dont la capacité à détruire n'importe quoi par la pensée le rend invincible et redoutable. Néanmoins, Baoh parvient à poignarder le cerveau de Walken en lançant une de ses lames au bras et il atteint enfin Sumire.
Il est accueilli par une rafale de rayons laser. Baoh n'est pas gêné par l'attaque mais Sumire est blessée. Voyant que Baoh est coincé, Kasuminome se prépare à faire exploser le laboratoire. Pendant ce temps, Baoh guérit Sumire avec son sang. Walken s'est réveillé, toujours vivant malgré sa blessure, et cherche à se venger de Baoh. Comme le casque qui limitait ses pouvoirs psychiques a été détruit par l'attaque de Baoh, la pleine puissance des capacités de Walken provoque un tremblement de terre à l'intérieur du laboratoire. Alors que Sumire se réveille, Walken les retrouve et détruit l'étage. Ainsi, Baoh, Sumire, Walken et même Kasuminome qui a tenté de s'échapper dans une capsule d'évacuation, se retrouvent dans une caverne. Demandant à Sumire de fuir, Baoh utilise l'un des lasers pour tuer Walken pour de bon, blessant mortellement Kasuminome sans le vouloir. L'installation s'autodétruit alors, provoquant l'effondrement de la caverne.
Quelque temps plus tard, Sumire se promène au bord de la mer. Elle a été recueillie par le vieux couple et mène une vie paisible tandis que l'incident du centre de recherche est couvert par la presse. En regardant l'eau, elle sent qu'Ikuro est endormi mais vivant au fond de la mer et prédit qu'il reviendra quand elle aura dix-sept ans et qu'il viendra la retrouver.
Chapitres/Episodes

Apparitions Manga
Apparition dans les chapitres

Apparitions Animé
Apparitions dans les épisodes
Citations

Citations
"

Ugh... this rash keeps getting worse... I-It scares me...

"

"

Sumire, stay away from me! [...] You fool! Don't come near me! You'll be shot!

"

"

I'll erase the smell of these guys!

"

"

WOOOOOOMU BARUBARUBARU!!

"

"

Where is this place? Dad? Mom?

"

"

D-Don't be afraid...! ...I'm not a suspicious person!

"

"

N-No way... Is this the work of Dress?

"

"

Don't do it! If you point your killing intent towards me... it's possible that I'll kill you instead!

"

"

Wrong! This isn't that smell! [...] This

living being

is not my enemy! Another place! From the outside! From above! Over there!

Enemy

is lurking! On the roof!

"

"

There is a mysterious power lurking inside my body. A monstrous power. An evil power. That was the case until now... But I'm going to use this power to my advantage! At least until Sumire can be free! [...] If only I could control that power with my own will!

"

"

I might be able to do it! No, I must do it! All right! Power within me! Danger is coming! Aren't you going to help me?! Show yourself, you monstrous power! Get out! Are you only there just to murder people?! Come out already! Come out! Monster!

"

"

My ability manifested while I was still conscious... T-This is my mysterious power, huh...

"

"

I feel it throughout my whole body! Sumire's scent! She's close to death! Whose fault is it?! It's my fault! Sumire is dying because of me! I must save Sumire!

"

"

Electricity! My body is emitting electricity!

"

"

Dress! I'll eliminate your stench once and for all!

"

"

I purposely missed your vitals! I won't finish you off! For this reason!

"

"

I can't afford to die! I have to survive!

"

"

BARUBARUBARUBARUBARUBARUBARUBARU!

"

"

Who did I make a vow to? I swore to myself that I would save this girl! I'm not giving up hope! I'm a creature that has the ultimate life force!

"
Video Games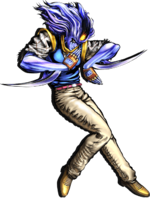 Ikuro appears as Baoh as the final DLC character released for this game; accompanied by a Campaign set centered around him. He also appears in an extra battle in the JoJolion Story Mode chapter.
In the overseas release of the game, he was released in the first public DLC pack on May 14, 2014 along with Lisa Lisa and Part 3 Joseph Joestar, earlier than his Japanese release date.
As Ikuro is unable to speak in his Baoh form (only capable of repeated battle cries of "BARU!" as well as general roars), he is accompanied by the game's narrator calling out the names of his attacks along with descriptive phrases. However, Ikuro will call out the game's name on the title screen in his human voice, and briefly speaks lines, also in his human voice, during his special mirror match intro and during match victories.
As a guest fighter, Ikuro is the only playable All-Star Battle character to not return in the next game, Eyes of Heaven.
Moveset
Ikuro's moveset revolves around Baoh's special abilities. While he has much lower-than-average health, exclusive to Ikuro is the "Baoh Armed Phenomenon" Style. Ikuro has 850 HP.
Styles/Specials/Etc
This is "Baoh"!

(Consumes Heart Heat Gauge)
ON GROUND
Consuming 1/8th of the Heart Heat Gauge, Ikuro gains super armor during his next ability at the press of the Style button.
Astonishing Leap

or

or

after pressing down the left stick for a moment
ON GROUND
Ikuro bounds high into the air. This skill can be used to evade attacks or set up attacks from the air.
Baoh Armed Phenomenon
Automatic at a certain level of health.
Grants him health regeneration starting at 75% health, its effect boosted every 25% he loses thereafter.
Scent of Murder
Automatic after certain enemy moves.
This skill goes into effect when Ikuro's opponent activates certain enhancing effects and powered-up states (Rumble Mode, the Pillar Men's Modes, Giorno Giovanna's Gold Experience in Requiem Mode, etc). The time frame at the beginning of Ikuro's guard where a Stylish Evade may trigger is extended.
Throw
Get the hell out of my way!!
2 ATK buttons at close range or

Ikuro seizes the opponent by the collar and slams them into the ground.
Skills
Baoh Meltedin Palm Phenomenon



+

or

or

ON GROUND
Ikuro lunges forward and reaches out. If he hits the opponent, he'll lift them up by the face and unleash Baoh Meltedin Palm Phenomenon, before slamming them into the ground.
Baoh Reskiniharden Saber Phenomenon



+

or

or

ON GROUND
Ikuro uses Baoh Reskiniharden Saber Phenomenon, with the resulting attack changed depending on the attack button inputted.

Light: Ikuro lunges forward, blade out, to slice through the opponent. (Comboable through Puttsun Cancel)
Medium: Ikuro leaps forward a considerable distance and performs a slash while flipping, leaving the opponent stunned. If spaced properly, using this can cause Ikuro to pass over his opponent. Against human players, this version can bypass blocking due to him having changed to their other side right before the attack is released (a "cross-up"). A middle attack that can only be blocked if the opponent is not crouching. (Comboable)
Heavy: Ikuro unleashes a rapid flurry of blade attacks, sending the opponent flying on the last hit. (Comboable through Puttsun Cancel)
Saber Off!



+

or

or

ON GROUND
Ikuro jumps into the air with a blade out in an uppercut, before spinning and using Saber Off to launch it as a downward projectile. This move doubles as an anti-air.
Baoh Shooting-Bees Stinger Phenomenon

+

or

or

after charging

ON GROUND
Ikuro uses Baoh Shooting-Bees Stinger Phenomenon as a projectile attack, launching needle-like hair at his opponent to ignite them. (Comboable through Puttsun Cancel)
Baoh Break Dark Thunder Phenomenon


+

or

or

ON GROUND
Ikuro unleashes a potent blast of electricity surrounding him, shocking the opponent and knocking them into the air. (Comboable through Puttsun Cancel)
Heart Heat Attack / Great Heat Attack
Laser Cannon!



+ 2 ATK Buttons
ON GROUND
Ikuro wires a large laser cannon to himself as his feet leave the ground, before firing a narrow red beam capable of hitting at all ranges instantly. The HHA mirrors the way Ikuro defeated the psychic warrior Walken.
Time to cover up that stench!



+ 3 ATK Buttons or

ON GROUND
Ikuro roars as he charges at the opponent. If he hits, Ikuro picks the opponent up by the face and uses Meltedin Palm Phenomenon, before repeatedly assaulting them with a merciless extended Reskinharden Saber Phenomenon combo attack. Ikuro then finishes by grabbing the opponent by the neck and throwing them overhead, slamming them into the ground hard enough for them to bounce, before frying them with a super charged Break Dark Thunder Phenomenon from his hands. During the GHA, the narrator describes how Baoh identifies his opponent's scent as that of an enemy and that he must be rid of it. During the narrator's final announcement of "Break Dark Thunder Phenomenon!", an echo effect is implemented as well for dramatic effect.
Détails
Dans le jeu vidéo All-Star Battle, Ikuro semble ne pouvoir parler que dans sa forme humaine. Quand il prend sa forme de Baoh, il ne parle pas sauf pour des taunt ou pour grogner "Baru", c'est donc le narrateur dans le jeu qui décrit ses attaques.
Les personnages de Dio et de Neo Dio de la série de jeux World Heroes ressemblent beaucoup à Baoh et ont des attaques similaires quand ils sont jouables dans les séries World Heroes et NeoGeo Battle Coliseum.
Galerie d'Images
Références