Baoh le Visiteur
Jump to navigation
Jump to search
"
Il tue rien qu'au toucher ! Il est... Baoh!
"
Baoh le Visiteur (バオー来訪者, Baō Raihōsha), ou simplement titré Baoh dans la version française, est un manga d'action/science-fiction écrit et dessiné par Hirohiko Araki. L'histoire a été publiée originellement dans le magazine Weekly Shonen Jump en 17 chapitres d'octobre 1984 à février 1985. En septembre 1985, l'histoire a été compilée en deux tomes tankōbon en neuf grands chapitres, republiés en version bunkoban en un tome, le 16 juin 2000.[2]
L'histoire est celle d'Ikuro Hashizawa, un jeune garçon de dix-sept ans dans lequel on a implanté un parasite qui lui confère bon nombre de pouvoirs surhumains. Il peut se transformer en "Baoh", un monstre à la force incroyable, au toucher acide, pouvant se régénérer et émettre de l'électricité. Il s'échappe de l'organisation malfaisante "Dress" avec une jeune fille psychique nommée Sumire, et ils se battent alors contre les assassins que Dress envoie contre lui.
Ce manga a été licencié en anglais et publié mensuellement par VIZ Media en 1990. Ayant été un échec commercial, ce n'est qu'en 1995 que la série a été compilée en tome.[3] Une adaptation en OAV de la série réalisée par le Studio Pierrot a été distribué en DVD le 16 septembre 1989. Cette série a été publiée en français le 20 avril 2022 par les éditions Delcourt/Tonkam dans le coffret Bizarre Adventure de Hirohiko Araki.
Résumé
Prologue
Un jour, on retrouve le corps déchiqueté d'une femme sur une plage du Nord-Est de l'île de Rikuchu au Japon. On explique que la femme était une passagère dans un certain train il y a plusieurs jours.
Ce train est la propriété de l'Organisation Secrète Dress (秘密組織ドレス, Himitsu Soshiki Doresu), une organisation gouvernementale secrète qui créé des armes spéciales. Un des membres de Dress, le Dr. Kasuminome (霞の目博士, Kasuminome-hakase) supervisait le transport de l'une de ses dernière création : l'arme biologique surnommée Baoh (バオー, Baō) qu'il gardait endormi dans un réservoir d'eau. Pendant ce temps, une petite fille avec des pouvoirs psychique nommée Sumire (スミレ), que Dress avait kidnappée pour étudier ses pouvoir, s'échappa de sa cellule. Durant sa tentative d'évasion, Sumira libéra aussi Baoh, qui se révéla être un jeune homme aux pouvoirs surhumains. Baoh et Sumire purent s'échapper du train. Le Dr. Kasuminome s'inquièta alors du terrible danger de laisser Baoh rôder en liberté.
Ikuro en cavale
Ayant peur que Baoh ne devienne hors de contrôle, Kasuminome appelle un assassin pour tuer ce dernier. Plus tard, le garçon et Sumire essaient de faire connaissance. Ils sont attaqués par l'assassin en question qui est nommé N.22. N.22 poignarde Ikuro, et les deux héros volent une moto avant de s'enfuir. L'assassin les poursuit. Le garçon, qui s'appelle en fait Ikuro Hashizawa (橋沢 育朗, Hashizawa Ikurō), est amnésique et ne souvient plus de sa vie ou de comment il a obtenu ses pouvoirs. N.22 retrouve Ikuro dans une station à essence et lui coupe la gorge. C'est alors qu'il se transforme en "Baoh", faisant fondre N.22 rien qu'en le touchant, avant de se retransformer en humain.
Plus tard, un escadron de la mort est déployé pour chasser Ikuro et Sumire. Pour leur part, les deux sont occupés à parier sur des courses de chevaux pour gagner de l'argent. Pendant ce temps, Dr. Kasuminome présente à ses sponsors le "Baoh", un parasite qui confère une force surnaturelle et plusieurs autres capacités aux organismes, les renforçant avec le temps mais les rendant aussi plus sanguinaires. Pour démontrer son potentiel, il oppose un petit chien avec le parasite Baoh à un tigre, un combat que le Baoh remporte. Si Ikuro devait remplir son potentiel en tant que Baoh, il ferait des ravages dans le monde et transmettrait son parasite à d'autres organismes. Pendant ce temps, Ikuro et Sumire se sont installés dans un bâtiment abandonné, Ikuro sentant que quelque chose en lui est en train de changer. L'escadron de la mort attaque le duo, mais Ikuro se transforme à nouveau en Baoh, les décimant en un instant. A son insu, un autre assassin observe et analyse les capacité du Baoh.
Baoh sent l'assassin, qui se révèle être un dresseur commandant un mandrill géant lourdement modifié nommé Martin. Grâce à sa force et aux nombreuses armes cachées dans son corps, Martin rivalise aisément avec Baoh. Sumire, ayant senti que l'humanité d'Ikuro est toujours intacte à l'intérieur de Baoh, tente d'empêcher l'assassin de contrôler Martin, mais elle est blessée dans sa tentative d'arrêter le combat. Enragé, Baoh finit par vaincre Martin et tue à la fois la bête et son maître, puis guérit et se retransforme en Ikuro.
Sumire prise en otage
En marchant à travers les montagnes, Ikuro retrouve sa mémoire et explique à Sumire qu'après un accident de voiture mortel, Ikuro et ses parents ont été gravement blessés et emmenés à l'hôpital il y a de celà six mois. Malheureusement, le médecin était connecté à Dress, qui était à la recherche de cobayes à l'époque. Kasuminome a tué les parents d'Ikuro sous ses yeux et sans sourciller et l'a emmené pour lui injecter le parasite Baoh en lui. De retour dans le présent, un vieux couple vivant dans la région accueille Ikuro et Sumire dans leur maison. Alors que le vieil homme est isolé, un autre assassin cyborg surgit, hypnotisant le vieil homme pour qu'il attende minuit et tire sur la tête d'Ikuro avec son fusil de chasse.
Le cyborg nommé Doldo (ドルド, Dorudo) surveille la maison jusqu'aux douze coups de minuit. Le vieil homme se réveille et tente de tirer sur Ikuro, qui se transforme en Baoh pour se défendre mais sent que le vieil homme n'est pas son véritable ennemi. En sautant sur le toit, Baoh affronte Doldo qui arrive à désactiver tous ses organes sensoriels grâce à des produits chimiques dispersés par un essaim de chauves-souris. Heureusement, le vieil homme retrouve ses esprits et abat les chauves-souris avec Sumire pour l'aider à viser. Baoh affronte Doldo, qui est lourdement blessé par les cheveux corrosifs de Baoh, mais révèle qu'il est un cyborg en dessous de sa peau synthétique, et le métal résiste à l'acide. Doldo kidnappe alors Sumire pour l'utiliser comme appât et s'échappe avec un jet pack vers un des quartiers généraux de Dress, près de Sanriku. Ikuro est déterminé à libérer Sumire, mais risque de déchainer définitivement la bête qui sommeille en lui.
Partant de la maison du vieux couple, Ikuro se dit qu'il doit d'abord à contrôler son pouvoir d'abord pour avoir une chance de sauver Sumire. Pendant ce temps, Dr. Kasuminome réprimande Doldo pour son échec. Enervé, Doldo repart tuer directement Baoh. Pour sa part Ikuro commence à maîtriser son pouvoir. Une fille se retrouve coincée sur un rail et un train menace de lui rouler dessus. Ikuro se montre alors capable conjurer son toucher acide sans se transformer pour sauver la fille. Quand Doldo arrive pour le sniper de loin, Ikuro canalise sa force et ses réflexes surhumains pour se protéger. Doldo repart à la base, humilié. Il voit Sumire qui sert de cobaye à des scientifiques. Sumire tremble de peur quand elle voit un homme grand et musclé. Cet homme est Walken (ウォーケン, Wōken), un Indien possédant des pouvoirs psychiques terrifiants de par leur puissance. Walken montre un peu de son talent lorsqu'il fait bouillir sa tasse de café rien que par la pensée.
Ikuro au laboratoire du Dress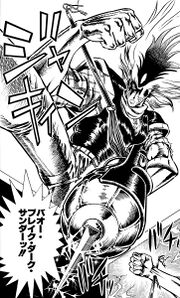 Doldo est ramené à la base à Sanriku de Dress ; Walken l'éxecute alors sommairement en l'atomisant par la pensée. Pour attirer Baoh, Kasuminome torture Sumire car il sait que Baoh détectera sa détresse. De fait, Ikuro est déjà en train d'escalader une falaise en bord de mer qui mène jusqu'à la base. En se transformant en Baoh, il extermine tous les hommes de main et autres créatures se trouvant sur son chemin. Ikuro confront Walken dont les pouvoirs psychiques causent bien des problèmes à Ikuro. Il vainc cependant Walken en envoyant une des lames sur son bras dans la tête de l'Indien. Ikuro atteint Sumire, faisant déjouer des lasers qui servent de dernier piège. La petite fille est blessée par l'attaque mais Baoh est capable de la guérir avec son sang. Cependant, Walken s'est réveillé. Ikuro a détruit son bandeau qui inhibait les pouvoirs de Walken. Ce dernier devient un tueur enragé qui ne pense qu'à affronter Baoh à nouveau, et son pouvoir psychique cause un tremblement de terre menaçant de détruire la base. Walken retrouve Ikuro et Sumire et détruit le sol, plongeant dans une grotte. Le Dr. Kasuminome se retrouve aussi dans la grotte en voulant s'échapper. Baoh dit à Sumire de s'enfuir. Il utilise sa bioélectricité pour alimenter un laser et tue alors Walken, et tuant accidentellement Kasuminome. La base s'autodétruit et la caverne s'écroule.
Des mois plus tard, Sumire marche sur le bord de la mer. Elle a été adoptée par le vieux couple et coule des jours heureux loin de Dress. L'incident a été caché par la presse. En regardant la mer, Sumire sent qu'Ikuro sommeille au fond de l'eau. Elle prédit qu'il se réveillera lorsqu'elle aura aussi dis-sept ans et qu'ils pourront se réunir.
Liste des Personnages

Tomes

September 10, 1985
[4]

978-408-851029-3

November 8, 1985
[4]

978-4-08-851030-9
Adaptations
OVA
Main article: Baoh (OVA)
The series was adapted into a single-episode original video animation (OVA) by Studio Pierrot in 1989; licensed for an English DVD release by AnimEigo in 2000, delayed until finally released in 2002.
Note d'Auteur
Volume 1

Author's Note
"
I was once asked, "If you could have a superpower, what would it be?" I immediately answered, "Transform!" because with transformation, you can be anything you want. I think one would eventually get bored of precognition and telekinesis after a while, but transforming would always be fun.

You could mess with other people and go to different places...... I'm sure you'd be able to enjoy yourself forever without ever getting tired, which is why I'd like everyone to check out "Baoh the Visitor". It's a cool story, but also a sad one at the same time.
"
Volume 2

Author's Note
"
I love almond-shaped eyes; they feel mysterious with an intense ghostly air and loneliness to them.
The eyes of Sting (the musician), Madonna, Nastassja Kinski, Joe Asakura, and Kamui are full of mystery and that's why I love them. They're all very attractive!

...With that in mind, please enjoy volume two of Baoh the Visitor. Ikuro's eyes are also full of loneliness...
"
Post-scriptum

Baoh the Visitor Afterword
"
When I started writing
Baoh the Visitor
, I moved my workplace from my hometown of Sendai to Tokyo. Up until that point, I had been working alone, drawing at my own house. If I had a fax machine and an efficient photocopier like I do now, and could get to the editorial department in about two hours via bullet train, perhaps I wouldn't have moved.
However, at the time Baoh began serialization in 1984, courier services had barely been established in Sendai, so my work schedule was already constrained. I didn't want to move to Tokyo in the summer because of the hot and humid weather, as well as the small size of the place (still not used to it), but someone encouraged me to do it. And now, looking back, I can only say that I'm glad I moved here. I'm only human, after all. Being able to gather information and new ideas from various people through their own experiences, it shocked me to see and hear things in a different light and has been the ultimate learning experience. There were books on sale by painters and designers I had never seen, and I became obsessed with food I had never eaten before. I really liked the painters Frank Frazetta, Enki Bilal, and Antonio Lopez. I was surprised by the beauty and fashion sense of designer stores like Missoni and Versace. I also watched MTV shows late at night, getting to see performances of Madonna and African American rap music for the first time.
"How can I develop my own art style?"
This was a challenge that I had been working on since my previous work, Cool Shock B.T. I dragged that challenge along with me to Tokyo, and thought "I have a lot of work to do", in terms of research and studying. The idea for Baoh the Visitor came to me while I was working in Sendai. Since I had depicted an "intellectual conflict" in Cool Shock B.T., I considered creating a setting and protagonist based on the theme of "one's body" for my next work. I wanted to write a story about the topic of creating biological weapons using cloning and genetic engineering techniques, as done in 1984. The abilities used by the protagonist must be sufficiently biological and logical, even if they are exaggerated.
I also depicted the story's progression to be like the rhythm of rock music. That's what it felt like to me, anyways. Ever since I arrived, the city of Tokyo overflowed with the feeling of being alive, similar to what you'd see on MTV or something like "GYAAN", "BARUBARUBARU", and "DOBBAAN". As the serialization began and the story progressed, after continuously talking and drawing about it, I began to feel that while genes seem to be a strange and wonderful concept, there is something sad about them at the same time. Perhaps, something like fate could be written within genes.
"Is there a chance you will continue Baoh the Visitor?"
I was asked this about ten years after its conclusion. However, I think it's best to keep the ending of Baoh as it was here. The heroine, a young girl, grows up with a sense of hope for the future. I drew this last chapter with a similar optimism and designed it as an "ode to life", which I think was inherited by my next work two years later, JoJo's Bizarre Adventure. In regards to that art style challenge I had during my Cool Shock B.T. days, I wonder if I'll continue to study and train my skills till the very end? I'm hopeful for the future.
I can't find the full-color artwork used as the frontispiece in this book because the manuscript was lost (I think it was possibly when Shueisha's building was being rebuilt). That's why I decided to include the version from the cover of the Jump magazine. It's because the raw artwork no longer exists...
"
Galerie d'Images
Trivia
Selon Araki, le terme "Baoh" est dérivé du préfixe "bio" comme Biotechnology, qui était un sujet à la mode au moment où il a écrit et publié Baoh.[5]
Viz voulait publier JoJo's Bizarre Adventure aux Etats-Unis dès les années 90[6] mais ce plan a été retardé lorsque Baoh a été un échec commercial.[3]
Hiroyuki Takei, le mangaka auteur de Shaman King, a dit que Baoh le Visiteur était l'une de ses séries préférées avec JoJo's Bizarre Adventure quand il était jeune.[7]
Caméos
La série "Baoh le Visiteur" est mentionné plusieurs fois dans des séries ultérieure et autres médias associés.
Références