Yoshihiro Kira
Jump to navigation
Jump to search
"
Je tuerai tous ceux qui veulent du mal à mon
fils adoré
 !
"
Yoshihiro Kira (吉良 吉廣, Kira Yoshihiro) est un antagoniste mineur de la quatrième partie de JoJo's Bizarre Adventure, Diamond is Unbreakable, introduit dans l'arc narratif "Atom Heart Father".
Yoshihiro Kira est un Fantôme, le père décédé de Yoshikage Kira. Malgré les inclinations meurtrières de Yoshikage, Yoshihiro est très protecteur envers lui. Yoshihiro attaque le Groupe Joestar avec son Stand Atom Heart Father et va créer plusieurs manieurs de Stand avec la Flèche, qui vont assassiner le groupe pour protéger Yoshikage.
Apparence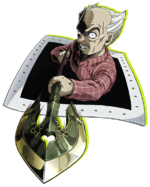 Yoshihiro Kira est un petit homme Japonais, décédé et demeurant alors dans le monde des vivants en tant que fantôme. Il est de petite taille et de carrure fine, étant chauve sur le sommet du crâne. Yoshihiro a aussi une petite moustache et un bouc. Il a des cheveux blancs mais une barbe plus sombre.
Dans une photo de son vivant, Yoshihiro portait une tenue normale avec une simple chemise verte, cravate violette, un cardigan jaune, et une veste verte. En tant que fantôme, il ne porte qu'un pyjama rayé avec un haut rayé, aux manches à carreau, et un pantalon similaire. De plus, il est piégé dans une photo.
Palettes
Les palettes changent souvent entre les médias. L'information ci-dessous ne devrait pas être considérée comme canonique.
Cheveux
(Cheveux blanc, barbe noire)
Tenue
(Pyjama vert, rayé vert clair)
Cheveux
(Cheveux blanc, barbe grise)
Tenue
(Pyjama rose saumon, rayé de rose clair)
Personnalité
Yoshihiro Kira est un père qui est dévoué à son fils et fait tout pour le protéger, même s'il est un tueur en série. Il se peut que Yoshikage ait hérité de ses penchants maléfiques, sachant que Yoshihiro était à la solde de DIO et Enya, ayant même eu le privilège d'avoir possédé l'une des Flèches de DIO ce qui indique qu'on lui faisait confiance. Yoshihiro adore son fils mais se fiche de toutes ses victimes, étant indifférent à toutes les mort que Yoshikage cause.
Pouvoirs
Main article: Atom Heart Father
Atom Heart Father permet à Yoshihiro Kira de demeurer dans le monde des vivants dans une photo. Avec un appareil photo unique, Yoshihiro est capable de "piéger" des gens avec lui dans la photo en empêchant toute intervention extérieure. Il peut bouger dans la photo et même tuer des gens depuis la photo.
Atom Heart Father
(
アトム・ハート・ファーザー
)


Pouvoir(s)
Photographies surnaturelles
Histoire
Passé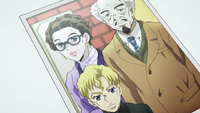 La famille Kira est une famille originaire de Morioh. Du temps du père de Yoshihiro, la famille fut ruinée et seule leur maison ancestrale resta dans leurs main. A un moment, Yoshihiro se marie avec une femme qu'on ne nomme pas. Ils ont un fils qu'ils nomment Yoshikage on January 30, 1966.[1] Il semblait être proche de sa famille tout en étant distant, et ne s'est jamais gravement disputé avec elle.[2] Sa famille abusait d'une certaine façon de leur fils (en étant trop protectrice), mais Yoshihiro ignorait ces abus.[3]
Quelques années avant les évènements de la partie, Yoshihiro partit en Egypte et obtint d'Enya une des Flèches. Il acquit alors son Stand Atom Heart Father mais aussi, son fils acquit un Stand nommé Killer Queen.[2][4]
Yoshihiro savait alors probablement que son fils commettait des meurtres mais joua le jeu et aida à cacher ses crimes (selon les dires d'Araki).[2] Yoshihiro mourut de cancer avant les évènements de Diamond is Unbreakable alors que Yoshikage avait 21 ans, et sa femme mourut peu après.[1] Regrettant de n'avoir rien fait pour stopper l'abus de sa femme envers Yoshikage,[3] Yoshihiro utilisa son Stand pour demeurer en tant que fantôme dans des photographies, lui permettant de veiller sur lui même après la mort. En étant mort, il découvrit aussi l'existence de l'allée de la fille fantôme et expliqua à son fils qu'il ne fallait pas regarder en arrière dans cet endroit.[5]
Diamond is Unbreakable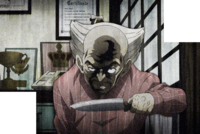 Josuke, Okuyasu, Koichiet Jotaro rencontre Yoshihiro alors qu'ils fouillent la maison de Yoshikage Kira après que ce dernier se soit échappé en changeant d'identité. Alors que Jotaro et Josuke fouillent le salon, Yoshihiro active son Atom Heart Father et prend une photo d'eux, les piégeant dans une photo avec lui. Il appelle ses cibles et déclare qu'il va les tuer. Il sort alors un couteau d'un tiroir et décapite Josuke et Jotaro dans la photo, l'effet de son Stand fait alors que la même chose va arriver dans la réalité et un couteau sort tout seule du tiroir pour voler vers Josuke. Cependant, Jotaro prend alors une seconde photo de Yoshihiro en gros plan, de sorte qu'il ne peut plus vraiment manipuler son environnement. Jotaro plie la photo, la scotche et l'épingle à un pilier. Alors que le groupe continue ses recherches, Yoshihiro trompe Okuyasu et Koichi en prétendant qu'il peut s'échapper à travers les trous d'épingle. Okuyasu panique et déplie la photo pour voir, ce qui permet à Yoshihiro de partir en utilisant le fil de son pyjama comme lasso. Non seulement il arrive à reprendre la Flèche qu'il avait, il attrape un corbeau et vole au loin.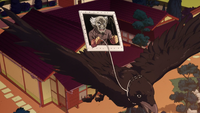 Pour protéger son fils, Yoshihiro décide de percer autant de personnes que possibles pour créer des manieurs de Stands et leur dire d'attaquer les héros en espérant qu'ils réussissent. Il transforme alors Ken Oyanagi, Yuya Fungami, Tama le chat, Masazo Kinoto et Terunosuke Miyamoto en manieurs de Stand.
Alors qu'il regarde le match de papier-caillou-ciseaux entre Ken et Rohan Kishibe, il sauve Rohan par inadvertance car un camion roule vers lui et il se colle à la vitre, ce qui surprend le conducteur et le force à faire un virage, ce qui sauve Rohan. Plus tard alors qu'il se trouve dans les zones agricoles, Yoshihiro essaie de percer le mystérieux Mikitaka Hazekura mais est surpris quand la flèche rebondit contre lui. Yoshihiro entre aussi en contact avec l'ermite Toyohiro Kanedaichi, coincé dans son Stand Super Fly, et concocte un plan pour forcer Josuke à être emprisonné à la place de Toyohiro. Cependant, tous ses plans échouent.
Yoshihiro retrouve finalement son fils Yoshikage. Celui-ci prétend être "Kosaku Kawajiri" mais le fils de Kosaku, Hayato Kawajiri, a découvert sa véritable identité. Kira le tue durant un accès de colère. Pire encore, les héros ont découvert le comportement étrange de Hayato et prévoient d'aller le voir le lendemain. Yoshihiro suggère à son fils de fuir Morioh mais ce dernier refuse catégoriquement d'abandonner sa vie paisible. C'est alors que la flèche de Yoshihiro perce Yoshikage toute seule, elle lui donne un tout nouveau pouvoir.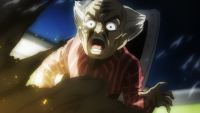 Le Bites the Dust de Yoshikage Kira semble pouvoir lui procurer la vie paisible qu'il souhaite en tuant automatiquement tous ceux qui le recherchent, mais Hayato parvient à faire en sorte que Kira crie son nom à voix haute alors que Josuke soit là. Kira est forcé d'annuler son pouvoir. Durant le combat entre Yoshikage, Josuke et Okuyasu, Yoshihiro se cache discrètement dans la poche intérieure du gilet de Hayato et communique à son fils la position de Josuke dans une position avec un téléphone portable. Cela permet à Kira d'envoyant des bombes téléguidées sans se mettre à porter de Crazy Diamond. Cependant, Josuke découvre Yoshihiro et prend son téléphone, guidant alors Kira pour qu'il détruise son père avec une bulle-bombe. Yoshihiro est alors éliminé pour de bon.
Dans une seconde continuité, Holy Joestar est mariée à un homme nommé Yoshiteru Kira au lieu de Sadao Kujo. Ce dernier semble être l'homologue de Yoshihiro, étant le père d'un Yoshikage Kira. On ne sait pas s'il avait un Stand. Kei Nijimura dit qu'il est mort, et donc elle et Holy sont les derniers membres vivants de la famille Kira.[6]
Chapitres / Episodes

Apparition dans le Manga
Chapitres (ordre chronologique)

Apparitions dans l'Anime
Episodes (ordre chronologique)
Citations

Citations
"

I'll kill anyone who tries to harm my son! I will protect my child!

"

"

Yoshikage, my son... where are you now? Ever since you were young, you needed to murder women... and nobody could stop you. But since it made you happy, I decided to help you. And now I need to find you before those people can! I need to protect my beautiful son! You are my only child!

"
Jeux Vidéo
Yoshihiro apparaît dans l'arène de la Maison des Kira. Brandissant un couteau, il traverse l'arène régulièrement dans son Stand Atom Heart Father dans une trajectoire courbe, et donne des coups à tous ceux qui s'approchent.
Yoshihiro apparaît en tant que caractéristique spécial pour le personnage jouable "Kosasku Kawajiri" dans Eyes of Heaven. Si Kosaku n'a plus qu'une barre de vie, Yoshihiro apparaît et commence à suivre les ennemis pour trente seconde de l'horlogue. Cela permet de rendre les projectiles de Kira plus précise, répliquant comment Yoshihiro guidait les bombes de Kira.
Galerie d'Images
Détails
Araki n'a pas mentionné en détails l'enfance de Yoshikage. La femme de Yoshihiro était sensée avoir abusé leurs fils, mais Yoshihiro ignorait ces abus. Après sa mort, Yoshihiro avait décidé de protéger Yoshikage pour se racheter. Cependant, Hirohiko Araki a décidé de ne pas inclure cette histoire pour qu'on ne ressente pas trop de sympathie pour Kira et pour que le lectorat reste contre Kira.[3]
Références