Stardust Crusaders - Episode 18
Jump to navigation
Jump to search
Sun
(太陽,

San

)
[1]
is the eighteenth episode of
Stardust Crusaders
and the forty-fourth episode of the
JoJo's Bizarre Adventure
anime
. It covers
Chapter 166
and
Chapter 167
of the
manga
.
The Joestar Group have reached Arabi and must cross the desert with camels to reach their next destination. However, they discover in the middle of the desert that the Sun above their head is an enemy Stand.
Summary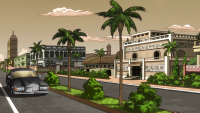 The Joestar Group has reached the United Arab Emirates, a small country that has become extremely rich thanks to its oil. Joseph purchases an expensive car only to ride it to a village and trade it for a group of camels. That way, he plans to cross a part of the Arabian Desert and arrive in Yabrin where he can buy a Cessna and fly over Araby. Bragging about knowing how to ride camels, Joseph continuously ridicules himself trying to even got one to sit, eventually confessing that he only knows about camels through the Lawrence of Arabia movie.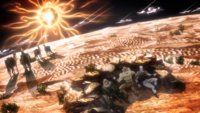 After the group eventually manages to get on their way, Jotaro and Kakyoin feel like someone is watching them, but cannot find anyone suspicious. The group eventually realizes that the sun is still in the sky even though it is 8 o'clock in the evening, with the temperature rapidly increasing. In truth, the group is under attack from an enemy Stand, Sun, which replicates the heat of the star. When Kakyoin attempts to investigate Sun by sending Hierophant Green, Sun bombards the group with lasers, killing the camels, destroying their water supply, and forcing the group to hide under a rock.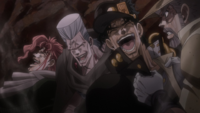 Although the user must be close, the group can only see the plain desert around them and a few rocks scattered here and there. Worse, the heat is beginning to take its toll on the group's sanity. All seems lost, particularly to Joseph when his companions all begin to laugh, which he worries is a heat stroke-induced delirium, but Kakyoin clues him in on their discovery. He has found a rock in the middle of the desert identical to another, and when Jotaro throws a rock in its direction, a crack seemingly appears in the sky, and Sun is defeated, restoring the night sky. The group goes over to the crack to find Sun's user, Arabia Fats, out cold, having been hiding behind a mirrored duck blind to keep the group from spotting him.
Appearances
Credits
Staff
Animation Director Cooperation
(作画監督協力)
Assistant Action Animation Director
(アクション作画監督補)
赤間 紗枝
大川 貴大
福田 周平
持田 愛
林 隆祥
石田 千夏
森 幸子
小林 亮
三室 健太
中屋 了
糸井 恵
WHITE LINE
Triple A
In-between Animation
(動画)
Digital In-Between AnimationDavid Production
Masato Ujibe
Makoto Yaguchi
宇治部 正人
矢口 真琴
---
David Production
Yusaku Nagahama
Rie Takahashi
Chie Nakagami
長濱 佑作
高橋 梨恵
中神 智絵
---
White Line
Ace Company
Triple A
Asahi Production
CL Corporation
FAI
Sunlight
WHITE LINE
エースカンパニー
Triple A
旭プロダクション
CLコーポレーション
FAI
サンライト
Design Cooperation
(デザイン協力)
David Production
Kenichi Higaki
Aiki Watanabe
檜垣 賢一
渡辺 藍希
David Production
工藤 かよ
Puavaranukroh Taweeporn
Eyecatch Illustration
(アイキャッチ原画)
Music
Manga/Anime Differences
A prologue explaining the origins of the group's car and camels was added in the anime.
At the end of the episode, Polnareff comments about having good dreams, foreshadowing the following arc.
In other languages
Language
Title
Translation
Japanese
太陽
Sun
English
The Sun
Spanish
El Sol
Sun
Portuguese
O Sol
The Sun
French
The Sun
German
Die Sonne
The Sun
Arabic
الشمس
The Sun
Italian
The Sun
Hebrew
השמש
The Sun
Polish
Słońce
Sun
Commentary
Gallery
References