Star Platinum
Jump to navigation
Jump to search
"
ORA ORA ORA ORA!
"
—Okrzyk bitewny Star Platinum
Star Platinum (スタープラチナ(星の白金), Sutā Purachina) to Stand Jotaro Kujo, występujący głównie w trzeciej części JoJo's Bizarre Adventure, Stardust Crusaders. Pojawia się również w części czwartej, Diamond is Unbreakable, oraz części szóstej, Stone Ocean.
Star Platinum to bliskodystansowy Stand o wyjątkowej sile i prędkości, zarówno jak i otrzymanej podczas ostatniej walki przeciwko DIO umiejętności zatrzymywania czasu. Jego przytłaczająca moc w połączeniu z walecznością Jotaro sprawia, że jest on jednym z najsilniejszych i najbardziej ikonicznych Standów w serii.
Wygląd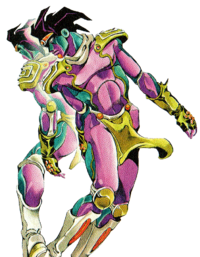 Star Platinum to humanoidalny Stand, przypominający wysokiego, dobrze zbudowanego mężczyznę o podobnych proporcjach do Jotaro, jeżeli nie nawet bardziej umięśnionego. W kolorowanych dziełach jego skóra jest często odcieniem pomiędzy fioletowym, niebieskim, zielonym, z domieszką złota. Jego twarz i ciało mają różne kolory.
Ma długie, falowane włosy z ciemniejszym cieniem powyżej swoich oczu oraz na grzbiecie nosa, zacierając granice między swoimi włosami a głową. Fragmenty poniżej jego oczu, na jego policzkach i podbródku mają ciemniejszy kolor i są wyraźnie oddzielone od przestrzeni wokół jego nosa i ust. Nosi ochraniacz na podbródku i metalową opaskę na głowę, w trzech fragmentach, ze środkowym fragmentem w kształcie pionowej elipsy. Początkowo jego rysy twarzzy były bardzo podobne do rysów Jotaro.
Od każdego ramienia do przodu tułowia biegnie falista linia, ciągnąc się dalej w dół do jego nóg. Ma skąpy ubiór i uzbrojenie, w tym krótki, okrągły szalik, naramienniki ze spiralnym wzorem, długie rękawice z ćwiekami z tyłu dłoni, ochraniacze na kolana i łokcie, przepaskę na biodra i krótkie buty (które w części 6 mają długość do kolan).
Star Platinum ma wyglądać jak opiekuńczy duch. Jego naramienniki przypominają te noszone w Fist of the North Star. Spiralne wzory symbolizują Fale i koncepcję nieskończoności.[2]
W adaptacji anime części 4, wszystkie ubrania Star Platinum, takie jak jego czerwony szalik i czarne rękawice zostają białe, odzwierciedlając przemianę ubioru Jotaro z czarnego na biały. Jego ciemniejsze, fioletowe refleksy, na przykład jak te pod jego oczami stały się turkusowe.
Schemat Kolorów
The series is known for alternating colors between media, the information presented below may or may not be canon.
Skin
(Purple and indigo, with a gray jaw, cheeks, and ears.)
Hair
(Dark purple with purple highlights.)
Outfit
(Golden armor and crown, yellow scarf, dark purple gloves, wrappings, and boots, white loincloth.)
Outfit
(Golden armor and crown, gray gloves and elbowpads, purple scarf, wrappings, and loincloth.)
Skin
(Light blue and blue, with a purple and black chest)
Hair
(Black with green highlights)
Outfit
(Golden armor, ears, chinpeice, and crown with a magenta jewel, brown gloves and wrappings, white scarf and loincloth.)
Skin
(Light Green and teal, with a green jaw and cheeks.)
Outfit
(Golden armor and crown, yellow scarf, black gloves, wrappings, and boots.)
Skin
(Green, with a yellow jaw and cheeks)
Outfit
(Golden armor and crown, yellow scarf, lavender gloves, wrappings, and boots, white loincloth.)
Skin
(Purple, with a dark purple jaw and cheeks.)
Outfit
(Golden armor and crown with a silver jewel, red scarf, black gloves, wrappings, and boots with yellow stripes, white loincloth and kneepads.)
Outfit
(Golden armor and crown, red-orange scarf, dark green gloves, wrappings, and boots, white loincloth and kneepads.)
Outfit
(Golden armor, chinpiece, and crown with a silver jewel, white scarf, gloves, wrappings, loincloth, and boots.)
Outfit
(Golden armor, chinpiece, and crown, white scarf, gloves, wrappings, loincloth, and boots.)
Osobowość

Pomimo braku własnej świadomości, Jotaro opisał Star Platinum jako bardzo brutalnego. Jest cichy, z wyjątkiem kiedy zasypuje przeciwnika ciosami, podczas czego głośno krzyczy "ORAORAORA!". Mając względnie ludzką twarz, może okazywać oznaki emocji poprzez uśmiech lub skrzywienie się.
Star Platinum wykazuje poczucie samozachowawczości, co widać kiedy zatrzymuje pocisk, który Jotaro wystrzelił jako test w kierunku swojej głowy,[3] ochraniając obezwładnionego Jotaro od ataków DIO podczas Zatrzymanego Czasu i reanimując go przy bliskiej śmierci poprzez bezpośrednie pompowanie jego serca[4] (jednakże biorąc pod uwagę pionierską rolę Star Platinum w serii, zdolność ta może ukazywać głównie metafizyczne lub podświadome cechy użytkowników Standów).
W oryginalnej mandze Star Platinum na początku ukazany jest z szerokim, niepokojącym uśmiechem. Później Star Platinum zyskuje stoickie oblicze Jotaro, jego późniejsze uśmiechy ogdrywają tylko rolę ostrzeżenia dla nieszczęsnych celów gniewu Jotaro, przekazując im, że wkrótce odczują niewyobrażalną ilość bólu.
Star Platinum nazwany jest po 17-nastej Karcie Tarota, Gwieździe, która symbolizuje optymizm i nadzieję.
Umiejętności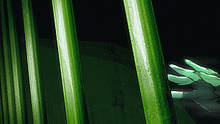 Star Platinum jest standem bliskodystansowym (Close-Range), z podstawowym zasięgiem tylko 2 metrów od ciała Jotaro, ale z niezwykłą siłą, szybkością i precyzją.
Zdolności Nadludzkie
Jako jeden z najpotężniejszych Standów ukazanych w serii, Star Platinum ma przytłaczającą sprawność fizyczną w każdej podstawowej cesze, z wyjątkiem zasięgu. W połączeniu ze sprytem Jotaro w walce, Stand ten jest w stanie pokonać większość użytkowników Stanów bez wykorzystania jakichkolwiek skomplikowanych umiejętności. Co więcej, nagłe odkrycie przez Jotaro jego prawdziwego potencjału sprawia, że jest jeszcze bardziej groźny w walce.
Super Strength: Star Platinum possesses immense strength, being able to throw a Jeep carrying four men and a girl out of the path of an 18-wheeler with one hand, later pulling the same Jeep out of a canyon with only a car as a counter-weight,[5] and destroy large artificial diamonds within seconds.[6] This same strength allows it to launch itself and its user into the air to clear long distances.
Super Speed: Star Platinum boasts phenomenal speed. It was able to intercept a bullet fired from point-blank range,[3] briefly contended with Silver Chariot (whilst it was using Anubis),[7] and is stated to exceed the speed of light.[8]
Precision: Star Platinum is incredibly precise; it can surgically remove an object embedded in a person's skull without ill effect, catch both a bullet and a minuscule Stand like Lovers between his thumb and forefinger in midair, and create a near photo-realistic drawing of a small Egyptian fly from a dark, blurry photo.[9]
Enhanced Eyesight: Star Platinum utilizes eagle-like eyesight throughout Stardust Crusaders. Jotaro has used Star Platinum's eyes to see four kilometers across a desert,[10] as well as identify meaningful details, such as a specific type of fly in high-resolution images.[1] It can also follow a card shuffle performed by a professional gambler, subsequently recounting the entire new order of the deck.
Enhanced Breath: Star Platinum inhales with superhuman lung capacity, capable of sucking in the entire fog Stand Justice and holding it long enough for its user to suffocate.[11]
Enhanced Durability: Star Platinum's defense allows it to defend its user from various attacks such as Hierophant Green's Emerald Splash or The World's strikes. It is also able to minimize environmental damage when Jotaro is sent flying through objects.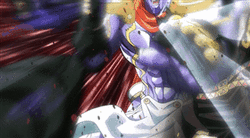 Ora Ora[12] (

オラオラ

Ora Ora): Star Platinum's primary method of attack. It throws an extremely fast but precise barrage of powerful punches to pulverize an opponent or destroy objects.[13]
Star Platinum: The World
Podczas ostatniej walki z DIO w Stardust Crusaders, Star Platinum obudził w sobie zdolność zatrzymywania czasu. Technika ta jest określana przez Jotaro jako Star Platinum: The World (スタープラチナ ザ・ワールド, Sutā Purachina Za Wārudo), nazwana po Standzie zmarłego antagonisty, The World.
Zatrzymanie Czasu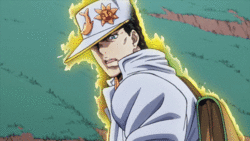 Po aktywacji Star Platinum jest w stanie zatrzymać upływ czasu na krótką chwilę, powodując, że wszystko wokół niego wygląda jakby zamarzło w miejscu. W tym czasie Jotaro jest w stanie wchodzić w interakcje z dowolnym obiektem lub osobą w jego zasięgu. Miary czasu w trakcie Zatrzymania Czasu odpowiadają normalnym miarom, na co wskazuje skrócenie czasu trwania Zatrzymania Czasu wbrew woli Jotaro, kiedy był on pod wpływem Made in Heaven. Nie jest w stanie użyć tej zdolności bezpośrednio po poprzednim użyciu, wymaga ona od niego kilku sekund przerwy po każdym z nich.[15]
W jego najlepszym okresie umiejętność ta mogła trwać do 5 sekund[17] ale z czasem uległa zmniejszeniu z powodu braku praktyki w walckach.[2] Dziesięć lat po pierwszym użyciu Jotaro mógł zatrzymać czas tylko na pół sekundy, ale intuicyjnie przedłużył go do 1-2 sekund w trakcie drugiej połowy Diamond is Unbreakable.[18][19]
W Stone Ocean, szczególnie podczas wątku fabularnego The Visitor, Jotaro nadal wydaje się być w stanie zatrzymać czas tylko na 2 sekundy, aczkolwiek prawidłowość tego jest wątpliwa, ponieważ jest to wspomniane tylko wewnątrz halucynacji Jolyne stworzonej przez umiejętność "Melt your heart" od Whitesnake. Podczas ostatniej walki w Przylądku Canaveral przeciwko Made in Heaven, potrafi zatrzymać czas do 5 sekund.[20]
Star Platinum Over Heaven
The information below derives from a source not written by Araki. As such, it may or may not be considered canon.
SPOILER WARNING: Part / Game spoiler details may follow.
In the story mode of the game Eyes of Heaven, Jotaro eventually comes face to face with Heaven Ascension DIO, the game's final boss. As their fight went on, Star Platinum and The World's same-type aspect came into play once more, enabling Star Platinum to learn The World Over Heaven's signature ability: Overwrite Reality.
This grants Star Platinum the same potentially limitless ability to rewrite time and reality itself, the only true limitation being that it requires the use of its hands to do so. Despite these changes, Star Platinum does not gain an appearance change, unlike The World Over Heaven.
As a result of its powers, all of the temporal anomalies disappeared after the death of Heaven Ascension DIO. The world reverted back to normal and Jotaro lost Star Platinum Over Heaven.[21]
Chapters / Episodes

Manga Appearances
Chapters in order of appearance

Anime Appearances
Episodes in order of appearance
Gallery
Different art variation of the April 2001 Event Poster in form of a boxset that released along side ADVENTURE. 4
Trivia
References