Magician's Red
Jump to navigation
Jump to search
"
Je vous saurais gré de ne pas vous imaginer que mes flammes ne brûlent que vers le haut ou dans le sens du vent, comme la nature le voudrait... C'est parce que je les manipule à volonté que l'on appelle mon Stand "Magician's Red".
"
Magician's Red (マジシャンズレッド(魔術師の赤), Majishanzu Reddo) est le Stand de Mohammed Abdul, apparaissant dans la troisième partie de JoJo's Bizarre Adventure, Stardust Crusaders.
Magician's Red est un Stand humanoïde dont l'apparence est celle d'un homme avec une tête d'oiseau. C'est un Stand puissant avec la capacité de produire et de manipuler des flammes.

Apparence
Magician's Red apparaît comme une figure humanoïde avec une tête d'oiseau sur le modèle d'un phénix. Il a le haut du corps très musclé et ses jambes couvertes plumes sont parfois aussi couvertes de flammes. Ses mains ont des griffes au lieu d'ongle et il porte des bracelets sombres sur ses deux poignets. Le Stand était à l'origine pieds nus, mais après le retour d'Abdul, il porte des chaussures arabes.
Dans l'OAV, Magician's Red arbore d'épaisses zones de plumes autour de ses poignets au lieu de bracelets. Les plumes sur sa tête poussent également plus bas dans son cou et son bec est plus court.
Son design s'inspire du dieu renégat Horus, de la trilogie Nikopol d'Enki Bilal.[1]
Palettes
The series is known for alternating colors between media, the information presented below may or may not be canon.
Corps
(Orange, plumes rouge foncé, bec jaune)
Corps
(Orange foncé, plumes cramoisies, bec orange clair)
Corps
(Peau rose saumon, plumes cramoisies, bec jaune-orange, pattes brun clair)
Corps
(Rose saumon, plumes brunes, bec beige)
Accessoires
(Bracelets dorés)
Corps
(Orange, plumes bleues, bec jaune)
Accessoires
(Bottes rouges et or)
Corps
(Orange clair, plumes rouges, bec jaune)
Accessoires
(Bottes marron)
Corps
(Rose saumon, plumes rouges / jaunes, bec jaune)
Accessoires
(Bottes rouge foncé et or)
Personality
Magician's Red est basé sur la première carte du jeu de tarot, Le Magicien; qui représente le commencement et le contrôle, le feu originel. Magician's Red ne semble avoir aucune personnalité, ayant un comportement agressif constant tout en obéissant sans faille à son manieur Abdul. Abdul prétend également que son stand ne pardonne à personne, même aux utilisateurs ennemis du stand.
Pouvoir et compétences
"
Le vent froid a fait resserrer le manteau du voyageur, mais la chaleur l'a forcé à admettre sa défaite.
"
Magician's Red est un Stand de courte portée[2] avec la capacité de manipuler librement le feu. Il est également physiquement puissant,[2] et un seul de ses coup de pied a pu briser l'armure de Judgement, alors que Silver Chariot ne pouvait pas percer sa défense.[3] Abdul préfère les espaces ouverts afin de faire ressortir le vrai pouvoir de Magician's Red.
Pyrokinésie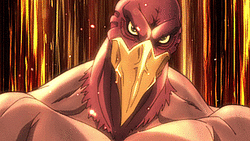 La capacité unique de Magician's Red est de générer et de contrôler librement le feu. Les flammes qui en résultent sont suffisamment intenses pour évaporer les projectiles métalliques en l'air et trancher à travers des voies ferrées. De plus, les flammes de Magician's Red ne sont pas des flammes ordinaires, mais peuvent être librement manipulées par Abdul. Just en y pensant, le diseur de bonne aventure peut rediriger ses flammes dans les airs, leur donner n'importe quelle forme, contrôler l'intensité de leur pouvoir destructeur et même leur donner d'autres propriétés surnaturelles.
Comme les flammes sont le produit d'un Stand, elles sont invisibles pour les non-utilisateurs de Stand, bien qu'elles aient toujours les mêmes propriétés que les flammes normales; les gens ordinaires ressentent simplement la chaleur et voient les vagues de chaleur générées.[4]
Malgré leur nature surnaturelle, il a également été démontré que les flammes de Magician's Red sont vulnérables à l'eau et peuvent s'éteindre lorsqu'elles sont aspergées.[5]
Abdul utilise plusieurs techniques avec ses flammes:
Magician's Red peut tirer quelques salves du
Crossfire Hurricane
, une attaque spectaculaire dans laquelle Magician's Red craches un barrage d'
ankhs
enflammés.
[6]
Il existe une variante simplement appelée "Crossfire" dans le jeu de combat Capcom, où une seule flamme ankh est tirée comme un projectile. Dans
All-Star Battle
, l'attaque d'Abdul est nommée
Cross Fire Hurricane Variation
(C・F・H・バリエーション Kurosu Faiyā Harikēn Bariēshon)
alors qu'il manipule la trajectoire de ses flammes ankhs.
Magician's Red peut utiliser une corde de flamme pour ligoter son adversaire. Avec cela, Abdul est même capable d'emprisonner les bras et les jambes de son ennemi contre le mur, ainsi que leur cou. En mettant une flamme trop près du visage de l'adversaire, il finit par brûler l'oxygène autour d'eux au point de les étouffer.
[4]
Magician's Red peut produire un "radar thermique", une masse cruciforme de flamme psychique pointant dans six directions: haut et bas, gauche et droite, avant et arrière. Les flammes sont amassées à l'extrémité des radars et détecteront les mouvements, la respiration et l'énergie du stand dans un rayon de 15 mètres. Si le radar détecte quelqu'un, les flammes de la direction correspondante augmenteront en intensuté, indiquant l'emplacement de sa source de chaleur sur la base d'une rose des vents. Cependant,
Cream
peut rester caché du radar en raison d'être essentiellement dans une autre dimension.
[8]
Chapitres / Episodes

Apparition dans le Manga
Chapitres (ordre chronologique)

Apparitions dans l'Anime
Episodes (ordre chronologique)
Galerie d'Images
With Avdol stabbed in the back Magician's Red disappears from its user being in an unstable condition (Episode 4)
Détails
Magician's Red est le tout premier Stand entièrement révélé dans la série, avec son visage visible avant même celui de Star Platinum. Par coïncidence, Magicien est la première carte des Arcanes majeurs.
Magician's Red a reçu une tête en forme d'oiseau pour que les silhouettes des héros ne se ressemblent pas trop lorsqu'elles sont côte à côte.[1]
Le nom de l'attaque de Magician's Red, Crossfire Hurricane, vient de la première ligne de la chanson des Rolling Stones "Jumpin 'Jack Flash"
Références