Death Thirteen
Jump to navigation
Jump to search
"
La Li Ho! Tu ne trouves pas ça romantique, de mourir dans un rêve ?
"
Death Thirteen (デスサーティーン(死神13), Desu Sātīn) est le Stand de Mannish Boy, figurant dans la troisième partie de JoJo's Bizarre Adventure, Stardust Crusaders. Drapé dans une grande cape avec un masque de clown sinistre et une faux, Death Thirteen attaque durant le sommeil, entraînant ses victimes dans son monde du rêve pour pouvoir les tuer.
Apparence

Death Thirteen semble être un grand Stand humanoïde drapé dans une grande cape sombre, donnant l'image d'une Faucheuse (死神, Shinigami), possédant une large faux. Il porte un masque de carnaval vénitien avec un large sourire troué dans le masque et des yeux troués de la même façon.[1] Il possède aussi un chapeau haut, un col, des épaulières et des bras métalliques
Cependant, Death Thirteen n'a en réalite aucun corps sous sa cape et ne possède qu'une tête et des bras. Ainsi, toute attaque qui vise sa cape va invariablement manquer sa cible.[2]
Palettes
Les palettes changent souvent entre les médias. L'information ci-dessous ne devrait pas être considérée comme canonique.
Masque
(Masque blanc, détails rouge et violet)
Tenue
(Cape violette sombre, design violet et doré au centre)
Armure
(Col et bras dorés)
Faux
(Manche dorée, lame blanche)
Masque
(Violet aux reflets blancs, détails violets)
Tenue
(Cape violette, design violet et doré au centre)
Faux
(Lame blanche, manche gris et jaune)
Masque
(Masque gris clair, détails pervenche et cramoisi)
Tenue
(Cape violette, design rose et pervenche au centre)
Armure
(Col doré/violet, bras argenté)
Faux
(Lame argentée, manche noir et doré)
Personnalité
Étant une extension de la conscience de Mannish Boy, Thirteen reflète la personnalité vulgaire et sadique de son utilisateur. Dans le monde onirique où il est tout-puissant, Death Thirteen insulte constamment ses victimes et prend plaisir à les torturer, ayant à un moment donné forcé Kakyoin à avaler plusieurs globes oculaires juste par sadisme.[3]
Il a l'habitude de dire "Lali-ho." Il représente la carte de la Mort du tarot divinatoire.
Pouvoirs
Death Thirteen est unique car il ne peut se manifester que dans un monde des rêves et il faut que ses victimes soient endormies pour qu'il puisse attaquer. Il est incroyablement dangereux car il est certain qu'il va prendre ses cibles par surprise et sans leurs Stands. Ce n'est que grâce à la chance que le groupe Joestar a survécu à Death Thirteen. En retour, son manieur qui n'est qu'un bébé, est quasiment sans défense lorsque tout le monde est révéillé, et il faut qu'il n'attire pas les suspicions de ses victimes.
Monde des rêves
Cette capacité se décline en deux parties. Lorsque quelque chose de vivant (humain ou autre) s'endort près de Mannish Boy, le manieur de Death Thirteen, ils sont entraînés dans le monde de rêve de Death Thirteen qui apparaît comme un parc d'attraction massif, avec des grandes roues et des montagnes russes.[4]
Death Thirteen a un contrôle total sur ce monde des rêves. Il est capable de fabriquer des machines mortelle à partir d'objets mécaniques, d'invoquer des objets à partir de rien, de manipuler les cheveux de Polnareff ou la main de Joseph, façonnant fondamentalement tout comme bon lui semble.[5] Cependant, la propriété la plus redoutable de ce monde de rêve est que les manieurs de stand ne peuvent pas invoquer leur stand dans le monde de rêve et sont sans défense.[6] Death Thirteen explique celà par le fait que les Stands sont faits d'énergie spirituelle et que pendant leur sommeil, leurs esprits sont pris au dépourvu et ne peuvent pas se défendre.[5] Cependant, quelqu'un qui s'endort (ou qui perd conscience) en ayant invoqué son Stand sera capable de l'invoquer dans le monde des rêves.[2]
On ne peut volontairement se réveiller pour s'échapper du rêve,[3] mais quelqu'un d'autre peut réveiller la victime, lui permettant de s'échapper de Death Thirteen.[4] À leur réveil, les victimes survivantes ne se souviennent de rien mais ressentent toujours la peur qu'elles ont eue, donnant l'impression d'avoir eu un cauchemar.[4] Cependant, quelqu'un qui parvient à amener son stand dans le monde du rêve se souviendra du rêve.[2]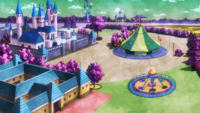 Dans le monde des rêves, Death Thirteen est libre de tourmenter et de tuer n'importe qui à l'aide de sa faux. Toutes les blessures subies par la personne dans le monde des rêves sont transférées dans le monde réel, y compris les blessures mortelles.[4] Inversement, il peut également guérir les blessures s'il est contraint, guérissant ainsi les coupures de Kakyoin qu'il s'était lui-même infligé dans le rêve.[2]
Si Death Thirteen est obligé de combattre un Stand, il reste dangereux vu qu'il peut manipuler le monde du rêve environnant, mais est aussi très fragile et faible, étant forcé de porter des coups de faux pour blesser son ennemi. Ainsi, il a été facilement vaincu par Hierophant Green.[2]
Chapitres / Episodes

Apparitions Manga
Apparition dans les chapitres

Apparitions Animé
Apparitions dans les épisodes
Jeux Vidéo
Unlike the original storyline, in the game, Mannish Boy attacks the entire group from inside a plane en route to India. During the battle, Death Thirteen's main attack consists of using its scythe several times.
Death Thirteen apparaît comme un ennemi spécial affronté en «Mode Arcade». Les conditions pour le combattre incluent l'utilisation d'un seul des huit personnages principaux du héros (y compris Young Joseph et New Kakyoin) et le joueur ne peut pas perdre un seul combat. Si ces conditions sont remplies, la phrase Here Comes a New Challenger (un nouveau challenger arrive) apparaîtra à l'écran, emmenant le joueur dans le monde des rêves pour combattre Death Thirteen.
Dans la version PlayStation, les événements de l'arc narratif «Death Thirteen» apparaissent dans le mode «Super Story», où le joueur doit vaincre le Stand en utilisant Kakyoin. Pendant le combat, Death Thirteen peut invoquer un faux Star Platinum, Silver Chariot et Magician's Red pour attaquer le joueur (ces faux sont vaincus en une seule attaque), et peut voler et lancer sa faucille.
Le combat spécial avec Death Thirteen peut également être déverrouillée en mode Galerie (livre d'Oingo et Boingo), mais le joueur ne peut jouer qu'avec l'un des huit héros (dont Young Joseph et New Kakyoin).
Le monde cauchemardesque de Death Thirteen apparaît comme une arène du jeu. Le Stand est un danger dans l'arène et attaque les joueurs qui croisent son chemin avec sa faux.
Galerie d'Images
Trivia
Références