Dragon's Dream
Jump to navigation
Jump to search
"
J'ai désigné le sens de ta malchance, car tel est le pouvoir des directions.
"
Dragon's Dream (ドラゴンズ・ドリーム(龍の夢), Doragonzu Dorīmu) est le Stand de Kenzou, figurant dans la sixième partie de JoJo's Bizarre Adventure, Stone Ocean. Dragon's Dream ressemble à une boussole avec une tête de dragon asiatique, et pointe les endroits chanceux et malchanceux selon le principe du Feng shui.
Apparence

Fidèle à son nom, Dragon's Dream ressemble à une tête de dragon asiatique flottant dans un halo métallique. Le dragon flotte au centre de l'anneau et a deux pattes griffues, un gros corps serpentin, court et cylindrique, dont la queue se termine en grande aiguille qui pointe les directions sur la boussole. Le halo en lui-même est décoré sur les huit points cardinaux et entre de ronds, eux-mêmes entourés par trois petits cylindres chaque. Dragon's Dream peut se séparer de l'anneau et s'entourer d'une bulle transparente.
Palettes
Les palettes changent souvent entre les médias. L'information ci-dessous ne devrait pas être considérée comme canonique.
Personnalité
Dragon's Dream est un Stand doué de conscience, avec une personnalité séparée de son manieur, Kenzou.[2]
Dragon's Dream maintient une certaine neutralité envers son manieur et ses ennemis, se tenant comme un arbitre durant un combat et voulant qu'il soit aussi égal que possible. Dragon's Dream peut aller jusqu'à expliquer ses pouvoirs pour que Kenzou n'ai pas un trop grand avantage.[3]
A l'occasion, Dragon's Dream aime aussi jouer au diseur de bonne aventure, disant à Foo Fighters quel est sa couleur chanceuse (le jaune), et que l'image d'un poisson rouge lui porterait bonheur.[3]
Pouvoirs
Dragon's Dream est un Stand inhabituel qui est neutre au combat et ne peut pas attaquer, bien que lui-même soit en fait invulnérable aux attaque. C'est donc Kenzou qui doit se battre personnellement pour tuer ces cibles, ce dont le vieillard est capable grâce à son art martial. Il dit toujours la vérité.[4]
Bien sûr, Kenzou sait exploiter le pouvoir de Dragon's Dream mieux que quiconque et dévoiler le plein potentiel de son Stand. Avec Dragon's Dream, Kenzou peut éviter des balles, et tuer ses victimes d'un seul coup. Seul la résistance unique de Foo Fighters, combiné avec une intervention opportune d'Anasui ont put vaincre le vieil homme.
Feng Shui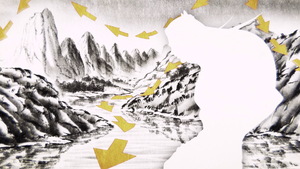 Il est important de connaitre le principe du Feng Shui pour comprendre le pouvoir de Dragon's Dream.
"Feng Shui", littéralement "Vent et Eau" est une forme de divination célèbre originaire d'Asie de l'Est. Selon le principe du Feng Shui, on peut déterminer les flots naturels d'énergies, comme le flot du vent ou le flots de l'eau, et ainsi déterminer des voies plus avantageuses. On l'utilise pour déterminer quelle parties d'une terre sont bonnes ou mauvaises afin d'optimiser le bien-être des habitants de la maison sur cette terre, et on l'utilisait auparavant pour déterminer les points faibles d'une forteresse.
Le "meurtre Feng Shui" est un art martial dérivant du Feng Shui utilisé par Kenzou. Il utilise les principes du Feng Shui pour déterminer où attaquer pour maximiser les dommages causé, mais aussi où se placer pour éviter des attaques et ce, quel que soit le degré de préparation et d'alerte de l'ennemi[5] Selon Dragon's Dream, la seule façon de battre le meurtre Feng Shui est de viser une égalité en terme de malchance et d'espérer que l'assassin succombe le premier.[6]
Divination Feng Shui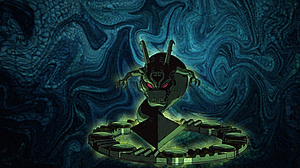 Inspiré du principe du Feng Shui, la capacité de Dragon's Dream est partagée entre son corps et son halo métallique fonctionnant tous deux comme une boussole aiguillée sur laquelle Kenzou peut lire les coordonnées (en terme de directions cardinales, degrés et minutes). Par celà, il peut déterminer des "endroits chanceux", des locations chanceux dans l'espace où Kenzou peut échapper aux attaques, et inversement des «endroits malchanceux», là où il peut porter des coups fatals.[2][5]
Kensou invoque une boussole dans sa main pour déterminer les endroits chanceux là où il peut éviter à coup sûr des attaques. Kenzou bouge précautionneusement sur le champ de bataille pour toujours se trouver dans ces endroits chanceux, prenant parfois une pose étrange.[2]
Lorsque Dragon's Dream discerne un endroit malchanceux, le corps de Dragon's Dream se matérialise sous la forme d'une flèche à l'intérieur d'une sphère éthérée, flottant immobile dans les airs et pointant vers l'endroit en question. Si Kenzou peut frapper la sphère entourant Dragon's Dream, alors le coup sera redirigé vers une zone mortelle pour l'ennemi. Celà est représenté comme son membre disparaissant un instant avant de se matérialiser près de la victime pour attaquer. Soit le coup lui-même sera fatal, soit les événements conspireront pour infliger une blessure à la victime par des coïncidences improbables, au cas où l'attaque de Kenzou serait bloquée.[5]
De même, si Kenzou peut forcer la victime à toucher Dragon's Dream, cela compte aussi compte une attaque réussie et la victime subira encore un accident malencontreux.[3]
Il n'y a pas de moyen de contrer les prédictions de Dragon's Dream. Cependant, on peut peut essayer de faire en sorte que Kenzou se trompe dans sa lecture de Dragon's Dream, et donc le rendre vulnérable.[6]
Neutralité
Etant basé sur les principes naturels du Feng Shui, Dragon's Dream est neutre au combat. Celà veut aussi dire qu'on ne peut pas l'attaquer.[2]
Comme Dragon's Dream pointe ouvertement vers l'endroit malchanceux que Kenzou va attaquer, cela signifie également que la cible sait où Kenzou va frapper et peut prendre des mesures pour se protéger du mieux qu'elle peut. Dragon's Dream vise l'équité des chances entre Kenzou et son ennemi et conseillera la cible sur la façon de se protéger pour compenser l'avantage de Kenzou.[3]
Chapitres/Episodes

Apparition dans le Manga
Chapitres (ordre chronologique)

Apparitions dans l'Anime
Episodes (ordre chronologique)
Citations

Citations
"

I'm neutral. Face forward, don't attack me! It's not gonna hit, anyway!

"

"

F.F., this next spot is your unluckiest. Above your left ear. Right now, this spot is the ultimate red warning sign... also your lucky color is yellow and a picture of a goldfish will bring you luck.

"
Galerie d'Images
Trivia
Hirohiko Araki est "au plus superstitieux" et ne croit pas aux principes du feng shui. Il a utilisé le feng shui pour créer un Stand car le feng shui était tendance à l'époque de Stone Ocean, et que les gens "en entendait parler à la télévision et autre part".[4]
Références