Stone Free
Jump to navigation
Jump to search
"
Tu avais raison,
Guess
, quand tu as dit que tout devait avoir un nom. Je vais lui donner un nom aussi...
Stone Free
... parce qu'il me libérera de cet
océan de pierre
 !
"
Stone Free (ストーン・フリー, Sutōn Furī), abrégé en S.F. (S・F), est le Stand de Jolyne Cujoh, figurant dans Stone Ocean.
Pour Jolyne, Stone Free est surtout une capacité de dérouler son corps en une longue ficelle, mais le Stand a aussi une forme de Stand de courte portée humanoïde.
Apparence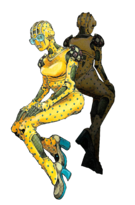 Stone Free est un Stand humanoïde qui a la même taille et la même carrure que Jolyne.
Stone Free porte des lunettes de soleil plus ou moins opaques qui cachent des yeux striés verticalement. Sa tête est aussi décoré avec quatre petites crêtes fines qui vont de sa bouche à l'arrière de sa tête. A la place des oreilles, Stone Free a aussi des sorte de cônes tronqués qui sortent de sa tête.
Il porte des épaulières elliptiques décoré avec un motif de peau de serpent en python [2] ainsi que des genouillères hexagonales. Certaines parties de son corps (comme le cou, les épaules, les muscles du bras, les doigts, etc...) révèlent un intérieur fibreux, montrant qu'il est fait de plusieurs fils. Son front, son cou, ses bras, et son estomac sont cloutés de façon régulière.
Stone Free est en fait composé de ficelles dont la texture rappelle la soie et qui sent le savon, apparemment.[3]
La plupart des médias montrent Stone Free comme étant de couleur cyan, même si la ficelle est blanche.
Palettes
Les palettes changent souvent entre les médias. L'information ci-dessous ne devrait pas être considérée comme canonique.
Corps
(Cyan et gris métallique)
Corps
(Bleu clair et gris métallique)
Corps
(Cyan, gris métallique, avec des clous jaunes)
Corps
(Bleu clair, détails gris et dorés)
Pouvoirs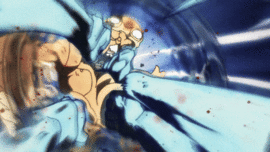 Stone Free est Stand de courte portée unique car il peut à la fois être invoqué comme un Stand normal ou bien donne à Jolyne des capacités surhumaines. Le Stone Free de Jolyne est un Stand puissant et rapide, ce qui en fait un bon Stand pour les combats au corps à corps. De plus, son pouvoir avec la ficelle lui donne une grande versatilité qui donne à Jolyne une grande panoplie d'options lorsqu'elle se bat.
Si Jolyne rassemble son fil, celui-ci devient très résistant et Stone Free se matérialise. La force de son poing est équivalent à la force d'une petite météorite.[3] Il est aussi assez rapide pour dévier plusieurs balles si on tire sur Jolyne.[4] Il est important de noter que Jolyne est capable de toucher et de blesser physiquement les Stands bien qu'elle soit humaine, probablement grâce au fait que son pouvoir donne à son propre corps les propriétés d'un Stand.[5]
Déroulement en Fil
Stone Free permet à Jolyne de dérouler son corps en un long fil, généralement à partir de sa main,[6] et puis de manipuler son fil librement.[7]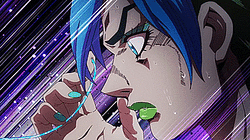 Le fil de Stone Free est généralement invisibles aux non-manieurs de Stands[7] mais ceci est dépeint de manière incohérente. Il est également tranchant car il peut trancher la chair lorsqu'il est tiré suffisament fort.[6] Cependant, un fil individuel n'est pas particulièrement résistant et peut rompre si on tire trop dessus,[7] mais Jolyne peut créer une corde plus résistante en nouant des fils ensemble. Le fil peut d'ailleurs être piloté avec une grande précision et on a pu voir Jolyne voler de petits objets avec.[8] La corde peut se contracter et se dilater comme un muscle, permettant à Stone Free de contrôler l'adhérence d'une corde.
Si Jolyne rassemble son fil et le noue, elle peut concentrer son pouvoir et matérialiser la forme humanoïde de Stone Free, qui peut alors se battre à sa place.[9] cependant, la portée de son pouvoir est alors réduite à 2 mètres.[10] Stone Free, étant fait de fils, peut aussi se dérouler en un long fil.[11]
Jolyne peut dérouler jusqu'à 70% de son corps sans heurt et librement se reconstituer après. Grâce à çà, elle est flexible à un point surhumain et peut se cacher dans des espaces restreints, ou même à l'intérieur de la bouche d'un personne.[12] Jolyne peut couper le fil qui vient d'elle pour en faire usage mais cela revient à se blesser elle-même. La portée maximum de Stone Free lorsque Jolyne se déroule à 70% est de 24 mètres, la longueur du fil.[3][13]
La manipulation du fil de Stone Free fait qu'il est un Stand exceptionnellement versatile au combat. Avec ce fil, Jolyne peut :
Chapitres/Episodes

Apparition dans le Manga
Chapitres (ordre chronologique)

Apparitions dans l'Anime
Episodes (ordre chronologique)
Galerie d'Images
Jolyne forming a cocoon with Stone Free to protect herself from Weather Report's poison dart frogs (SO Chapter 49)
Détails
Araki a essayé d'empêcher Stone Free de ressembler à n'importe quel Stand précédent et de se concentrer davantage sur la façon dont Jolyne doit déchirer son corps pour se battre que sur le design.[2]
Trivia
Araki a essayé de faire en sorte que Stone Free ne ressemble à aucun des design précédent et de se concentrer davantage sur la façon dont Jolyne doit défiler son corps pour se battre au lieu du design du Stand.[2]
Références
↑ SO Chapter 116: Sky High (5), p.10
↑ 2.0 2.1 2.2 JOJOVELLER: STANDS - Commentaires de Hirohiko Araki
↑ 3.0 3.1 3.2 SO Chapter 140: Gravity of the New Moon, Part 2
↑ 4.0 4.1 SO Chapter 19, The Visitor (9)
↑ SO Chapter 141, C-MOON (1)
↑ 6.0 6.1 6.2 6.3 SO Chapter 1, Stone Ocean (1)
↑ 7.0 7.1 7.2 7.3 SO Chapter 3, Stone Ocean (3)
↑ 8.0 8.1 SO Chapter 4, Prisoner FE40536: Jolyne Cujoh (1)
↑ SO Chapter 8, Stone Free (1)
↑ SO Chapter 10, Green Dolphin Street Prison
↑ SO Chapter 9: Stone Free, Part 2
↑ SO Chapter 124, Under World (6)
↑ SO Volume 2, in-between Stand stats, SO Chapter 11 The Visitor (1)
↑ SO Chapter 42, Savage Garden Strategy (3)
↑ SO Chapter 13, The Visitor (3)
↑ SO Chapter 49, Flash Flood Warning (2)
↑ SO Chapter 15, The Visitor (5)
↑ SO Chapter 62, The Secret of Guard Westwood (3)
↑ SO Chapter 44, Savage Garden Strategy (5)
↑ SO Chapter 54, Kiss of Love and Revenge (4)
↑ SO Chapter 101, Jail House Lock (6)
↑ SO Chapter 130, Heavy Weather (6)
↑ SO Chapter 146, C-MOON (6)
↑ SO Chapter 131: Heavy Weather, Part 7