Jumpin' Jack Flash
Jump to navigation
Jump to search
"
Etre en apesanteur... je vais te montrer ce que cela fait, manieur de Stand !
"
Jumpin' Jack Flash (ジャンピン・ジャック・フラッシュ, Janpin Jakku Furasshu) est le Stand de Lang Rangler, figurant dans Stone Ocean.
C'est un Stand humanoïde. Lorsque Lang crache sur quelqu'un, la victime devient le centre d'une zone d'apesanteur.
Apparence
Jumpin' Jack Flash est un Stand humanoïde avec une taille et une carrure similaires à Lang Rangler. Il a un corps avec peu de détails mais ses bras sont rembourrés partiellement. Un ruban clouté couvre ses yeux et sa bouche est en partie couverte par sa peau. Sa poitrine est partiellement creusée avec des creux de formes géométriques qui forment un dessin de fusée.
Ses poignets ont des sphères rotatives dans lequel Lang Rangler peut stocker des petits objets. Jumpin' Jack Flash fait tourner ses sphère pour créer une force centrifuge et tirer avec les projectiles.
Jumpin' Jack Flash est gris et orange dans le manga couleur.
Palettes
The series is known for alternating colors between media, the information presented below may or may not be canon.
Corps
(Corps gris, rembourrage orange)
Accessoires
(Insigne de fusée magenta et bandes tête / cou avec clous jaunes, cages sphériques et phalanges jaunes.)
Pouvoirs
Jumpin' Jack Flash est un Stand assez puissant qui s'appuie sur son pouvoir, qui handicape gravement les victimes de Lang. Ce dernier peut alors leur tirer dessus pour les tuer, ou même simplement attendre que son pouvoir les tuent.
Il est très difficile de se défendre contre le pouvoir de Jumpin' Jack Flash et lorsque l'apesanteur est activé, très difficile de vaincre Lang Rangler. Il a ainsi fallu que Jolyne et Stone Free coopèrent avec Weather Report et son pouvoir versatile pour vaincre ce Stand.
Apesanteur Forcée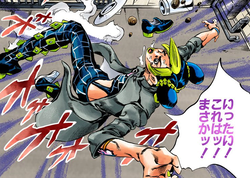 Si Lang Rangler crache sur quelqu'un, cette personne devient le centre d'un phénomène d'apesanteur.[2]
Se faire cracher dessus par Lang Rangler annule la gravité que ressent la victime, mais aussi tout ce que touche la victime n'a plus de gravité.[2]
La perte soudaine de pesanteur désoriente la victime et l'immobilise car elle ne peut que flotter dans l'air, ce qui représente un handicap très grand.[3] A terme, l'apesanteur crée une réaction en chaîne qui enlève le poids de l'air et créé un vide dans une zone large de 20 mètres autour de la victime.[4] Pire que l'asphyxiation, le vide aspire le sang hors des blessures que la victime à et fait bouillir le système sanguin, une mort plus rapide et horrible.[4][5] Dans ce vide, tout conteneur scellé devient une bombe potentiel et Lang utilise cela pour lancer des bouteilles de verre et les faire exploser près de ses cibles[6] Le vide est tout aussi dangereux pour Lang, et ce dernier doit donc rester loin de sa cible.[7]
Lang peut aussi aller en apesanteur, mais il est habitué à se mouvoir en apesanteur. De plus, ses doigts et pieds sont équipés de ventouse qui lui permettent de s'accrocher à des surfaces et de se déplacer plus facilement.[3][7]
Lang Rangler peut facilement annuler l'apesanteur sur des objets ou personne en particulier.[3]
Centrifugeurs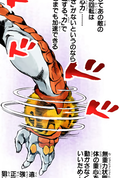 Jumpin' Jack Flash est armé avec deux centrifugeurs sur chaque poignet qui peuvent stocker des petits objets comme des vie et des écrous.[4] Ils peuvent tourner à grande vitesse, accumulant de la force centrifuge dans des objets avant de les tirer comme des balles d'un pistolet.[3] Lang doit recharger ses centrifugeurs régulièrement.[4]
Lang utilise ses centrifugeur avec le vide que ses victimes créent autour d'elles. Avec ses projectiles, il peut blesser légèrement une victime et laisser le vide accélérer la perte de sang en suçant le sang hors du corps.[5] Il est assez doué avec ses centrifugeurs et peut faire des ricochets pour attaquer dans des angles morts.[6]
Lang Rangler peut aussi invoquer ses centrifugeurs directement sur ses poignets.[6]

Chapitres

Apparitions Manga
Apparition dans les chapitres
Galerie d'Images
Détails
Araki a pensé qu'il n'était pas vraiment nécessaire de faire de Jumpin' Jack Flash un Stand à longue portée et donc il est devenu une combinaison en milieu d'arc.[1]
Références