Highway to Hell
Jump to navigation
Jump to search
Highway to Hell (ハイウェイ・トゥ・ヘル, Haiwei Tu Heru) est le Stand de Thunder McQueen, figurant dans la sixième partie de JoJo's Bizarre Adventure, Stone Ocean.
Il se manifeste comme plusieurs hélices surgissant de la victime, Highway to Hell inflige à une victime désignée les même blessures que McQueen s'inflige à lui-même.
Apparence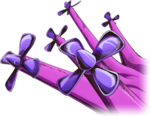 Highway to Hell prend l'apparence de quatre hélices miniatures qui surgissent de la victime ou du moyen par lequel McQueen compte se suicider. Les hélices apparaissent là ou McQueen se blesse.
Highway to Hell est violet dans le manga couleur.
Palettes
The series is known for alternating colors between media, the information presented below may or may not be canon.
Pouvoirs
Highway to Hell ne possède aucune vraie capacité au combat. Mais son pouvoir de partager les dégâts combiné aux tendances suicidaires de Thunder McQueen en font un Stand qui est en fin de compte assez dangereux.
Partage des dégâts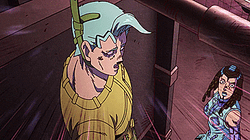 Quand McQueen essaie de se suicider, il peut faire en sorte que quelqu'un meurt avec lui en partageant les dégâts.[1]
Quand McQueen applique Highway to Hell sur une personne de son choix, la cible va devoir partager le même sort que lui. Highway to Hell apparaît alors à chaque fois que McQueen essaie de se suicider, et copie ce qui est en train de tuer McQueen. Par exemple, si McQueen essaie de se pendre, Highway to Hell apparaît sur le cou de la victime et on voit une trace d'un noeud coulant sur le cou de la victime.[2] Quand McQueen essaie de se noyer, Highway to Hell conjure du liquide autour de la tête de la victime pour la noyer aussi.[3] La fiche de Highway to Hell sous-entend que McQueen pourrait aussi se laisser mourir de faim et tuer quelqu'un avec lui. La personne liée à McQueen est aussi forcée de prendre la position qu'il a.[3]
Highway to Hell fonctionne même si la cible essaie de s'éloigner de McQueen,[4] et le seul moyen de survivre et de stopper les suicides de McQueen et de lui prendre son disque de Stand.[2][5]
Chapitres

Apparition dans le Manga
Chapitres (ordre chronologique)

Apparitions dans l'Anime
Episodes (ordre chronologique)
Galerie d'Images
Références