Empress
Jump to navigation
Jump to search
"
Je fais partie de ta chair, vieux Joseph ! Tu ne te débarrasseras pas de moi, honey!
"
Empress (エンプレス(女帝), Enpuresu) est le Stand de Nena, figurant dans la troisième partie de JoJo's Bizarre Adventure, Stardust Crusaders. C'est un Stand parasite qui grandit à partir de la chair de sa victime, devenant éventuellement plus puissant qu'elle.
Apparence

Empress est un Stand lié au sang de son propre manieur, apparaissant d'abord comme une petite goutte de sang de Nena. Une fois que la goutte de sang atteint une personne, le vrai Stand est révélé. Empress commence comme une petite verrue qui démange[1] qui va peu à peu gongler qui devenir un petit bonhomme émergeant de la chair de la victime.[2] D'ailleurs, une verrue similaire peut être vue sur la langue de Nena sans qu'on sache pourquoi.[1]
Lorsqu'elle est entièrement développée, Empress ressemble à une petite femme qui sort de la chair de la victime et qui possède deux crêtes sur la tête et un châle.[3][4]
Dans le manga couleur et l'anime, Empress est dépeinte comme étant rouge. Cependant, le manga couleur le décrit également comme ayant des crêtes et des vêtements dorés contrairement à l'anime, où Empress est de couleur brunâtre.
Palettes
The series is known for alternating colors between media, the information presented below may or may not be canon.
Corps
(Rouge et vêtements dorés)
Corps
(Brun avec des vêtements bruns foncé)
Yeux
(Sclérotique rose, iris violets)
Personnalité
Empress donne l'impression d'être une créature sarcastique et irrespectueuse qui insulte constamment Joseph son hôte.[2] Cette personnalité est probablement relayée à partir d'Enya. Il représente L'Impératrice du tarot divinatoire, qui symbolise la croissance d'une nouvelle vie (faisant allusion à la nature de ce stand).
Son design est inspiré par une statue indienne du Bouddha réarrangée.[5]
Pouvoirs
Empress est un hybride unique de chair et de Stand qui est très dangereux et dont il est difficile de se débarrasser quand il est implanté dans la chair de sa victime (en tout cas pour Joseph qui n'a pas de Stand de combat).
Cependant, son pouvoir simplet et en toute somme médiocre permet tout de même à Joseph de le vaincre, même avec Hermit Purple.
Parasitisme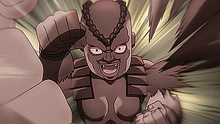 Empress doit d'abord être implantée dans une autre personne par contact direct avec le sang de Nena, mais cette dernière pourra la contrôler à distance.[6]
Le bout de corps entré en contact avec le sang de Nena va développer une verrue qui est en fait Empress.[1] Empress grandira alors lentement et continuellement dans la chair de la victime en se nourrissant de petits insectes, de fruits ou même de poulets entiers. Empress obtiendra éventuellement une forme humanoïde[3] et essaiera constamment de gêner, blesser ou tuer son hôte. Par exemple, il a présenté Joseph comme un tueur pour que la police le poursuive, puis, quand il a acquis bras, il l'a frappé avec des pots et a essayé de lui enfoncer un clou dans le cou.[3][4]
Si Empress assimile complètement une victime, Nena peut utiliser la victime comme un déguisement en se cachant à l'intérieur d'eux.[4]
Empress est un mélange de la chair de la victime et d'un support et prend des propriétés des deux. Ainsi, il peut être entendu par quelqu'un mais sera considéré comme une simple verrue par les gens ordinaires,;[3] seuls les Stands peuvent toujours le blesser, mais il est affecté par des choses matérielles, comme être englué dans du goudron.[4]
Chapitres / Episodes

Manga Appearances
Chapters in order of appearance

Anime Appearances
Episodes in order of appearance
Galerie d'Images
Références