Wheel of Fortune
Jump to navigation
Jump to search
"
Ma parole, elle peut tout faire, cette voiture !
"
Wheel of Fortune (ホウィール・オブ・フォーチュン(運命の車輪), Howīru Obu Fōchun) est le Stand de ZZ, figurant dans la troisième partie de JoJo's Bizarre Adventure, Stardust Crusaders. C'est un Stand lié à une voiture et qui peut transformer les parties de ladite voiture pour répondre aux besoins du conducteur.
Apparence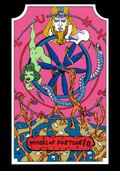 Wheel of Fortune est un Stand matérialisé lié à une voiture. Tout comme Strength, les gens ordinaires peuvent le voir. Son apparence peut changer énormément car ZZ peut modifier les caractéristiques de la voiture en fonction de ses besoins.
Au combat, le véhicule auquel Wheel of Fortune est lié se transforme en une voiture massive et monstrueuse. Des piques et autres tubes surgissent de la carrosserie, sont pare-choc avant prend l'apparence de la mâchoire d'une bête avec des barres métalliques se projetant en avant comme est mandibules, et des énormes pots d'échappement surgissent de l'arrière.[1]
Le manga couleur dépeint Wheel of Fortune comme étant surtout de couleur grise, et l'anime le dépeint plus comme étant rouge avec des parties métalliques chromées.
Ce Stand représente la Roue de Fortune du tarot divinatoire, qui symbolise le changement et l'imprévisibilité.
Palettes
Les palettes changent souvent entre les médias. L'information ci-dessous ne devrait pas être considérée comme canonique.
Voiture
(Rouge et argenté)
Pouvoirs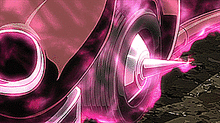 Wheel of Fortune est un stand puissant et polyvalent grâce à sa capacité de transformation, et ayant un contrôle total sur la voiture qu'il utilise comme catalyseur.
Transformation
La capacité principale de ce Stand est d'améliorer considérablement l'apparence et les capacités d'un véhicule, "permettant même à une voiture ordinaire délabrée de se transformer en une voiture plus puissante avec quatre roues motrices (presque permanentes)."[2] La voiture est également capable de se réparer, de déformer sa carrosserie pour se faufiler dans une crevasse, d'orienter ses roues horizontalement pour rouler entre deux murs, de créer des piques sur les roues pour escalader une falaise et même de séparer son câblage interne pour créer des étincelles.[3]
Le métamorphose est lié à la confiance de ZZ: plus il est agressif, plus la voiture sera puissante et monstrueuse. À l'inverse, quand il supplie pour sa vie, la voiture revient à son véritable état.[3]
Projection d'essence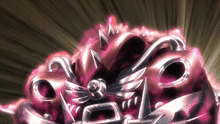 Wheel of Fortune peut tirer sa propre essence sur ses adversaires à la manière d'un tir à haute pression. L'essence est projeté avec suffisamment de force pour endommager un corps humain, mais son objectif principal est de rendre ses cibles hautement inflammables, permettant à ZZ de les incendier avec des étincelles provenant des câbles de sa voiture.[3]
Communication Radio
ZZ peut prendre contrôle des radios d'autres voitures à proximité pour communiquer à distance.[1]
Chapitres / Episodes

Manga Appearances
Chapters in order of appearance

Anime Appearances
Episodes in order of appearance
Détails
Le concept de Wheel of Fortune est inspiré de films d'horreur comme Duel et Christine, dans lesquels l'ennemi principal est une tueur dans une voiture. Il a été conçu pour ressembler à une voiture américaine des années 60 ou 70, notamment un Hudson Hornet de 1952.[4] L'utilisation de la ressemblance d'une voiture pour le stand de ZZ peut également être une référence à l'utilisation fréquente de l'imagerie de voiture du groupe ZZ Top, notamment sur la couverture de leur album de 1983 `` Eliminator .
Galerie d'Images
Références