Tower of Gray
Jump to navigation
Jump to search
"
Vous pourriez être à un pouce de moi et pointer dix pistolets sur moi... Les dix balles ne toucheraient même pas mon Stand!
"
Tower of Gray (タワー・オブ・グレー(灰の塔), Tawā Obu Gurē) est le Stand de Gray Fly figurant dans la troisième partie de JoJo's Bizarre Adventure, Stardust Crusaders. Il prend la forme d'une lucane géante avec la capacité de bouger incroyablement vite ainsi qu'arracher la langue de ses adversaires.
Apparence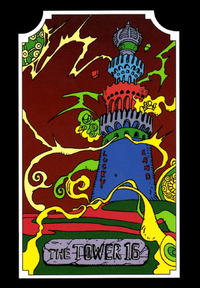 Tower of Gray est un grand lucane noir qui fait la taille d'une main avec des motifs sur sa coquille. une seconde mâchoire, dissimulée, et possédant des dents acérées, peut jaillir de sa bouche.[1] Malgré son apparence générale de scarabée, il possède ainsi des dents dans sa bouche.[2]
Tower of Gray est généralement représenté comme étant un insecte avec les yeux rouges, une coquille noire ainsi que des motifs bleus.
Palettes
Les palettes changent souvent entre les médias. L'information ci-dessous ne devrait pas être considérée comme canonique.
Résumé
Le mode opératoire de Tower of Gray consiste en l'utilisation de sa vitesse et de sa seconde bouche afin d'arracher la langue de son adversaire, mais il ne montre aucune personnalité propre et adopte celle de son manieur.
La spécificité de Tower of Gray est de faire passer ses attaques pour des accidents. Mohammed Abdul ajoute qu'il est responsable de nombreux incendies et accidents d'avions ou de trains, et plus récemment un accident en Angleterre qui à fait dans les 300 morts.[2]
Il représente la carte de tarot La Tour qui symbolise l'interruption d'un voyage par quelque chose d'inattendu et chaotique.[2]
Capacités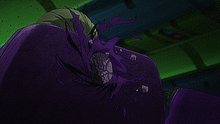 Tower of Gray est un Stand petit et fragile. Néanmoins, il est incroyablement petit et agile, et sa mâchoire secondaire lui garantit une force insoupçonnée.
Mâchoire secondaire: Elle se définie par un long et extensible dard nommé

"Tower Needle"

(塔針,

Tawā Nīdoru

), qui jailli de sa bouche. Cette mâchoire possède suffisamment de force pour déchirer la chair ou alors pour la transpercer. En volant à grande vitesse avec sa mâchoire déployée, Tower of gray est capable de tuer de multiples personnes en un laps de temps très court voire même traverser la tête d'une personne avec facilité.[1]
Super Vitesse: Sans aucun doute que l'une de ses particularités les plus notables est son impressionnante vitesse; Tower of Gray est capable d'aisément surpasser des Stands très rapides, tels que Star Platinum ou bien l'Emerald Splash de Hierophant Green à courte portée. Sa vitesse est si incroyable que, selon Gray Fly, Tower of Gray pourrait se retrouver avec de nombreuses armes à feu lui tirant dessus à bout portant, qu'il s'en tirerait indemne. Tower of Gray possède un grand contrôle en vol, il est capable d'écrire rapidement des mots tout en volant et en se frayant un chemin à travers l'Emerald Splash de Hierophan Green plusieurs fois sain et sauf. Toutefois, il ne peut esquiver quelque chose qu'il ne vois pas arriver ce qui le rend vulnérable aux attaques furtives.[2]
Chapitres / Épisodes

Apparition dans le Manga
Chapitres (ordre chronologique)
Galerie d'Images
Anecdotes
Hirohiko Araki à choisi de commencer par les cartes du tarot les moins populaires pour les ennemis. Son inspiration pour Tower of Gray vient du fait qu'il imaginais à quel point ce serait agaçant si un insecte était piégé dans un avion en plein vol.[3]
Le crash dont Tower of Gray dit avoir causé en Angleterre peut être une référence au désastre du vol Pan Am 103, où un avion survolant la Grande Bretagne explosa et s'écrasa au so, tuant 270 personnes. L'attaque eu lieu en 1988, l'année où les événements de "Stardust Crusaders" se déroulent.[4]
Références