The Fool
Jump to navigation
Jump to search
"
Simple mais puissant, je ne sais pas si le pourrais le vaincre.
"
The Fool (ザ・フール(愚者), Za Fūru) est le Stand d'Iggy, figurant dans la troisième partie de JoJo's Bizarre Adventure, Stardust Crusaders.
The Fool est un Stand à l'allure de bête mécanique qui est en réalité fait de sable. Iggy manie The Fool pour manipuler le sable et créer des statues de sable.
Apparence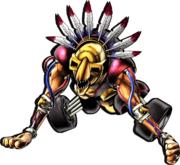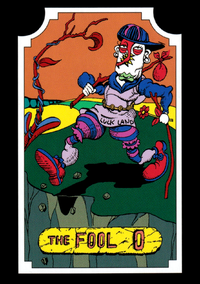 The Fool n'a pas de véritable forme psychique comme la plupart des Stand mais est lié au sable. The Fool prend donc sa véritable apparence avec un tas de sable et est lié à ce sable. The Fool est donc visible de tous, même des personnes ordinaire. Même s'il a une apparence standard, Iggy peut modifier sa forme comme il le désire.
La forme principale et vraie apparence de The Fool est celle d'une sorte de bête mécanique, mi-chien mi chassis de voiture dont les pattes arrières sont remplacées par des roues, et dont l'avant à l'apparence d'une créature avec une allure de chien mécanique. Des câbles lient les pattes au corps. La tête de The Fool a l'apparence d'un masque tribal qui a l'air de grogner et avec environs neuf plumes attachées au sommet du crâne.
Selon JOJOVELLER, le design de The Fool est un mélange de voiture et de bête mammifère.[1]
Les schémas de couleurs de The Fool varient de média à média, bien que son abdomen et ses épaules soient toujours représentés comme étant du noir de jais. Dans le manga couleur, la tête, les coussinets et les bras de The Fool sont jaune vif. Dans l'anime, ils sont représentés comme étant gris. Dans l'OAV, ils sont décrits comme étant bruns comme des roches. De plus, l'ensemble de plumes qui ornent sa tête est toujours représenté comme étant blanc.
Le Stand représente la carte du Fou, qui représente l'innocence et la spontanéité.
Palettes
Les palettes changent souvent entre les médias. L'information ci-dessous ne devrait pas être considérée comme canonique.
Armor
(Noir et bleu foncé)
Corps, plumes et câbles
(Marron)
Corps
(Marron, jaune foncé et crème)
Armure et roues
(Vert foncé et vert clair)
Armure
(Bordeaux foncé et rouge)
Plumes
(Bleu, blanc et rouge foncé)
Corps
(Joints argent et or)
Plumes
(Beige foncé, blanc et orange foncé)
Corps
(Joints argent et or foncé)
Plumes
(Gris et rouge foncé)
Pouvoirs
The Fool est un Stand avec un pouvoir qui est a priori basique mais qui est très versatile. Ainsi, The Fool est décrit comme un Stand qui incarne la philosophie de "la voie la plus simple est la meilleure".
Manipulation de sable
Iggy manipule The Fool qui est un Stand de sable et qui peut donc adopter n'importe quelle forme.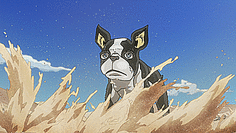 The Fool a un pouvoir assez simple qui le rend puissant. Iggy est libre de manipuler le sable comme il le veut comme le Magician's Red de Mohammed Abdul manipule le feu. Le sable bouge selon la volonté d'Iggy, qui peut même le soulever dans les airs; le sable peut aussi éviter d'absorber l'eau et peut changer de densité pour devenir fluide ou dur. Ceci permet à Iggy d'attraper des objet avec sa pile de sable ou de former un vériable bouclier.
Comme The Fool est lié à un tas de sable manipulable, il ne peut pas vraiment être blessé car les ennemis n'attaque en réalité qu'un tas de sable. Ainsi, Iggy est immunisé au fait d'être blessé à travers son Stand.
Changement de forme: The Fool est capable d'adopter l'apparence et la forme de n'importe quoi, par exemple des êtres vivants (ce qui permettait Iggy d'essayer de tromper Vanilla Ice en imitant DIO avec The Fool)[2] ou tout autre objet utile pour Iggy. Par exemple il a put se convertir en deltaplane[3] ou en dôme de sable protégeant Iggy,[4] et il peut aussi changer la couleur du sable pour perfectionner son déguisement.
Chapitres / Episodes

Apparition dans le Manga
Chapitres (ordre chronologique)

Apparitions dans l'Anime
Episodes (ordre chronologique)
Galerie d'Images
Iggy, Killer Queen, The Fool, Hierophant Green, Kira, Harvest, Weather Report, Weather, D4C, et Sticky Fingers - Ripples of Adventure
Références