Hanged Man
Jump to navigation
Jump to search
"
Ton Chariot ne peut pas atteindre mon Hanged Man... je suis à l'intérieur du miroir... ton Stand ne peut pas entrer !
"

Hanged Man (ハングドマン(吊られた男), Hangudo Man) est le Stand de J. Geil figurant dans Stardust Crusaders. Hanged Man est un Stand humanoïde à l'apparence de goule mommifiée. Il a le pouvoir d'attaquer ses ennemis à partir des surfaces réfléchissantes.
Sommaire

La conception de Hanged Man reflète celle d'une momie avec des éléments mécaniques, ce qui la rend moins humaine.[1] Son corps est couvert de bandages, avec la moitié de son cerveau exposé, ainsi que deux mains droites comme le fait son maître.
Il a la capacité de produire des lames à partir de ses poignets pour attaquer. Il rampe généralement sur le sol dans les reflets au lieu de marcher. Il n'a pas de personnalité en dehors de servir son maître. Il représente la carte de tarot du Pendu.
Sa vraie nature est celle d'un Stand de lumière qui ne peut persister qu'à l'intérieur des surfaces réfléchissantes mais est capable de sauter d'un miroir à l'autre,[2] ce qui fait penser qu'il persiste à l'intérieur des miroirs.[3]
Hanged Man est décrit comme ayant la couleur et la texture d'un rocher, passant du gris dans le manga coloré au brun dans l'anime et les jeux vidéo ultérieurs.
Palettes
Les palettes changent souvent entre les médias. L'information ci-dessous ne devrait pas être considérée comme canonique.
Tenue
(Bandeaux jaunes, os blancs, mains et chaussettes mécaniques noires, plaquages ​​de jambes en argent)
Tenue
(Bandeaux blancs, os rouges, mains et coudières mécaniques bleues, accessoires jaunes)
Tenue
(Bandeaux et revêtements de jambes blancs, mains mécaniques, coudières et chaussettes marron)
Cerveau
(Gris foncé, cramoisi et jaune)
Tenue
(Emballages blancs, mains mécaniques noires, plaques de jambe gris foncé)
Pouvoirs
Hanged Man est un Stand qui est évasif à un niveau effrayant qui il attaque depuis les miroirs et il est presque impossible de se défendre contre lui.
Cependant, Hanged Man devient prévisible lorsque son secret est révélé.
Stand de lumière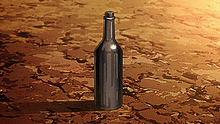 Hanged Man est un Stand qui attaque depuis des réflections.
Au lieu d'attaquer directement les gens, Hanged Man va apparaître sur une surface réfléchissante pour attaque leurs reflets.[4] La personne concernée sera blessé, acquérant une blessure équivalente apparemment sans aucune raison.[4] Hanged Man bouge de surface en surface à la vitesse de la lumière, ce qui inclue même la surface des yeux.[2]
Le point faible de Hanged Man est qu'il ne peut subsister que dans des surfaces réfléchissantes et qu'il passe en ligne droite sur une autre surface dès que la surface sur laquelle il est est détruite (par exemple, un miroir qui est brisé en morceaux ou un oeil qui se ferme). Hanged Man est toujours vulnérable durant son transit et malgré sa vitesse, sa trajectoire est prévisible et un Stand averti peut l'attaquer.[5]
Couteaux de poignet
Hanged Man a des poignards cachés dans ses poignets et il utilise ses poignards pour attaquer l'ennemi.[3] Ces poignards sont assez tranchants et peuvent facilement couper à travers la chair ou découper un serpent en pièces.[6] Hanged Man les utilise pour attaquer le reflet de l'adversaire à l'intérieur d'une surface réfléchissante.
Chapitres / Episodes

Apparitions Manga
Apparition dans les chapitres

Apparitions Animé
Apparitions dans les épisodes
Galerie d'Images
With the boy getting sand in his eye from Polnareff, Hanged Man has to escape but gets cut by Silver Chariot
Détails
Quand Polnareff parle de la mort de Sherry, il dit qu'on a vu J. Geil couvert par un champ de force protecteur qui déviait la pluie. Ce pouvoir n'apparait plus dans l'histoire.

Dans l'anime, cette capacité inconnue est encore utilisée avant que Polnareff ne rencontre Hol Horse.

Il est possible que Hanged Man s'inspire de l'épisode 1986 de «Amazing Stories» «Mirror, Mirror». Dans l'épisode, le protagoniste est poursuivi par un fantôme qui ne peut être vu que sur des surfaces réfléchissantes et qui est finalement capturée dans l'œil de quelqu'un.
Références