Marilyn Manson
Jump to navigation
Jump to search
"
Je suis inattaquable, car cette dette que je réclame, Ermes dans son for intérieur a admis l'avoir contractée... ainsi en est-il de mon pouvoir.
"
Marilyn Manson (取り立て人 マリリン・マンソン, Toritatenin Maririn Manson, lit. Marilyn Manson, le collecteur de dette) est un Stand qu'Enrico Pucci a donné à Miraschon via un disque Stand. Il apparait dans la sixième partie de JoJo's Bizarre Adventure, Stone Ocean. Marilyn Manson est un Stand humanoîde couvert de fourrure servant d'arbitre pour les paris de Miraschon, détectant automatiquement quand l'adversaire de Miraschon triche et collectant automatiquement la "dette" du tricheur.
Apparence
Marilyn Manson est un Stand humanoïde de taille moyenne et avec une carrure athlétique, plutôt masculine. Son corps est recouvert en grande partie de fourrure avec des pièces de cuir sur quelques articulation. Son abdomen est mise à nu, révélant un tube rigide strié.
Le visage de Marilyn Manson est plat, formant un angle avec le sommet de son crâne. Il a une fente verticale au front, avec un petit écran au niveau des yeux qui affiche surtout des sommes d'argent. Il n'a pas de bouche.
Ses mains sont des petites pinces métalliques.
Il émerge souvent depuis l'ombre des gens[1] Il est de couleur crème, jaune et rouge dans le manga couleur.
Pouvoirs
Marilyn Manson tourne autour du concept de paris et de dettes. Il faut d'abord que son manieur et une victime tombent d'accord pour parier à un jeu, et ne peut pas être utilisé au combat. Il est cependant invincible quand il peut collecter une dette.
La seule façon d'arrêter Marilyn Manson est de force le manieur à rappeler son Stand.
Encaissement de dettes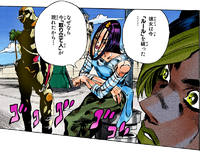 Après que Miraschon gagne un pari contre une victime, Marilyn Manson apparaît pour prendre ce que la victime a parié, ou un équivalent en terme de valeur.[2]
Comme Osiris et Atum, Marilyn Manson s'active si Miraschon, ou lui-même,[1] parient avec quelqu'un. Au moment où la victime perd, Marilyn Manson apparaît près d'elle et prend de force ce qu'elle a pour payer la "dette" qu'elle a contractée en pariant et en perdant.
L'argent va voler directement dans les crochets de Marilyn Manson, mais ce dernier peut aussi mutiler une victime pour prendre des organes qui ont de la valeur au marché noir (par exemple, une dent en or ou même un foie). Marilyn Manson va réfléchir lui-même à ce qu'il peut collecter pour atteindre la somme de la dette[2] mais refuse de prendre ce qu'il n'appartient pas légitimement à la victime comme de l'argent volé. Il peut d'ailleur lire l'esprit de la victime pour savoir quoi prendre.[1]
Marilyn Manson prétend n'être que "l'ombre dans le cœur du perdant" qui se matérialisent lorsqu'ils reconnaissent leurs défaites. Ainsi, ni la victime, ni ses alliés peuvent attquer Marilyn Manson, les coups passant à travers lui. On explique que c'est parce que la victime reconnaît sa faute et que donc elle ne peut pas défendre son esprit contre un collecteur venant encaisser une "dette légitime".[3] De plus, Marilyn Manson peut maîtriser un manieur de Stand (et son Stand avec) lorsque ce dernier pense à attaquer Miraschon.
De façon injuste, Marilyn Manson ne réagit pas si son manieur triche à un pari mais sait immédiatement si l'adversaire veut tricher, considérant alors qu'ils perdent automatiquement.[1] Penser à battre Miraschon compte aussi comme de la triche. Cependant, Marilyn Manson peut rendre ce qu'il a pris à une victime si on force Miraschon à annuler la dette, ce qui permet de potentiellement les sauver.[4]
Chapitres

Apparitions Manga
Apparition dans les chapitres
Citations

Citations
"
This is not enough. There's only $380 here... What are you going to do? There's still $620 left...
"
"
I am the shadow within Ermes's heart... You cannot attack me.
"
"
"If I sell my liver to the black market, it will cover the rest of the debt... $590!" This is what you, Ermes, have just contemplated. I found out where to find the money you owe from your thoughts, so that I can obtain it.
"
"
I am just here to collect the debt. This is my ability.
"
Détails
Marilyn Manson peut dire "Good!" quand un adversaire parie avec lui, une probable référence au personnage de Daniel J. D'Arby dans Stardust Crusaders qui faisait la même chose.
Galerie
Références