Spice Girl
Jump to navigation
Jump to search
"
Dorénavant,
vous
possèdez le pouvoir de ramollir n'importe quelle matière qui existe en ce monde ! Et une fois molle, elle devient plus résistante qu'un diamant !
"

Spice Girl (スパイス・ガール, Supaisu Gāru) est le Stand of Trish Una, figurant dans la cinquième partie de JoJo's Bizarre Adventure, Vento Aureo. C'est un Stand à l'allure féminine dont le pouvoir est celui de ramollir n'importe quoi, leur donnant des propriétés élastiques.
Apparence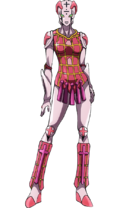 Spice Girl est un Stand humanoïde avec une silhouette féminine, ressemblant à Trish en terme de carrure. Son design est basé sur celui d'un chat.[1]
Spice Girl a plusieurs signes mathématiques gravés sur son corps, reflétant le design de Trish. Deux signes "+" aux épaules, deux aux coudes, et un autres sur le front. un signe "÷" sur le front et un signe "x" au sommet du crâne. Elle a une face robotique sans nez, une bouche relativement humaine, mais deux grands yeux robotiques striés verticalement avec des marques verticales croisant les yeux. Dans certains dessins, elle possèdent des iris mais pour la plupart du temps, elle n'en a pas. L'anime la montre avec des yeux dorés de des iris verts.
Spice Girl porte une robe moulant trouée avec un motif de carreau tissé dessus. Le bas de la robe est décoré avec des pièces métalliques pendues au tissu sur le devant et le derrière. Elle porte aussi des talons hauts assortis.
La plupart des média colorent Spice Girl avec des nuances de rose.
Avant qu'elle n'apparaisse complètement, le pouvoir de Trish laissait des grandes traces de pattes griffues là où Trish posaient les mains quelques fois.[2][3]
Palettes
Les palettes changent souvent entre les médias. L'information ci-dessous ne devrait pas être considérée comme canonique.
Tenue
(Rose vif et jaune avec des accessoires roses.)
Tenue
(Magenta et beige avec des accessoires roses.)
Tenue
(Rose vif et or avec des accessoires roses.)
Yeux
(Bronze aux pupilles vert citron)
Tenue
(Magenta et or avec des accessoires violets.)
Personnalité
Spice Girl possède sa propre personnalité et a une conscience séparée de celle de Trish, ce qui est une caractéristique assez rare chez les Stands.[1] Elle parle d'ailleurs le keigo

, dans un style très poli donc.[1]
Spice Girl garde son calme même dans des situations intenses[3] et analyse la situation pour pouvoir conseiller Trish. Elle considère que l'hésitation mène à la faiblesse mentale.[3] et au contraire admire la valeur de la détermination, qui est l'inverse de l'hésitation.[4]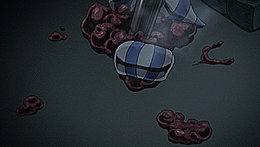 Au combat, Spice Girl peut être sans merci et de manière ironique insulta de manière grossière le Stand Notorious B.I.G alors qu'elle enfonçait un tuyau dans sa chair.[4]
Trish prend d'abord conscience de l'existence de Spice Girl lorsque le Stand commence à lui parler alors qu'elle est en train de paniquer face à Notorious B.I.G, mais Spice Girl prétend qu'elle était aux côtés de Trish depuis qu'elle était petite fille.[3] Dans sa première apparition, Spice Girl prend le rôle de mentor de Trish et la conseille constamment, mais la pousse également à être plus courageuse.[4] Après que Trish devienne plus forte mentalement, Spice Girl devient plus passive.
Spice Girl reconnait ouvertement l'influence de Giorno Giovanna sur la croissance mentale de Trish, et l'appelle un individu mystérieux.[5]
Son cri de Stand est "WANNABEEE~"[5] (en référence à la chanson Wannabe

des Spice Girls

).
Pouvoirs
Spice Girl est un Stand de courté portée avec une force considérable. Elle est notamment capable d'utiliser un tuyau pour transpercer et couper Notorious B.I.G en morceaux alors qu'elle le combat[4] et elle a pu détruire le cockpit d'un avion pour le séparer du reste du véhicule d'une volée de coups de poings.[5] De plus, son pouvoir adoucissant permet à Trish de profiter facilement de l'environnement.
Avec la maîtrise ingénieuse de Trish, Spice Girl s'avère être un ajout précieux à Team Buccellati.
Ramollissement
Spice Girl est capable de ramollir tout ce qu'elle frappe de ses poings.[6]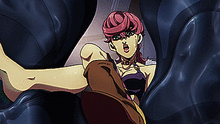 Lorsque Spice Girl frappe quelque chose avec ses poings, elle peut ramollir ledit objet vers une consistance caoutchouteuse. Tout matériau, même le métal ou la roche, sera ramolli dans le même état. Lesdits objets gagnent en élasticité semblables au caoutchouc ou au mastic, ne peuvent pas être détruits même par un Stand puissant comme Notorious B.I.G ou être percés par des objets tranchants. Ironiquement, les objets affectés par Spice Girl sont donc beaucoup fois plus résistants aux dommages.[4] Spice Girl peut ramollir des objets comme des balles, ce qui fait qu'elle s'aplatissent au contact d'une cible.[4] De plus, des objets en mouvement ramollis par Spice Girl reprendont leur élan quand le pouvoir est annulé, ce qui permet à Trish de faire des attaques surprises avec des projectiles que l'ennemi croit avoir bloqué.
En raison de son élasticité, l'objet accumule de l'énergie lorsqu'il est déformé et, lorsqu'il est autorisé à revenir à la normale, il peut créer un rebond soudain et violent.[4]
La douceur peut persister même si le contact entre Spice Girl et l'objet est rompu. Elle peut également annuler librement sa capacité en cas de besoin.[4]
Chapitre / Episodes

Apparitions Manga
Apparition dans les chapitres

Apparitions Animé
Apparitions dans les épisodes
Citations

Citations
"
You have already made up your mind! You have already chosen to protect Giorno's left hand! Hesitation leads to weakness. Now... please, give me your orders.
"
"
What is important is the powerful determination that has driven away your hesitation and led you to take the brooch! You have grown stronger! In spirit, and as an individual as well! And now, you are able to soften any object in the world! That which is soft is more unbreakable than any diamond!
"
"
Without speed... but! With as much force as a vise! It's time to slice this piece of shit up and kill it for good!
"
Galerie
Détail
Références