Silver Chariot
Jump to navigation
Jump to search
"
O "Carro" simboliza invasão e vitória.
"
Silver Chariot (シルバーチャリオッツ(銀の戦車), Shirubā Chariottsu) é o Stand de Jean Pierre Polnareff, primariamente usado na terceira parte de JoJo's Bizarre Adventure, Stardust Crusaders, e brevemente na quinta parte, Vento Aureo.
Silver Chariot é um Stand humanoide revestido por armadura e armado com uma rapieira. Ele é particularmente mortal em curto-alcance devido a sua velocidade e precisão.
Aparência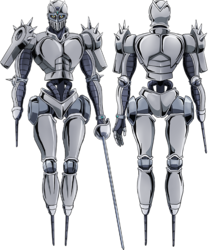 Silver Chariot parece um magro e robótico humanoide revestido por uma armadura medieval prateada, armado com uma rapieira que se assemelha a espada de esgrima usada no esporte moderno. Embora o Silver Chariot seja magro, ele porta uma armadura pesada com espinhos nas ombreiras e cotoveleiras. O Silver Chariot tem um capacete distintivo com uma joia na testa e várias projeções apontadas para baixo protegendo a boca e as bochechas. A espada do Chariot pode ser desequipada para tarefas que requerem as duas mãos. De acordo com JOJOVELLER, seu design é uma combinação de um robô e armadura europeia.[1]
Após lutar contra Diavolo nos anos noventa, o Silver Chariot perde suas pernas e antebraço direito. Eles são trocados por apêndices parecidos com espinhos metálicos.[2]
Polnareff foi capaz de usar o Silver Chariot desde criança, embora seu Stand fosse tão pequeno quanto ele e muito mais fraco.[3] Com o envelhecer de Polnareff, o Silver Chariot se desenvolve junto dele.
Esquemas de Cores
A obra é conhecida por sua mudança de cores entre as mídias, a informação apresentada abaixo pode ou não ser cânon.
Eyes
(Yellow sclera and light orange iris)
Body
(Silver and gold with green jewel)
Armor
(Gray and red, silver armor)
Body
(Metal Gray, silver armor)
Body
(Dark Gray and gold, silver armor with cyan jewel)
Eyes
(Light yellow sclera and blue iris)
Armor
(Dark Gray, silver armor with teal jewel)
Personalidade

Como a maioria dos Stands, o Silver Chariot não possui vontade ou personalidade alguma, servindo a Polnareff sem perguntas - embora ele demonstre uma grande habilidade de aprendizado, já que Polnareff raramente lhe dá ordens diretas. O grito de batalha do Silver Chariot é "Hora Hora Hora",[4] e ele parecia ter a tendência a exclamar "Pami" quando Polnareff era criança.[3]
O Silver Chariot é um Stand de curto-alcance e orientado ao combate. Ele representa a carta do tarô O Carro (tarô, que simboliza invasão e vitória.[5]
Habilidades
O Silver Chariot é um poderoso Stand de curto-alcance dedicado a batalha que primariamente luta com a rapieira com a qual ele é equipado.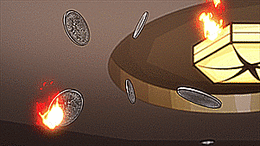 Todos seus poderes diretamente ajudam o Stand em batalha mas tem usos limitados em qualquer outro lugar. Ele é um Stand incrivelmente ágil, capaz de atacar inimigos com ondas de cortes e lances de espada antes que o oponente possa reagir. Ele também pode usar essa habilidade, junto de sua espada, para defender e refletir ataques direcionados a ele ou seu usuário. o Silver Chariot normalmente não fica muito longe do Polnareff, mas ainda tem a habilidade se se mover vários metros de distância dele para atacar.[6] O Silver Chariot tem a fraqueza distinta de não ser capaz de ver onde seu usuário não consegue, o tornando fraco caso Polnareff fique em um lugar cego.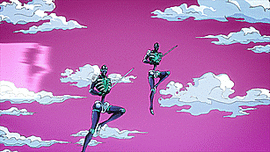 Velocidade: O Silver Chariot é um Stand incrivelmente rápido, já que ele é capaz de aparecer em vários lugares de uma vez só, devido a se mover a uma velocidade mais rápida que olhos humanos possam processar, criando pós-imagens ilusórias.[4] No entanto, o Silver Chariot é pesado pela sua armadura e precisa removê-la para alcançar sua velocidade completa.[4] Sua velocidade é grande o suficiente para ele refletir balas atiradas à queima roupa, refletindo a energia de um raio solar lançado pelo Sun, e cortar o Hanged Man que é dito viajar por superfícies refletivas na velocidade da luz. Enquanto portando o Anubis, ele foi capaz de ser páreo para o Star Platinum e sua série de socos.[7]
Poder: Embora a maioria do poder do Silver Chariot seja focado em sua velocidade surpreendente, ele ainda tem um grande poder destrutivo, já que ele foi capaz de cortar por uma pedra sólida instantaneamente.[8] A força do Silver Chariot é retratada inconsistentemente, primeiro mostrada sendo capaz de levantar Polnareff[9] contra Muhammad Avdol mas então mostrada sendo por pouco forte o suficiente para lentamente puxar seu usuário para longe de Vanilla Ice, embora seu usuário já estivesse muito ferido a esse ponto.[10] 
Precisão: A velocidade do Silver Chariot é quiçá concidida por sua precisão. Tendo treinado seu Stand por vários anos, Polnareff tem controle o suficiente sob o movimento do Silver Chariot para conseguir sobre tudo lutar como um esgrimista experiente, para cortar uma bala ou espetar várias moedas e bolas de fogo em um único empurrão quando eles se alinharam.[5] 
Técnicas
A propriedade mais estranha do Silver Chariot é o fato de que ele é revestido por uma armadura pesada.
A armadura diminui sua velocidade, mas também evita que ele seja ferido, já que Polnareff não recebe os mesmos ferimentos que a armadura desde que ela esteja sendo vestida. A armadura é mostrada ser capaz de resistir a um calor extremo sem derreter.[4] O lado negativo dessa habilidade parece ser a incapacidade de Polnareff de ver pelos olhos do Silver Chariot. Polnareff é capaz de tirar a armadura do Silver Chariot para ganhar uma velocidade ainda mais tremenda (o suficiente para pós-imagens aparecerem), mas fazer isso deixa o Stand mais vulnerável a ataques.[9]

A única habilidade de longa-distância do Silver Chariot e uma técnica secreta.
[11]
Isso lança sua espada com grande força e precisão, capaz de ricochetear em outros objetos e acertar com o força o suficiente para perfurar o corpo humano. O maior lado negativo disso é que o Silver Chariot só pode materializar uma espada, então Polnareff deve recuperar a espada antes de poder atacar novamente.
Capítulos / Episódios

Aparições no Mangá
Capítulos em ordem de aparição

Aparições no Anime
Episódios em ordem de aparição
Galeria
Curiosidades
Referências