Beach Boy
Jump to navigation
Jump to search
"
J'ai ferré
ton
cœur ! Je vais te crever de l'intérieur !
"
Beach Boy (ビーチ・ボーイ, Bīchi Bōi) est le Stand de Pesci, figurant dans Vento Aureo. Il prend la forme d'une canne à pêche que Pescie manie avec expertise, il peut détecter des formes de vie avec la ligne, réfléchir les dommages, et plonger son hameçon dans le corps des gens pour déchiqueter leurs organes vitaux.
Apparence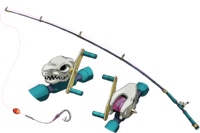 Beach Boy a l'apparence d'une canne à pêche avec le nom 'BEACH BOY' gravé dessus (ce détail a été omis dans l'anime) et un moulinet en crâne de monstre, ce qui est sensé représenter la mort.[1]
Pesci invoque Beach Boy en le faisant émerger de sa paume.[2]
Beach Boy est de couleur grise métallique dans le manga de couleur numérique, tandis que l'anime le présente avec un corps bleu foncé et une ligne rose.
Palettes
The series is known for alternating colors between media, the information presented below may or may not be canon.
Corps
(Sarcelle et noir avec segments d'or, crâne blanc)
Pouvoirs
Malgré son apparence inoffensive, Beach Boy est un Stand avec une létalité remarquable à courte et a longue portée.
Il peut déchiqueter les organes vitaux de n'importe qui grâce à son hameçon semi-intangible, et il n'y a presque aucun moyen de se défendre contre sa technique de ferrer quelqu'un et de laisser l'hameçon glisser vers le coeur. La maîtrise de Pesci était telle que Buccellati estime que Pesci était encore plus dangereux que Prosciutto et son The Grateful Dead.[3]
Beach Boy est une canne à pêche et donc Pesci doit directement le manier au combat. Cependant, il fonctionne à peu près comme un fouet très dangereux dont le hameçon est mortel.[4] La ligne de Beach Boy peut être utilisée pour briser le cou d'ennemi ou les étrangler.[5]
Semi-intangibilité
Le pouvoir principal de Beach Boy est le fait que sa ligne et son hameçon peuvent librement traverser les murs[2] et la chair.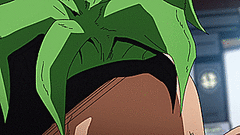 Pesci utilise Beach Boy comme un pêcheur expert, détectant ses cibles à travers les murs et lançant son hameçon pour ferrer les gens comme des poissons. Après avoir attrapé sa cible, il peut mouliner pour traîner sa victime vers lui[2] mais il peut aussi déchiqueter le corps de sa victime en bougeant l'hameçon dans tous les sens.[6] En tant qu'assassin, Pesci préfère faire glisser son hameçon dans le corps de sa victime pour ferrer les organes vitaux de la victime (comme la tête ou le cœur) et déchiqueter le corps de l'intérieur pour accomplir un meurtre propre.[7][8]
Pesci doit utiliser sa propre force pour tirer sa cible vers lui, mais la cible court aussi le risque de se fatiguer en résistant et en tirant sur la ligne élastique.[9]
Le pouvoir de Beach Boy s'estompe immédiatement si Pesci lache sa canne à pêche, l'hameçon et la ligne disparaissent et la ligne est enroulée à sa position par défaut.[8]
Pesci peut délibérément cacher son hameçon dans des objets clés, qui servent alors d'appâts. Il peut prendre alors une cible par surprise. Par exemple, il a utilisé le bouton de l'air conditionné comme appât alors que The Grateful Dead opérait dans un train, espérant ainsi ferrer un membre de la Team Buccellati espérant utiliser l'air conditionné pour annuler le pouvoir de The Grateful Dead.[7]
Ligne Sensible
La ligne de Beach Boy est extrêmement sensible, et peut transmettre des informations utilses à Pesci avec ses vibrations.
Le hameçon et la ligne de Beach Boy fonctionnent aussi comme des senseurs très fins. Ils peuvent par exemple permettre à Pesci de deviner combien de gens il y a dans une pièce[2] et peut transmettre les vibrations d'un battement de coeur.[3] En analysant les vibrations de la ligne et la force exercée sur la ligne par sa proie,[8] Pesci peut aussi estimer avec une grande précision la taille et le poids de sa prise, ainsi que leurs actions, l'endroit où il a ferré sa prise, et leur position par rapport à lui.[3][8][10]
Réflexion des dommages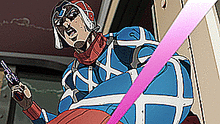 La ligne de Beach Boy ne peut pas être détruite par des attaques conventionnelles car le dommage reçu par la ligne est directement transmise à la prise de Beach Boy. Ainsi, il est impossible de détruire la ligne de Beach Boy une fois qu'il a ferré quelque chose. La ligne peut même transmettre les effets d'un pouvoir Stand à la prise.[8]
Chapitres / Episodes

Apparition dans le Manga
Chapitres (ordre chronologique)

Apparitions dans l'Anime
Episodes (ordre chronologique)
Galerie d'Images
Références
↑ JOJOVELLER: STANDS - Comments by Hirohiko Araki[1]
↑ 2.0 2.1 2.2 2.3 Chapter 487, The Express Train Heading Towards Florence (2)
↑ 3.0 3.1 3.2 Chapter 496, The Grateful Dead (9)
↑ Chapter 498, The Grateful Dead (11)
↑ Chapter 499, The Grateful Dead (12)
↑ Chapter 497, The Grateful Dead (10)
↑ 7.0 7.1 Chapter 489, The Grateful Dead (2)
↑ Volume 53, in-between chapters Stand stats, Chapter 492, The Grateful Dead (5)
↑ Chapter 495, The Grateful Dead (8)