Man in the Mirror
Jump to navigation
Jump to search
"
My ability lies in the
world inside the mirror
...where I'm safe and invincible. (
安全で……無敵にふるまえる『鏡の中』……それがおれの能力。
Anzen de…… muteki ni furumaeru "kagami no naka"…… sore ga ore no nōryoku.
)
"
Man in the Mirror (マン・イン・ザ・ミラー, Man In Za Mirā) est le Stand d'Illuso figurant dans la 5ème partie de JoJo's Bizarre Adventure, Vento Aureo. Il permet à Illuso un accès à la dimension du miroir, où les seules choses vivantes qui peuvent entrer son Illuso lui même et ceux qu'il attire vers une surface réfléchissante. Cette seule règle du monde du miroir s'applique aussi aux Stands, permettant à Illuso de séparer un manieur de son Stand.
Apparence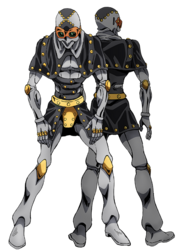 Man in the Mirror possède un corps humanoïde avec un collant sombre laissant à découvert le haut de son torse, le tout boulonné par des vis. Il porte des gants et une capuche montrant un motif de diamants couvrant sa tête entière, avec sur le dessus une large paire de lunettes. Le desing de son visage est basé sur un masque vénitien, ce qui fait que le stand ressemble à un Tengu.[2]
Palettes
Les palettes changent souvent entre les médias. L'information ci-dessous ne devrait pas être considérée comme canonique.
Corps
(Noir et violet, avec une tête et des mains brunes)
Habits
(Habits noirs violacés avec les clous de couleur gris-métallique)
Corps
(Grise avec une tête mate)
Habits
(Habits noirs avec des clous dorés)
Habits
(Habits noirs avec des clous et une braguette dorée)
Capacités
Possédant le pouvoir ésotérique d'accéder à un monde du miroir, Man in the Mirror est un stand contre lequel il est difficile de se défendre. Il est dangereux car les manieurs de Stands pris en embuscade se retrouvent sans défense dans le monde du miroir. Mais, d'un autre côté, il est physiquement faible et ne peut pas espérer emporter des confrontations directes avec la majorité des Stands.[3]
Entrée dans le monde du miroir
Man in the Mirror permet à son manieur d'entre dans un "monde du miroir".[4]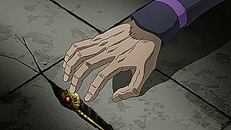 De plus, Man in the Mirror peut ramener n'importe quoi dans le monde du miroir en utilisant des surfaces réfléchissantes comme des portails, choisissant tout ce qui peut entrer selon les ordres d'Illuso,[5] et ce peut importe la taille du "portail".[3] Briser le miroir n'arrête pas cette capacité et crée en réalité encore plus d'ouvertures menant au monde du miroir.[3]
Seulement ceux dont Illuso et Man in the Mirror sont sur le point d'amener dans le miroir peuvent le voir, même si d'autres regardent directement le miroir concerné.[4] De plus, il peut aussi sélectionner des parties spécifiques du objet pour le ramener ou l'éjecter, il à été ainsi capable de ramener seulement une moitié d'Abbacchio, l'handicapant sérieusement.[3] Illuso peut aussi jouer avec les multiples reflets dans le but de ramener les personnes à travers un angle mort.[3]
Si un autre manieur de Stand est amené dans le miroir, Illuso peut choisir d'interdire son Stand d'entrer avec eux et le Stand invoqué se retrouve lui même seul dans le monde réel, bien qu'il puisse être toujours manipulé à distance par le manieur.[6] Ce qui rend Man in the Mirror pratiquement invincible à l'intérieur du miroir, comme il est le seul Stand présent. Toutefois, Illuso peut être piégé en laissant un stand déguisé entrer dans le monde du miroir.[3]
Illuso lui-même est aussi libre d'entrer ou de quitter le monde du miroir et sélectionner des parties de lui même. Toutefois, il doit le faire à travers une surface réfléchissante. Si il part du miroir, ceux qui sont toujours dans le monde du miroir seront coincés dedans.[7]
Dans le monde du miroir, tout (même les personnes y étant amenées[4]) est une image miroir de lui même et le monde est dépourvu de toute forme de vie. Il est dit que les images inversées sont faites d'énergie spirituelles.[5] Le monde du miroir est en effectivement isolé du monde réel, et les prisonniers du miroir ne peuvent être vus ou entendus[8] depuis l'extérieur. Toute action dans le monde réel est "réfléchi" dans le miroir et se produit pour visiblement aucune raison.[6] Inversement, seul Man in the Mirror peut affecter les objets dans le monde du miroir,[9] expliquant que les objets "appartiennent au royaume de la mort".[5]
Si Illuso meurt, le monde du miroir est détruits et ses prisonniers sont libérés[9]
Chapitres / Episodes

Apparitions Manga
Apparition dans les chapitres

Apparitions Animé
Apparitions dans les épisodes
Galerie d'Images
Références