Soft Machine
Jump to navigation
Jump to search
Soft Machine (ソフト・マシーン, Sofuto Mashīn) est le Stand de Mario Zucchero, figurant dans Vento Aureo. En piquant ses victimes avec la dague dans sa main, il peut dégonfler et aplatir leur corps comme un ballon dont on aurait percé la paroi.
Apparence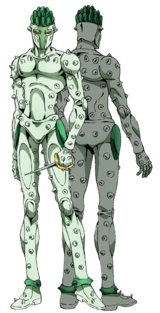 Soft Machine est une figurine humanoïde blindée avec des yeux robotiques mais qui n'a ni bouche ni nez visibles. Son corps est recouverte en grande partie d'une série de grosses pointes, avec des protubérances quasi-sphériques dépassant du sommet de sa tête. Araki note que ce choix de conception a été fait pour le différencier de Kraft Work.[2] Soft Machine porte une petite dague pointue dans sa main et la dague est importante pour l'application de son pouvoir.
Palettes
Les palettes changent souvent entre les médias. L'information ci-dessous ne devrait pas être considérée comme canonique.
Corps
(Blanc teinté de turquoise avec décorations, pointes et visage violettes.)
Dague
(Argenté avec pointes violettes)
Corps
(Blanc teintée vert avec des détails, piques, et une face avec différentes nuances de vert)
Dague
(Argentée avec poignée dorée)
Pouvoirs
Soft Machine n'a besoin que de toucher ses cibles une fois pour complètement les neutraliser et est donc particulièrement adapté pour des embuscades. Cependant, sa courte portée couplée avec ses capacités physiques médiocres font qu'il a peu d'option si Zucchero doit se révéler.[2] Soft Machine est équipé d'une dague qui lui sert d'arme et avec laquelle il dégonfle ses cibles. Avec elle, il peut faire des dommages modérés et a par exemple pu blesser la main de Moody Blues.[3]
Dégonflage
Soft Machine est capable de littéralement dégonfler les gens comme des ballons de baudruches, y compris son manieur Mario Zucchero.[2] and objects by stabbing them with its small rapier.[4]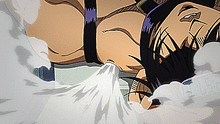 Tout objet ou personne percé par la dague de Soft Machine va mystérieusement laisser s'échapper de l'air depuis l'intérieur de leurs corps puis se dégonfler et s'aplatir. Dans cet état, les victimes perdent conscience car elles sont asphyxiées,[2] sont mous et ne peuvent pas bouger. Elles acquièrent aussi une consistance caoutchouteuse.[3] Les vêtements d'une victime sont aussi affectés. Les victimes humaines de Soft Machine sont laissées en vie mais ne reprennent conscience que si le pouvoir de Soft Machine arrête de faire effet.[3]
Les victimes dégonflés peuvent être glissées dans des endroit très étroits comme un tuyau, vu qu'elles deviennent plates. De plus, Zucchero peut dégonfler un objet et recouvrir un autre objet similaire pour se créer une cachette secrète. Ainsi, il a pu recouvrir un voilier avec la surface dégonflée d'un autre voilier. Ainsi les membres de l'équipe de Buccellati ne savaient pas où trouver Zucchero, lequel se cachait simplement entre les deux couches de bateaux.[5]

Chapitres / Episodes

Apparition dans le Manga
Chapitres (ordre chronologique)

Apparitions dans l'Anime
Episodes (ordre chronologique)
Galerie d'Images
Références