King Crimson
Jump to navigation
Jump to search
SPOILER WARNING: Part 5 spoiler details may follow.
"
Face à mon King Crimson, tes actes sont inutiles !
"
King Crimson (キング・クリムゾン, Kingu Kurimuzon), quelques fois raccourci en K. Crimson (K・クリムゾン), est le Stand de Diavolo, figurant dans la 5ème partie de JoJo's Bizarre Adventure, Vento Aureo.
Il donne à Diavolo la faculté d'effacer le temps, et son sous-Stand Epitaph (エピタフ (墓碑銘), Epitafu) lui permet de voir le futur. Diavolo peut conférer à son alter-ego Vinegar Doppio une partie du pouvoir de King Crimson.
Apparence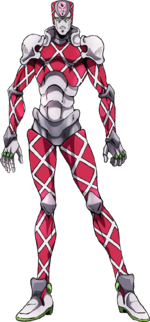 King Crimson est un Stand humanoïde avec une taille et constitution athlétique similaires à l'apparence de Diavolo. Son corps est recouvert d'une maille diagonale en diamant, sauf son abdomen qui est métallique et articulée comme une marionnette. Il possède des épaulières, des gantelets et des chaussures assorties de gemmes.
La tête de King Crimson est particulière car le sommet de son crâne est plat, la courbe de la tête s'arrêtant de façon abrupte pour devenir plate. D'ailleur, la même maille diagonale recouvre sa tête sauf le visage. Le visage de King Crimson est relativement plat et lisse, n'ayant pas de nez. Des yeux globuleux ressortent de trous d'yeux en forme d'amande et sa petite bouche montre toujours les dents. Mais le plus important est que son front est occupé par une seconde face ovale avec la même expression, apposée à une bosse à deux niveaux. Cette face a deux yeux globuleux et une petite bouche qui montre aussi les dents.
Cette seconde face est nommée Epitaph et apparaît régulièrement sur les fronts de Doppio et Diavolo lorsqu'ils prédisent le futur. La face d'Epitaph reflète souvent l'humeur de Diavolo et King Crimson.
Son design est inspiré du personnage de George/Kuato du film de science-fiction Total Recall, un homme qui a un frère siamois au niveau de son ventre.[2]
Palettes
Les palettes changent souvent entre les médias. L'information ci-dessous ne devrait pas être considérée comme canonique.
Corps
(Ecarlate avec face et maille argentées)
Armure
(Argentée et gris métallique)
Corps
(Ecarlate avec face et grille blanc cassé)
Epitaph
(Rose saumon avec bordures bleues)
Armure
(Blancheâtre et bleu-gris)
Corps
(Magenta avec maille et visage jaunes)
Epitaph
(Rouge aux bord gris métalliques)
Armure
(Argentée et gris métallique, accessoires verts)
Corps
(Ecarlate avec maillet face jaunes)
Epitaph
(Ecarlate avec bordures gris)
Armure
(Argentée et gris métallique, accessoires verts)
Corps
(Ecarlate avec maille et face blanches)
Epitaph
(Rose avec bordures grises)
Armure
(Argentée et blanc, accessoires verts)
Personality
King Crimson reflète la personnalité de Diavolo dans son intégralité et d'ailleurs Diavolo s'exprime fréquemment à travers son Stand. Au sinon, son visage possède souvent une expression de colère ou d'irritation, bien qu'en de rares occasions, il montre également un sourire maniaque lorsque Diavolo a l'avantage comme lorsqu'il met la main sur la Flèche.
Pouvoirs
"
Une fois qu'on voit King Crimson ... à partir de ce moment-là, vous n'existez plus dans ce monde.
"
King Crimson est l'un des Stands les plus impressionnants de la série. À la fois fort physiquement et possédant la capacité d'effacer le temps et de prédire l'avenir, King Crimson est pratiquement invincible contre tous les autres Stands dont les pouvoirs n'affectent pas le temps.
King Crimson est un Stand de courte portée qui est capable de transpercer les gens d'un coup de poing ou de couper à travers eux du tranchant de la main avec beaucoup d'aise. Contrastant d'autres Stands à courtes portées, King Crimson préfère porter un unique coup décisif au lieu de donner des barrages de coups. Des exemples de sa force incluent la destruction du corps d'un diseur de bonne aventure en un coup de poing, ou un lancer de ciseaux si fort qu'ils ont pu couper le pied de Risotto Nero. Il pouvait aussi détruire un mur d'un seul coup de poing. Ses performances en vitesse et force sont comparables à Star Platinum et The World.
Comme tous les Stands à courte portée, sa plus grande faiblesse est sa courte portée (a peu près 2–3 mètres[3]). De plus, Diavolo restreint l'usage de son Stand et ne veut pas combattre plusieurs ennemis en même car il craint d'exposer son identité.[4]
Effacement du temps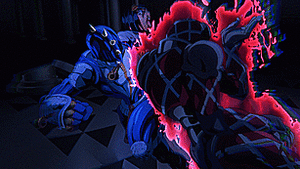 La faculté principale de King Crimson et d'effacer le temps sur une période qui peut durer jusqu'à 10 seconds,[5] à partir de l'instant où le pouvoir est activé.[6][4]
Lorsque le temps est effacé, les autres personne seront incapable de ressentir ou de se souvenir de ce qui se passe.[6][6][7] Lorsque le temps effacé a finit de se dérouler, tout le monde se retrouvera soudainement là où ils sont destinés à se retrouver et il y a un grand risque qu'il ne se rendent même pas compté qu'ils ont bougé avec au pire un petit instant de confusion.[4][6] Cependant, Blono Buccellati s'est retrouvé une fois à pouvoir voir son "moi" du futur avant qu'il ne soit transporté à sa position future, ce qui est supposément dû à Diavolo qui voulait montrer son pouvoir.[6]
Au contraire, Diavolo devient le seul qui soit conscient du temps qui passe durant la période de temps effacée et lui seul peut réajuster ce qu'il fait.[7] Dans le manga, on représente le temps effacé comme un vide sombre dans lequel tout mouvement est représenté comme une série de poses qui apparaissent et se superposent, montrant à Diavolo ce que ses adversaire font et lui donnant l'occasion de penser à la meilleure action à faire (par exemple quand Blono Buccellati essaie de lui donner un coup de poing, Diavolo peut l'éviter et se placer derrière).[7] L'adaptation animée montre à la place une image fantomatique des prochaines actions de l'adversaire.
Il semble que Diavolo ne puisse attaquer quiconque ou même interagir avec quoique ce soit lorsque King Crimson active son effacement du temps. Diavolo peut cependant interagir avec lui même et toute extension de lui-même comme son sang.[8] L'inverse semble s'appliquer et ainsi une pluie de balle le traversent sans qu'il ne soit blessé. Ainsi, Diavolo utilise surtout King Crimson pour éviter des attaques et se position dans une position avantageuse comme juste derrière ses ennemis. Avec la puissance de King Crimson, Diavolo peut ainsi délivrer des coups mortels au moment où le temps revient.[8]
Epitaph
Epitaph (エピタフ (墓碑銘), Epitafu) est un sous-Stand qui complète le pouvoir d'effacement du temps de King Crimson.
Précognition
Epitaph permet au manieur de voir jusqu'à 10 secondes dans le futur.[5] Diavolo et Doppio peuvent ainsi visualiser des projections du futur[9] qui sont projetées sur l'intérieur des mèches de Doppio/Diavolo comme un projecteur de film sur un écran.[10]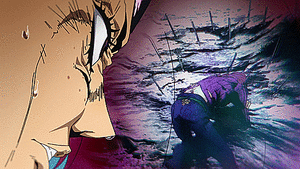 Les images produites se concentrent généralement sur Diavolo, Doppio, et ce qui arrivera à proximité d'eux ou ce qui arrivera à eux.[10] Les visions sont d'ailleurs incomplètes et sont sujettes à interprétation. Dans un cas, Doppio voit des ciseaux se matérialiser dans sa gorge, une vision claire qui lui permet de se protéger. Dans un autre cas, il voit un pied voler devant lui ce qui lui fait penser qu'il va perdre son pied.[11]
Les prédictions d'Epitaph arriveront quoique fasse Diavolo ou Doppio mais le plus souvent servent d'alertes qui leur permettent de se sauver. Ainsi, Doppio a pu prédire des ciseaux se former dans sa gorge et était préparé à les arracher pour que les ciseaux ne le tuent pas.[11] King Crimson peut d'ailleur simplement empêcher les prédictions de se passer s'il efface le bon moment. Diavolo peut donc changer son propre destin alors que les autres sont condamnés à le vivre. Ainsi, même si des balles d'Aerosmith le traversent, l'effacement du temps les empêche de blesser Diavolo. Un Stand qui peut affecter la réalité et le destin comme Gold Experience Requiem peuvent cependant emêcher les visions de se réaliser. Dans le cas de GER, c'est parce qu'il peut retourner à un état nul n'importe quelle attaque et empêcher Diavolo de faire quoique ce soit malgré ses visions.[12]
Diavolo et Doppio utilisent souvent la capacité d'Epitaph pour prédire toute menace entrante, ce qui rend les ambuscades inefficaces contre eux.
Chapitres / Episodes

Apparition dans le Manga
Chapitres (ordre chronologique)

Apparitions dans l'Anime
Episodes (ordre chronologique)
Galerie d'Images
Détails
Tout comme DIO dit les phrases "Arrête-toi, le temps"/"Et le temps s'écoule à nouveau.", Diavolo semble aussi avoir ses propres incantations lorsqu'il utilise King Crimaon : "Le temps est effacé" (

時間は吹っ飛ばした。

Jikan wa futtobashita) et "Que le temps reprenne son cours !" (

時よ再始動しろ。

Toki yo Saishido shiro).
Les jeux vidéos de JoJo qui font apparaître Diavolo zigzaguent sur comment interpréter le pouvoir de King Crimson :

Dans Vento Aureo (PS2), les mouvement du joueur ralentissent alors que Diavolo peut bouger à une vitesse normale, un peu comme Made in Heaven.
Dans All-Star Battle, il agit comme The World. Le paysage s'efface et pendant quelques instants Diavolo peut bouger normalement tandis que son adversaire reste immobile. S'il attaque, le temps reprend son cours. Diavolo a d'ailleur un dash qui lui permet de se "téléporter", montrant simplement ce qui se passe dans l'oeil de l'adversaire. Lorsqu'il utilise Epitaph, Diavolo peut automatiquement éviter les attaques.
Dans Eyes of Heaven, Diavolo devient invincible quand le temps est effacé mais cet état draine sa barre d'endurance. Les autres personnages peuvent agir normalement mais ne voient plus Diavolo. En activant Epitaph, Diavolo peut encore éviter automatiquement les attaques.
L'adaptation animée montre l'activation de l'effacement du temps en dessinant des parasites roses à l'écran.
Un concept art dans JOJOVELLER "History" montre un design initial de King Crimson qui n'avait pas Epitaph tout en ayant une bosse sur son front. Sa tête avait plus l'air d'un crâne humain et il possédait une sorte de cagoule.
Quand Diavolo explique à Bucciarati que sa capacité est d'effacer le temps, il le décrit incorrectement dans le doublage français comme étant capable d'arrêter le temps.[13]
Références
↑ Chapter 587: Gold E Requiem (2), p.3
↑ Artbook: JOJOVELLER
↑ Artbook: JOJO A-GO!GO! - Stands, p.106
↑ 4.0 4.1 4.2 Volume 56, in-between Stand stats;

Chapter 522,

The Mystery of King Crimson (5)
↑ 5.0 5.1 Chapter 521, The Mystery of King Crimson (4)
↑ 7.0 7.1 7.2 Chapter 520, The Mystery of King Crimson (3)
↑ 8.0 8.1 JOJOVELLER: STANDS, p.192
↑ Chapter 518, The Mystery of King Crimson (1)
↑ 10.0 10.1 Chapter 544, King Crimson vs. Metallica (1)
↑ 11.0 11.1 Chapter 545, King Crimson vs. Metallica (2)
↑ Chapter 588, Gold Experience Requiem (3)
↑ GW Episode 20: The Boss's Last Orders