Stardust Crusaders - Episode 33
Jump to navigation
Jump to search
"
Good grief. Don't go underestimating a kid like me.
(

やれやれ、子供だからってなめんなよ

)
"
"Sethan" Alessi, Part 2 (「セト神」のアレッシー その2, 'Seto-shin' no Aresshī Sono 2)[1] is the thirty-third episode of Stardust Crusaders, the ninth episode of the Egypt Arc, and the fifty-ninth episode of JoJo's Bizarre Adventure: The Animation. It covers most of Chapter 207 through Chapter 209 of the manga.
The battle against Alessi continues. Still a boy, Polnareff is pursued and cornered inside of a house by Alessi and must figure out a way to hide.
Summary
Polnareff has been turned into a little child by Alessi because of Sethan's rejuvenating powers. The assassin has cornered him in a bathroom and swings his ax, but Silver Chariot blocks the blade, if only for a moment. Sethan overpowers Silver Chariot again and Alessi now attempts to drown Polnareff in the bath. At the last moment, Polnareff defecates and flings his poop at Alessi's face. In disgust, Alessi lets go to clean himself.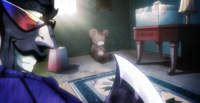 Polnareff demands to know where the kind woman Malèna is, but Alessi then reveals that he's turned her into a fetus that she will die in a short amount of time because she is not connected to a womb. Horrified, Polnareff is again taken by surprise as Sethan touches him and turns him into an even younger child. Polnareff takes the fetus and attempts to escape with her, getting younger and younger until he's a three year old child. Driven into a bedroom with no exit, Polnareff hears with horror Alessi hack the door to enter. However, Polnareff then devises a plan.
When Alessi barges into the room, he guesses that Polnareff must have had hidden somewhere to ambush him. However, all three possible hiding spots are fakes. In truth, Polnareff has hidden in an aquarium, covering his head with a balloon and using a mirror to hide his body. The boy manages to get the drop on Alessi and pierces his nose and slices his face, forcing the assassin to run away. Blinded by his blood, Alessi falls down the window and fatefully lands in front of Jotaro.
Pretending to be a harmless civilian, Alessi uses the moment Polnareff calls him out and distracts Jotaro to strike. He deploys Sethan and touches Jotaro, turning him into a kid. Moreover, Jotaro has only acquired Star Platinum recently and is now Standless. However, even as a kid, Jotaro is still tough enough to smash Alessi's face and knock him out. When Alessi regains his consciousness, Jotaro and Polnareff have now been turned back into adults, the two then attack in unison and send Alessi flying.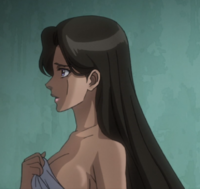 Meanwhile, Malèna, who also reverted to adult form, wakes up naked with a towel. Wondering whether or not she was dreaming, she remembers the kid who saved her from a man. After finding an earring that she remembered belonged to the child, she tries to find him in the house, and eventually sets out.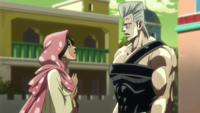 Malèna finds Polnareff outside, and realizes that he seems to resemble the child. However, Polnareff decides to keep his identity a secret from her before he and Jotaro reunite with the rest of the group. Watching them leave, Malèna decides that it was all a dream. Creating another spirit photo, Joseph determines the location of DIO's hideout: Cairo.

Appearances
Credits
Staff
Animation Director Cooperation
(作画監督協力)
Assistant Animation Director
(作画監督補)
中屋 了
山本 晃宏
Shin Hyung Woo
Lee Eun Young
Choi Hee Eun
Kouki Shikiji
Shinya Ito
Sumio Watanabe
Takafumi Mitani
Ko Seong Woon
Takahiro Okawa
Shigemi Aoyagi
Masashi Yamada
Yukie Sasaki
Ayu Tanaka
Yoon Young Tai
Sato Tominaga
Sae Akama
Sayaka Maruyama
Kazuyo Nakamura
Miho Tanaka
Kiyomi Masuda
Akihiro Yamamoto
Yui Kinoshita
Hirotaka Nii
式地 幸喜
(Key)
伊藤 進也
渡辺 純夫
三谷 高史
Ko Seong Woon
大川 貴大
青柳 重美
山田 まさし
佐々木 幸恵
田中 亜優
Yoon Young Tai
富永 里都
赤間 紗枝
丸山 沙也香
中村 和代
たなか みほ
増田 清美
山本 晃宏
木下 由衣
仁井 宏隆
Haru Watanabe
Makoto Yaguchi
Hitomi Shiroki
Natsue Chibayama
Kwon O Sik
Park Myoung Whan
Bark Ma Kang
Kazusa Sugihara
Hiroaki Takagi
Yuta Masagaki
Kanari Yamada
Yuri Yamamura
White Line
J&K Corporation
Triple AAICL CorporationBEEPAce CompanyStudio Kuma
渡邊 葉瑠
矢口 真琴
白木 仁美
千葉山 夏恵
Kwon O Sik
Park Myoung Whan
Bark Ma Kang
杉原 一颯
高木 啓明
正垣 優太
山田 かなり
山村 有理
WHITE LINE
J&Kコーボレーション
Triple A
AI
CLコーポレーション
BEEP
エースカンパニー
スタジオ九魔
In-between Animation Inspection
(動画チェック)
In-between Animation
(動画)
Digital In-Between AnimationDavid Production
Masato Ujibe
Mai Oshima
Rie Takahashi
Yusaku Nagahama
宇治部 正人
大島 舞
高橋 梨恵
長濱 佑作
---
David Production
---
White Line
Asahi Production
Triple A
J&K Corporation
AI
CL Corporation
Beep
Ace Company
Studio Kuma
Reboot
WHITE LINE
旭プロダクション
TripleA
J&Kコーボレーション
AI
CLコーポレーション
BEEP
エースカンパニー
スタジオ九魔
reboot
Design Cooperation
(デザイン協力)
Graphic Model Cooperation
:
株式会社バンダイナムコゲームス
株式会社サイバーコネクトツー
Eyecatch Illustration
(アイキャッチ原画)
Music
Manga/Anime Differences
Added a scene where the Crusaders have their lunch, and Joseph uses Hermit Purple to take a photo of DIO's mansion.
The anime adds a scene of kid Polnareff losing his earring.
The anime gives more details about the kid version of Jotaro.
The anime adds a scene where Silver Chariot and Star Platinum smile before punching Alessi.
In the anime after Star Platinum and Silver Chariot's dual barrage, Alessi is seen being launched skyward into oblivion.
In other languages
Language
Title
Translation
Japanese
「セト神」のアレッシー その2
"Sethan" Alessi, Part 2
English
Set's Alessi, Part 2
Spanish
Alessi de Set - Segunda Parte
Set's Alessi - Part 2
Portuguese
Alessi, o Deus Set - Parte 2
Alessi, the God Set - Part 2
French
Alessi (Sethan), Partie 2
Alessi (Sethan), Part 2
German
Alessis "Set", Teil 2
Alessi's "Set", Part 2
Hebrew
האלסי של סת, חלק 2
Set's Alessi, part 2
Arabic
ست آليشي، الجزء 2
Set Alessi, Part 2
Italian
Alessi "Set", Parte 2
Alessi "Set", Part 2
Polish
Alessi Seta: część 2
Set's Alessi: part 2
Commentary
"
The second part of the fight against Alessi.
Yasufumi Soejima
is in charge of the storyboard which guarantees an episode of exceptional quality.
Alessi doesn't seem to think like a fighter, he's more the kind who rushes headfirst into the fray. At least he gives us some great funny faces. That said, his Stand itself has a particularly formidable ability. I think it compensates how ridiculous the user can be.
Even as a child, Polnareff manages to be featured with poop again in a scene. He's also walking around with his jewels out. He's really one filthy guy. (laughs).
Like in the manga, there's this homage to The Shining, a psychological horror style film. But with Alessi's personality, most of the scenes can also be viewed in a funny point of view. The balance between horror and comedy is truly astounding, and it reminded me how fascinating a medium JoJo can be.
At the end, we follow a painful separation between Malèna and Polnareff. The earring he's lost will suddenly come back in the next episode.
"
Gallery
References