Stardust Crusaders - Episode 28
Jump to navigation
Jump to search
"
"
—
Chaka
,
Battle in Egypt
BD/DVD Volume 1
Anubis, Part 1 (「アヌビス神」 その1, 'Anubisu-shin' Sono 1)[1] is the fifty-fourth episode of JoJo's Bizarre Adventure: The Animation, the twenty-eighth episode of Stardust Crusaders, and the Fourth episode of Egypt Arc. It covers Chapter 193 through most of Chapter 195 of the manga.
As the Joestar Group navigate down the Nile, the evil sword Anubis finds a new host to act as its wielder. Soon enough, Polnareff is challenged by Chaka, Anubis' host.
Summary
Kakyoin's injury is fortunately treatable, but he still needs a few days rest, thus the Joestar Group continues down the Nile river on boat to Kom Ombo.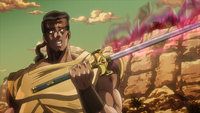 Meanwhile, a young timid farmer named Chaka discovers a mysterious sword laying on the ground. His father and his friends take it immediately from him and try to unsheathe to check on its condition, but the sword appears to be stuck inside it. When Chaka asks to try, he effortlessly unsheathes it only for his father to steal it from his son again. The sword then suddenly moves on its own, killing Chaka's father and one of his friends. As Chaka frightfully takes it, the Stand Anubis reveals itself, corrupting Chaka's mind and ordering him to go kill the Joestar Group. As revenge for being bullied, Chaka also kills the last of his father's friends, cutting him down through a cow.
The Joestar Group's boat stops at Kom Ombo for a time, allowing Polnareff to visit the place. Incidentally, a local tries to sell fake papyrus to Polnareff, who is wise enough to see the con. However, Polnareff is separated from the group and wanders into the ruins of a temple, followed by Chaka. The two begin to fight and Polnareff has no idea what is Chaka's Stand. When Chaka cuts Polnareff through a stone pillar, Polnareff realizes that his sword is the Stand. Chaka attempts to make a pillar fall on him and use the stone as cover as he cuts the Frenchman down, but Polnareff uses a secret technique to deflect a piece of Silver Chariot's sword into Chaka's neck, knocking him unconscious.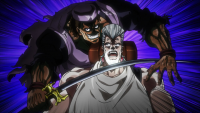 When Polnareff inspects the sword for himself, he comes close to being swayed by its influence before Jotaro and the others arrive. Nonetheless, he keeps the sword until he can go to a police station and have it secured. As Jotaro and Polnareff stop by a barbershop on their way to take the sword to a police station, Anubis possesses the barber, Khan, who prepares to kill Polnareff.

Appearances
Stands

Credits
Staff
Assistant Animation Director
(作画監督補)
Assistant Action Animation Director
(アクション作画監督補)
Yuji Tsuchiya
Sachiko Mori
Izumi Kawada
Airi Ishikawa
Sae Akama
Chika Ishida
Hisashi Samejima
Hitomi Shiraki
Tetsuro Taira
Shunichi Ishimoto
Gakushi Maeda
Manabu Imura
Kanta Suzuki
Yuzuru Jogashima
Hirotaka Nii
Hiroki Goto
Kayo Nomichi
Asami Endo
Yoshihiro Yoshioka
Kaori Saito
Etsuko Minami
Miyuki Nakayama
土屋 友次
(Key)
森 幸子
河田 泉
石川 愛理
赤間 紗枝
石田 千夏
鮫島 寿志
白木 仁美
平良 哲朗
石本 峻一
前田 学史
井村 学
鈴木 勘太
城ヶ島 譲
仁井 宏隆
後藤 洋輝
野道 佳代
遠藤 麻未
吉岡 佳宏
斉藤 香織
三波 悦子
中山 みゆき
Takahiro Okawa
Natsuki Orikasa
Masami Gohda
Shinya Ito
Haru Watanabe
Hanae Uraoka
Hanako Egami
Nayuta Mori
Asami Ota
White Line
Sakura Create
Asahi Production
Snowdrop
Studio Mausu
Triple A
Kino Production
大川 貴大
折笠 奈津樹
合田 真さ美
伊藤 進也
渡邊 葉瑠
浦岡 華絵
江上 華子
森 なゆた
太田 麻美
WHITE LINE
作楽クリエイト
旭プロダクション
株式会社スノードロップ
マウス
Triple A
きのプロダクション
In-between Animation Inspection
(動画チェック)
In-between Animation
(動画)
Digital In-Between AnimationDavid Production
Masato Ujibe
Makoto Yaguchi
Mai Oshima
宇治部 正人
矢口 真琴
大島 舞
---
David Production
Makoto Yaguchi
Yusaku Nagahama
Rie Takahashi
矢口 真琴
長濱 佑作
高橋 梨恵
---
White Line
Triple A
Asahi Production
WHITE LINE
Triple A
旭プロダクション
Design Cooperation
(デザイン協力)
Production AIEgyptian Arabic Dialect
David Production
Kenichi Higaki
Aiki Watanabe
檜垣 賢一
渡辺 藍希
Graphic Model Cooperation
:
株式会社バンダイナムコゲームス
株式会社サイバーコネクトツー
Eyecatch Illustration
(アイキャッチ原画)
Music
Manga/Anime Differences
Scenes featuring Iggy were added.
Polnareff summons Silver Chariot earlier in the encounter and brief fighting ensues, mostly of Polnareff dodging Chaka's attacks.
A scene explaining the locals is removed from its place in the manga but is added to the end of the next episode.
When Jotaro and Polnareff visit Khan, Jotaro is seen reading a magazine titled "Marine Life", foreshadowing his future job as a marine biologist.
In other languages
Language
Title
Translation
Japanese
「アヌビス神」 その1
Anubis, Part 1
English
Anubis, Part 1
Spanish
Anubis - Primera Parte
Anubis - Part 1
Portuguese
O Deus Anúbis - Parte 1
The God Anubis - Part 1
French
Anubis, Partie 1
Anubis, Part 1
German
Anubis, Teil 1
Anubis, Part 1
Hebrew
אנוביס, חלק 1
Anubis, Part 1
Arabic
أنوبيس، الجزء 1
Anubis, Part 1
Italian
Anubis, Parte 1
Anubis, Part 1
Polish
Anubis: część 1
Anubis: part 1
Commentary
"
Here's a sword fight that fans have really appreciated. It's thanks to the whole team, with Jiro Fujimoto in charge of the storyboard and direction, and
Shunichi Ishimoto
, who was responsible for the animation. Several people felt sorry for them because they had landed a sword fight which was bound to be complicated. But the final result was even classier than we had hoped for. I am really grateful to all of them.
Here the story is developing a feeling close to that of a horror story, which we'd ensured to put in the foreground. However, the metamorphosis scene, where a meek Chaka picks up Anubis and transforms, is so sudden I can't stop finding it comical. (laughs)
The beginning of the episode allowed us to have more screentime for Kakyoin. Since he won't recover for a while, it is best to show him while we can.
The scene where Polnareff uses his secret technique and shoots his sword's blade is rendered in 3D. We have fewer occasions of using 3D in the Egypt Arc. It was the first time since Episode 25.
"
Gallery
Trivia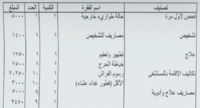 There is a translation error in Kakyoin's medical bill. The Arabic word for wound "الجرح" is mistakenly written as "الحرج" which translates to embarrassment.
References