Stardust Crusaders - Episode 30
Jump to navigation
Jump to search
"Bastet" Mariah, Part 1
(

「バステト女神」のマライア その1

'Basuteto-joshin' no Maraia Sono 1)
[1]
is the thirtieth episode of
Stardust Crusaders
, the sixth episode of the Egypt Arc, and the fifty-sixth episode of the
JoJo's Bizarre Adventure
anime
. It covers
Chapter 199
through
Chapter 201
of the
manga
.
In Luxor, Joseph finds a peculiar power outlet and gets shocked. Unbeknownst to him, he is turned into a magnet by Mariah's ability and finds out how dangerous it is to have all metallic objects attracted to oneself.
Summary
Kakyoin is informed that the Speedwagon Foundation is taking over his medical treatment, allowing his eyes to heal faster.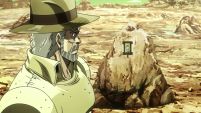 Meanwhile, Jotaro and his companions have arrived in Luxor, a place known for its tombs dating back to ancient Egypt. Joseph has momentarily separated himself from his friends and is intimidated by the dry wind toilets of Egypt. Seeing a strange rock with an electrical socket in it, Joseph foolishly touches the socket only to get shocked. Mariah's trap has worked. Strange occurrences begin to happen around Joseph but the group suspects nothing until the next morning at the hotel, at which time Joseph finally notices in his room that he's been magnetized: all metal objects are now drawn to him.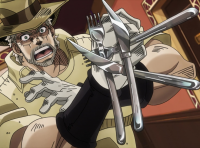 Joseph quickly realizes he has become a human magnet as a result of yesterday's shock and tries to run to the hotel lobby and warn his friends. On the way, he's the victim of a few embarrassing situations (an old woman notably mistaking him as seducing her) and a few scares as a set of knives and forks fly toward him. On the escalator, he sees Mariah and her metallic strings tie Joseph to the mechanism of the escalator, threatening to crush his hands and strangle him.
Thankfully, Avdol rescues him by pushing the emergency stop button and the two team up to get rid of the enemy as soon as possible. Joseph and Avdol pursue Mariah into the ladies' restroom, only for Joseph's magnetism to get them into more trouble and they have to jump through a window to catch up to Mariah. As they continue their pursuit, Avdol realizes that he has also come under Bastet's influence while stopping the escalator, with both he and Joseph becoming stuck together due to their magnetism.

Appearances
Stands

Credits
Staff
Assistant Episode Director
(演出補佐)
Animation Director Cooperation
(作画監督協力)
Assistant Action Animation Director
(アクション作画監督補)
土屋 友次
(Key)
中屋 了
(Key)
宝谷 幸稔
中尾 高之
板井 寛樹
Ko Seong Woon
Cha Myoung Jun
西川 真人
杉浦 英之
小谷 杏子
小金丸 篤美
平良 哲郎
鈴木 勘太
三島 詠子
石田 千夏
立花 希望
次橋 有紀
白木 仁美
石川 愛理
津曲 大介
光田 史亮
Shuhei Fukuda
Natsuki Orikasa
Ayaka Yakaku
Yuri Yamamura
Yuichiro Yamada
Azusa Nakano
Hiroto Kinoshita
Masami Gohda
White Line
Teddy
C2C
Triple A
Core
Asahi Production
Kino Production
福田 周平
折笠 奈津樹
八角 彩香
山村 有理
山田 雄一郎
中野 あずさ
木下 宏登
合田 真さ美
WHITE LINE
テディー
C2C
Triple A
コア
旭プロダクション
きのプロダクション
In-between Animation
(動画)
Digital In-Between AnimationDavid Production
Masato Ujibe
Makoto Yaguchi
Mai Oshima
宇治部 正人
矢口 真琴
大島 舞
---
David Production
Yusaku Nagahama
Rie Takahashi
Chie Nakagami
長濱 佑作
高橋 梨恵
中神 智絵
---
White Line
Triple A
Asahi Production
TAP
WHITE LINE
Triple A
旭プロダクション
TAP
Design Cooperation
(デザイン協力)
David Production
Kenichi Higaki
Aiki Watanabe
檜垣 賢一
渡辺 藍希
Graphic Model Cooperation
株式会社バンダイナムコゲームス
株式会社サイバーコネクトツー
Eyecatch Illustration
(アイキャッチ原画)
Music
Manga/Anime Differences
The scene with the Speedwagon Foundation hoping to speed up Kakyoin's eye recovery was not in the manga.
The anime foreshadows Avdol's magnetized status when he takes off a metal ash tray off Joseph but the ash tray is stuck to his hand. This detail happens as Joseph is shouting in the foreground, hiding it somewhat.
When Avdol stops the statue from falling on him, he places his hands on its chest in the anime.
A scene of Jotaro and Polnareff waiting for Joseph outside has been added.
The anime gratuitously adds shots of Mariah's buttocks.
In other languages
Language
Title
Translation
Japanese
「バステト女神」のマライア その1
"Bastet" Mariah, Part 1
English
Bastet's Mariah, Part 1
Spanish
Mariah de Bastet - Primera Parte
Bastet's Mariah - Part 1
Portuguese
Mariah, a Deusa Bastet - Parte 1
Mariah, the Goddess Bastet - Part 1
French
Mariah (Bast), Partie 1
Mariah (Bast), Part 1
German
Mariahs "Bast", Teil 1
Mariah's "Bast", Part 1
Hebrew
המריה של בסתת, חלק 1
Bastet's Mariah, Part 1
Arabic
باستيت ماريا، الجزء 1
Bastet Mariah, Part 1
Italian
Mariah "Bast", Parte 1
Mariah "Bast", Part 1
Commentary
"
The beginning of the episode features Kakyoin again. The Speedwagon Foundation takes care of him for his eye injury and we learn that he'll recover sooner than expected.
We face a Stand attack from a mysterious assailant, and we had to insist on entertaining this mystery while increasing the tension around Joseph's condition. Nevertheless the first part is more about poop. Vulgar jokes typical of shonen mangas are in legions and contribute to the series' charm; if you want to call that "charm". (laughs).
The scene where the forks and knives rushed toward Joseph particularly affected me. We feel the power of the magnetism well, which is about to become a serious problem.
Except for the beginning, we never see Mariah's face again. So we have this interesting continuity with Joseph being attacked by this mysterious beautiful woman while his magnetism problem gradually gains in power. In the toilet scene, we see the old lady again; Toshiko Sawada's depiction of her is perfect.
The scene where Jotaro and Polnareff are waiting for Joseph and Avdol was added in the anime. We put it here to establish a better link with the next events.
"
Gallery
References