Stardust Crusaders - Episode 14
Jump to navigation
Jump to search
Justice, Part 1
(正義 その1 Jasutisu Sono 1)
[1]
is the fourteenth episode of
Stardust Crusaders
and the fortieth episode of the
JoJo's Bizarre Adventure
anime
. It covers the second half of
Chapter 154
through the first few pages of
Chapter 157
of the
manga
.
The Joestar Group have reached Pakistan and enter an eerily foggy village. Unnerved by the locals, the heroes encounter Enya the Hag, one of DIO's confidantes who pretends to be an amiable hotel owner and invites them to her establishment.
Summary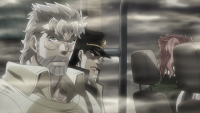 After explaining Holy's situation to her, Joseph manages to convince Anne to return back to her home in Hong Kong. With heavy fog making it dangerous to continue driving near the cliffs towards Karachi, the group stops by a nearby town to look for a hotel. After failing to get directions from a strangely silent restaurant owner, the group comes across a dead body lying on the street, uncertain of what has caused the man's death.
With no one else in the town seeming to acknowledge the corpse's presence, the group becomes wary and suspects a Stand user is involved, with their suspicions growing when they discover the body is riddled with bloodless holes. Feeling they should leave the town, Joseph jumps towards what he believes to be their car, only to narrowly avoid being impaled by a spiked gate. It is then that Enya appears before the group, claiming to be an innocent old woman and she leads them to a nearby hotel.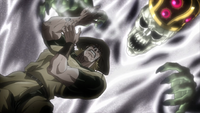 As the group checks into their rooms, Hol Horse shows up at the hotel, having tracked the Joestar group to their location. However, Enya, believing Hol Horse should die for abandoning J. Geil, attacks his wrist with some scissors before using Justice, her Stand which takes the form of the fog itself, to make a hole from his wound. Justice then uses the wound to control Hol Horse's arm like a puppet and make him shoot himself with his own Emperor, allowing Enya to set her sights on her next target: Polnareff.

Appearances
Stands

Credits
Staff
Animation Director Cooperation
(作画監督協力)
Assistant Chief Animation Director
(総作画監督補)
Kouki Shikiji
Yuji Tsuchiya
Ju Hyeon Lee
Haru Sakuramoto
Kiyoshi Nohji
Maki Tanoue
Shigemi Aoyagi
Koudai Iwata
Manabu Shiota
Hyo Sang Yoo
Hiromi Kawamoto
Akihiko Mamashita
Nozomu Shimazaki
Naho Koyama
Sayumi Yokoyama
Masato Nishikawa
Mitsuteru Kubo
Yoshito Narimatsu
Shuzilow.HASea Company
式地 幸喜
(Key)
土屋友次
(Key)
李 周鉉
桜本 晴
能地 清
田之上 槇
青柳 しげみ
岩田 幸大
塩田 学
柳 孝相
河本 ひろみ
間々下 暁彦
島崎 望
小山 なほ
横山 紗弓
西川 真人
久保 充照
成松 義人
濱川 修二郎
SEAcompany
赤間 紗枝
大川 貴大
福田 周平
近藤 雄一
西村 彩
伊藤 公崇
石本 峻一
芦谷 耕平
糸井 恵
小美野 雅彦
BEEP
BigOwl
MSJ武蔵野制作所
TAP
SEAcompany
サンライト
エースカンパニー
Triple A
旭プロダクション
In-between Animation
(動画)
Digital In-Between AnimationDavid Production
Masato Ujibe
Makoto Yaguchi
宇治部 正人
矢口 真琴
---
David Production
Yusaku Nagahama
Rie Takahashi
Chie Nakagami
長濱 佑作
高橋 梨恵
中神 智絵
---
Sea CompanyBeepBig Owl
MSJ Musashino Production
TAPHayashiSunlightAce CompanyTriple AAsahi Production
Sunshine Corporation
SEAcompany
BEEP
Big Owl
MSJ武蔵野制作所
TAP
ハヤシ株式会社
サンライト
エースカンパニー
Triple A
旭プロダクション
サンシャインコーポレーション
Design Cooperation
(デザイン協力)
Junko Nagasawa
Jun Ishigami
長澤 順子
石神 潤
David Production
Kenichi Higaki
Aiki Watanabe
檜垣 賢一
渡辺 藍希
David Production
工藤 かよ
Puavaranukroh Taweeporn
Eyecatch Illustration
(アイキャッチ原画)
Music
Manga/Anime Differences
There's an extra scene where Jotaro is tailoring his new suit (after it was burned from the previous fight).

Afterwards, there is another scene where the Crusaders go to an airport to send Anne home.

The moment Enya welcomes the Joestar Group in her hotel and they settle in is expanded upon in the anime. The heroes signing up in the register is shown, then Polnareff idling in his room while Joseph tries to use the TV set, without success. Finally, as Polnareff wants to go to the bathroom, he asks his comrades where the bathrooms are.
In other languages
Language
Title
Translation
Japanese
正義 その1
Justice, Part 1
English
Justice, Part 1
Spanish
La Justicia Parte 1
Justice, Part 1
Portuguese
Justiça - Parte 1
Justice - Part 1
French
Justice, Partie 1
Justice, Part 1
German
Die Gerechtigkeit, Teil 1
Justice, Part 1
Hebrew
צדק, חלק 1
Justice, Part 1
Arabic
العدل الجزء 1
The Justice Part 1
Italian
Justice Parte 1
Justice Part 1
Danish
Retfærdighed, Del et
Justice, Part one
Commentary
Commentary
"
We added an original scene at the very beginning of this episode, so that the group could leave Anne, the runaway girl. It was something that the original plot missed, and we had to give her an exit.
The atmosphere is strangely fascinating with this fog. We can feel how dense it is, you'd only need to take a few steps in to completely disappear. Let's not forget the best of the creepies, the cockroachs and lizards crawling beneath with a soft rustle.
Joseph's Stand, Hermit Purple, makes itself remarkably useful in a scene... that is a lot less useful. Yet, this fence jumping looks like an important action in the middle of all that hesitation to go inside the fog. Who knows why we made a scene like this stand out, it wasn't on purpose...
Reiko Suzuki plays a fantastic and sinister Enya. Her wailings and crying with the "Ohlololo" don't sound natural at all and that's why they're perfect (laughs). I find that she exudes an atmosphere of danger, and you can tell that her Stand will be redoubtable just by looking at her.
"
Gallery
References