Stardust Crusaders - Episode 17
Jump to navigation
Jump to search
Lovers, Part 2
(恋人 その2 Rabāzu Sono 2)
[1]
is the seventeenth episode of
Stardust Crusaders
and the forty-third episode of the
JoJo's Bizarre Adventure
anime
. It covers the end of
Chapter 163
through
Chapter 165
of the
manga
.
The battle against Steely Dan continues. While Kakyoin and Polnareff have sent their Stands in Joseph's brain to hunt Lovers. Meanwhile, Jotaro has to act as Steely Dan's temporary servant.
Summary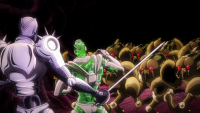 As Jotaro continues to put up with Steely Dan's whims, Kakyoin and Polnareff's Stands arrive in Joseph's brain where the Lovers and the flesh bud is. Although Polnareff acts first, he is hurt when the Lovers uses Joseph's brain cells to disguise himself as Hierophant Green and make several dummies of itself, leaving them unable to determine which one is the real Stand. Elsewhere, Jotaro shines Steely Dan's shoes and takes a beating from him, all while taking note of everything he is doing for him so he can make Steely Dan pay later. He is enraged when he takes a beating because Steely Dan forced him to steal from a jewelry shop.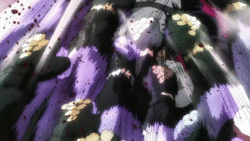 In Joseph's brain, Kakyoin manages to use Hierophant Green to find and attack the real Stand and force it out of Joseph's body, giving Joseph the opportunity to destroy the flesh bud in his brain with the Ripple. Realizing he has been defeated, Steely Dan tries to divert Jotaro's attention so the Lovers can enter him instead, but he is quickly spotted and caught by Star Platinum. In desperation, Steely Dan tries to have the Lovers enter a young girl's ear, but it is stopped by Hierophant Green's tentacle, which Kakyoin attached before it escaped. This stops Steely Dan's movements completely, allowing Jotaro to finally get his revenge for all Steely Dan put him through.

Appearances
Credits
Staff
Animation Director Cooperation
(作画監督協力)
Assistant Chief Animation Director
(総作画監督補)
Sayuri Sakimoto
Sayaka Maruyama
Sachiko Mori
Akihiro Otake
Takayuki Nakao
Takeshi Moriyama
Toshiharu Sugie
Ryuichi Baba
Masao Takeda
Kazuo Takematsu
Takashi Hirabayashi
Ken Mukaigawara
Kazuyo Nakamura
Takeshi Imai
Sho Hamada
Rie Omori
Shuhei Fukuda
Hitomi Shiroki
Yoon Young Tai
Lee Eun Yonung
Yuki Yabuta
Gakushi Maeda
Reiji Sakagami
崎本 さゆり
丸山 沙也香
森 幸子
大竹 晃裕
中尾 高之
森山 剛史
杉江 敏治
馬場 竜一
武田 政夫
竹松 一生
平林 孝
向川 原憲
中村 和代
今井 武志
濱田 翔
大森 理恵
福田 周平
白木 仁美
Yoon Young Tai
Lee Eun Yonung
薮田 裕希
前田 学史
坂上 怜司
赤間 紗枝
大川貴大
白木 仁美
サンシャインコーポレーション
WHITE LINE
Triple A
TAPM
旭プロダクション
エースカンパニー
寿門堂
光田 史亮
芦谷耕平
小美野 雅彦
In-between Animation
(動画)
Digital In-Between AnimationDavid Production
Masato Ujibe
Makoto Yaguchi
宇治部 正人
矢口 真琴
---
David Production
Yusaku Nagahama
Rie Takahashi
Chie Nakagami
長濱 佑作
高橋 梨恵
中神 智絵
---
White Line
Triple A
CL Corporation
TAP
Asahi Production
Ace Company
Jumondo
WHITE LINE
Triple A
CLコーポレーション
TAP
旭プロダクション
エースカンパニー
寿門堂
Design Cooperation
(デザイン協力)
David Production
Kenichi Higaki
Aiki Watanabe
檜垣 賢一
渡辺 藍希
David Production
工藤 かよ
Puavaranukroh Taweeporn
Eyecatch Illustration
(アイキャッチ原画)
Music
Manga/Anime Differences
In the anime, Joseph uses the Ripple on himself to kill the bud in his brain. Its removal is never explained in the manga.
In other languages
Language
Title
Translation
Japanese
恋人 その2
Lovers, Part 2
English
The Lovers, Part 2
Spanish
Los Enamorados Segunda Parte
Lovers Part 2
Portuguese
Os Amantes - Parte 2
The Lovers - Part 2
French
Lovers, Partie 2
Lovers, Part 2
German
Die Liebenden, Teil 2
The Lovers, Part 2
Hebrew
האוהבים, חלק 2
The Lovers, Part 2
Arabic
العشاق الجزء 2
The Lovers Part 2
Italian
The Lovers Parte 2
The Lovers Part 2
Danish
Elskerne, Del to
The Lovers, Part two
Commentary
Commentary
"
Since a lot was happening inside Joseph's brain, we had to give the sensation of being confined inside a human body, but it wasn't an easy task. Had we chosen a really microscopic ambience, the organic sensation would have suffered, and that's why we put red tints everywhere. In reality, the inside of a body would have been a lot darker. Thus we had to make a choice, favorizing the direction.
The Stand itself, Lovers, has a funnily ...cute side. Especially in the scene where they all shout "the most, most (...) fearsome of the Stands!" together. We even see two of them shoulder by shoulder, they seem to be friends.
The storyboard and direction were given to Fujimoto, who has skillfully worked with everything that had to be managed. Kakyoin and Polnareff fight side by side again, but it seems the latter is rather useless (laughs). The fight against Lovers is above all the victory of Kakyoin's smarts.
Let's note how much Jotaro believes in Kakyoin during the episode. "You don't know Kakyoin." With this line alone, the trust remains unshakeable.
As soon as Lovers is captured, Jotaro becomes cheerful again, satisfied to finally hit back. Dan had it coming by acting so odiously. The onslaught of ORA ORA following this is the longest in the series yet.
"
Gallery
References