La Sœur de Poco
Jump to navigation
Jump to search
"
Ca fait peut d'avoir mal ? Tu ne penses pas que ça fait encore plus peur de toujours rester incapable de te débrouiller tout seul… même quand tu seras devenu adulte ? (
あんた いつまでも…大人になってもひとりじゃなんにもできない方がもっとこわいとは思わないの?
Anta itsu made mo... otona ni natte mo hitori ja nan'nimo dekinai kata ga motto kowai to wa omowanai no?
)
"

La sœur de Poco (ポコの姉, Poko no ane) est un personnage tertiaire figurant dans la première partie de JoJo's Bizarre Adventure, Phantom Blood. Elle est la grande soeur de Poco.
Apparence
La soeur de Poco est une jeune fille britannique. Elle de longs cheveux qu'elle attache en queue de cheval ou en tresse. Elle a, comme le dit Dio, un beau visage. Par conséquent, Dio s'intéresse un peu à elle.
La soeur de Poco porte des vêtements simples : une simple robe, un châle ou un gilet selon le médium, ce qui montre son appartenances aux classes sociales les plus modestes de l'Angleterre à l'ère Victorienne.
Palettes
The series is known for alternating colors between media, the information presented below may or may not be canon.
Tenue
(Robe couleur lavande, gilet magenta, manteau beige.)
Tenue
(Robe blanche, manteau orange)
Tenue
(Robe blanche, châle bleu clair, ceinture rose clair.)
Personnalité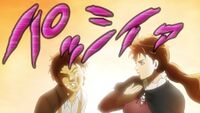 La sœur de Poco est une fille particulièrement courageuse et juste. Elle résistait souvent aux garçons qui victimisaient Poco, les effrayant rien que par sa présence et son air déterminé. À un moment donné, elle réprimande et gifle Poco à cause de sa lâcheté, l'encourageant à devenir moins lâche. Même devant le terrifiant Vampire Dio Brando, elle refuse ses tentations d'immortalité et le gifle.
Elle montre néanmoins qu'elle tient beaucoup à son petit frère, car même si elle réprimande Poco, elle s'occupe aussi de lui quand il est battu par les autres garçons. Lorsqu'elle n'a pas de nouvelle de lui durant une nuit, elle se risque à sortir de chez elle pour aller le rechercher.
Histoire
Passé
La soeur de Poco est un habitante de Windknight's Lot. Elle vivait une vie normale de jeune paysanne de cette modeste communauté. Elle apparaît pour la première fois dans un flashback de Poco. Alors que Poco est victimisé par des brutes du village, elle vient à la rescousse et intimide les brutes par sa présence, les faisant s'enfuir. La jeune fille réprimande son petit frère et le pousse à devenir moins peureux. Lorsque Poco dit qu'il le sera "demain", elle le gifle car il se montre lâche et puis le ramène à la maison pour le soigner de ses blessures.
Phantom Blood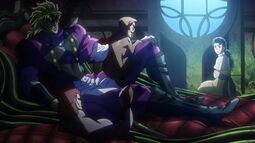 Durant les évènements de Phantom Blood, le soir du 1 décembre 1888, Poco ne revient pas à la maison alors qu'il fait nuit. Elle part alors à sa recherche mais est capturée par Dio Brando. Amenée devant lui, la soeur de Poco découvre le terrifiant vampire. Une des chimères de Dio fait un commentaire déplacé sur elle et Dio le tue, puis il essaie de séduire la soeur de Poco, lui promettant qu'elle pourra conserver sa jeunesse et sa beauté éternellement si elle le sert. Elle gifle Dio en guise de réponse, disant qu'il n'est un monstre prétendant être un homme.
Dio retient son calme en surface et part, ironisant qu'elle préfèrera peut-être la compagnie du zombie Doobie à sa place. Elle découvre le zombie à l'affût au-dessus d'elle, lui sautant dessus et arrachant sa robe. Avant que le monstre puisse le tuer, Jonathan apparaît pour la sauver. Elle va avec les héros jusque dans une salle où ils affrontent Dio et ses Zombies. Poco et sa soeur sont protégés par Straits, qui élimine les zombie s'approchant d'eux. Après la fin de la bataille de Windknight's Lot, la soeur de Poco apparaît une dernière fois aux côté de son petit frère, saluant Jonathan et Erina Pendleton quand le couple quitte l'Angleterre à bord d'un paquebot pour leur lune de miel.
Chapitres / Episodes

Apparitions Manga
Apparition dans les chapitres

Apparitions Animé
Apparitions dans les épisodes
Citations

Citations
"

You're afraid of pain? Aren't you more afraid of turning into an adult and still not being able to do anything for yourself? (

あんた いつまでも…大人になってもひとりじゃなんにもできない方がもっとこわいとは思わないの?

Anta itsu made mo... otona ni natte mo hitori ja nan'nimo dekinai kata ga motto kowai to wa omowanai no?

)

"

"

Y- You're an eternally cursed m- monster! (

あ…あなたは永遠に呪われているば 化物よ!

A... anata wa eien ni norowa rete iru ba, bakemono yo!

)

"
Jeux Vidéo
La soeur de Poco n'apparait que dans certaines cinématiques du jeu, entre les combats.
Galerie d'Images
Références