The wiki is currently experiencing extreme amounts of traffic ever since the release of Stone Ocean.
We apologize for the downtime and slowness.
Masazo Kinoto
Jump to navigation
Jump to search
"
Je déteste quand les gens voient mon dos !
"
Masazo Kinoto (乙 雅三, Kinoto Masazo) est un personnage secondaire de la quatrième partie de JoJo's Bizarre Adventure, Diamond is Unbreakable, surtout dans l'arc narratif "Cheap Trick".
Masazo est un architecte travaillant à Morioh. Rohan Kishibe l'engage pour évaluer le coût des dégâts causés par un incendie chez lui. A leur insu, Yoshihiro Kira a transformé Kinoto en manieur de Stand, obtenant Cheap Trick.
Apparence
Masazo Kinoto est un homme japonais de taille moyenne et plutôt frêle. Il est coiffé en style "undercut" avec les côté de la tête rasé, mais une touffe de cheveux au somment du crâne. La touffe est plutôt courte mais il possède deux mèches qui sont sensiblement plus longues. Il a des oreilles décolées. Kinoto porte une tenue d'affaire plutôt casuelle avec une chemise sans cravate, une veste longue décoré avec un motif de méandre grec, et un pantalon simple.
Palettes
Les palettes changent souvent entre les médias. L'information ci-dessous ne devrait pas être considérée comme canonique.
Peau
(Peau claire, lèvres noires)
Tenue
(Costume kaki, chemise bleue)
Tenue
(Manteau beige, pantalon brun, chemise verte et violette)
Personnalité
Masazo est, de fait, un personnage plutôt ordinaire. Il est plutôt timide et introverti mais un peu cupide car il avait prévu de gonfler ses prix pour arnaquer Rohan. A cause de son Stand Cheap Trick, Masazo a développé une peur bleue qu'on voit son dos. Il se colle alors aux murs et autres objets et peut même marcher sur son dos pour éviter à tout prix qu'on le voit. Cette peur existe pour une bonne raison car si on voit son dos alors Cheap Trick va le tuer. Il ne savait pas que son Stand existait mais savait tout de même instinctivement le danger qu'il représentait. Masazo s'inquiète du fait qu'il n'arrive pas à trouver une petite amie.
Pouvoirs
Main article: Cheap Trick
Masazo Kinoto possède un Stand nommé Cheap Trick. Cheap Trick s'attache au dos de son manieur, et si quelqu'un voit le dos, alors il s'accroche à la personne qui a vu le dos et devient "son" Stand mais il tue alors Kinoto. Il est aussi invisible de tous (même des manieurs de Stands) tant qu'il est sur le dos de quelqu'un et son seul pouvoir est de parler et de se faire comprendre de tous.
Masazo n'avait pas assez de volonté pour manifester complètement et contrôler son Stand, et son pouvoir ne se manifestait que comme une obsession à cacher son dos. Ce n'est que lorsque Rohan a vu le dos de Kinoto que Cheap Trick a pu complètement se matérialiser.
Cheap Trick
(
チープ・トリック
)


Pouvoir(s)
Attachement, discours universel
Histoire
Passé
Masazo Kinoto est l'un des gens que Yoshihiro Kira perce avec la Flèche pour défendre son fils Yoshikage Kira. Comme il n'a pas la volonté nécessaire pour contrôler son Stand, sa capacité se manifeste surtout par la phobie de laisser quiconque voir son dos. Masazo travaille en tant qu'architecte et Rohan Kishibe l'engage pour évaluer les dommages causés par un incendie chez lui. Il a pu atteindre la maison de Rohan en se collant aux murs et aux passants.
Diamond is Unbreakable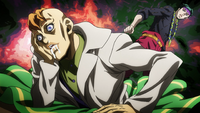 Quand Masazo arrive à la porte de Rohan, c'est alors en tant que piège pour le mangaka. Il sonne à la porte et Rohan le transforme tout de suite en livre pour écrire que Masazo ne peut pas l'attaquer et lire sa biographie. Rohan lit que Masazo est un humain normal qui veut juste l'arnaquer (Masazo ne connaissant même pas l'existence de son Stand, donc Rohan ne peut pas savoir), et donc le mangaka le relâche. Cependant, comme Masazo continue à cacher son dos, Rohan devient curieux et leurre Masazo à l'étage, lui faisant marcher sur un trou dans le sol qui était caché par un tapis. Rohan regarde alors le dos de Masazo, qui panique. Cheap Trick apparaît dans le dos de Rohan et absorbe toute l'énergie vitale de Masazo, le transformant en poupée toute flétrie.
Chapitres / Episodes

Apparitions Manga
Apparition dans les chapitres

Apparitions Animé
Apparitions dans les épisodes
Galerie d'Images
Détails
Masazo Kinoto apparaît dans l'épisode 14 de l'adaptation anime de Diamond is Unbreakable. Il est caché dans la foule, et apparaît pour faire un caméo en avance.
Références